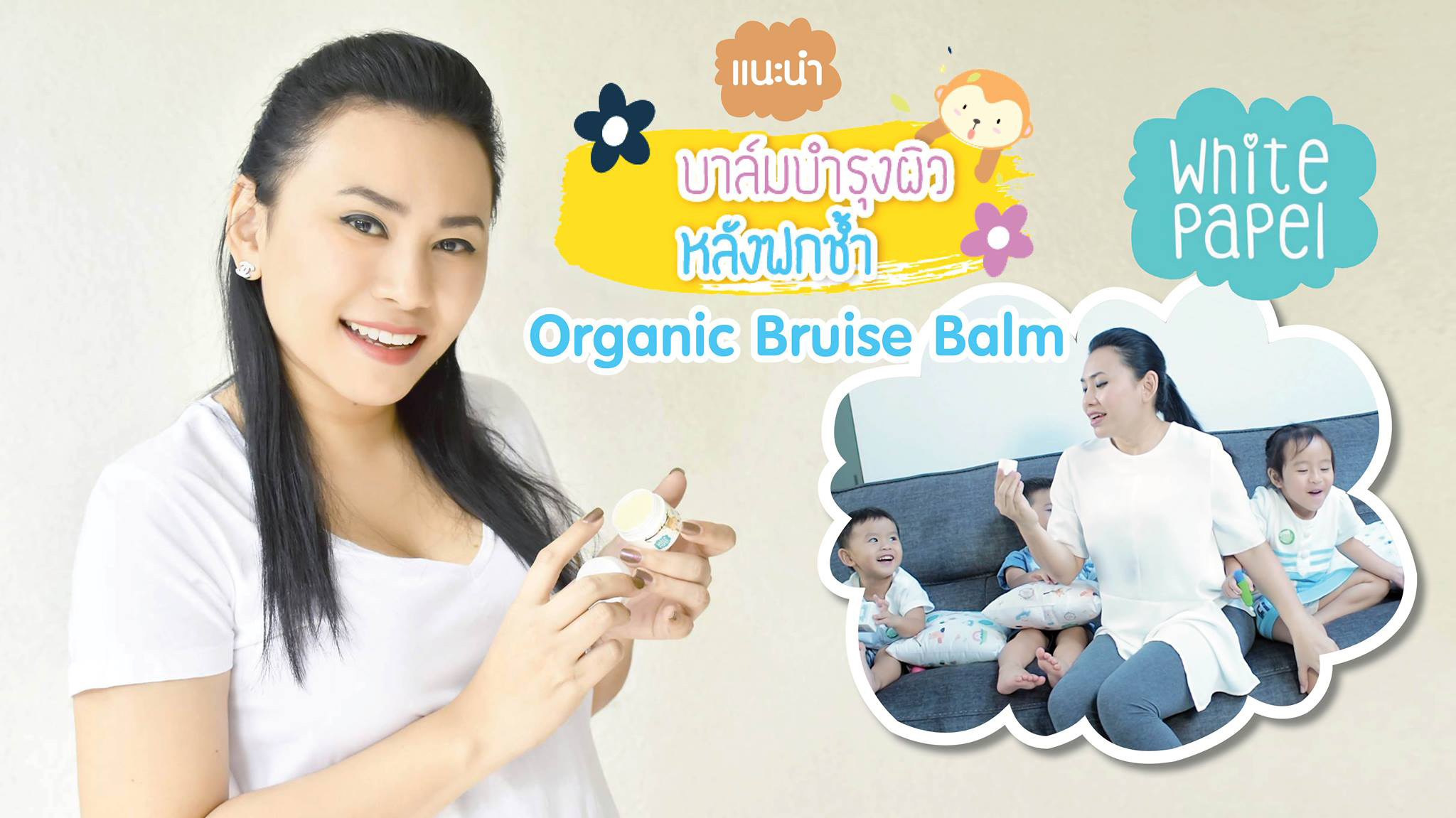 Treated Kid's Swollen By The White Papel's Bruise Balm
Hello, mummy. Today I would like to recommend 2 interesting products.
The first one is the White Papel's Organic Bruise Balm. I believe that you will like this if you have tried, as you know kids like to play, they like to run and usually fall down, come back home with some wounds on their body. Recently, Louvre's head was crashed with Didi's eyebrow, maybe they want to help me with the review (lol). This balm can reduce swelling as well.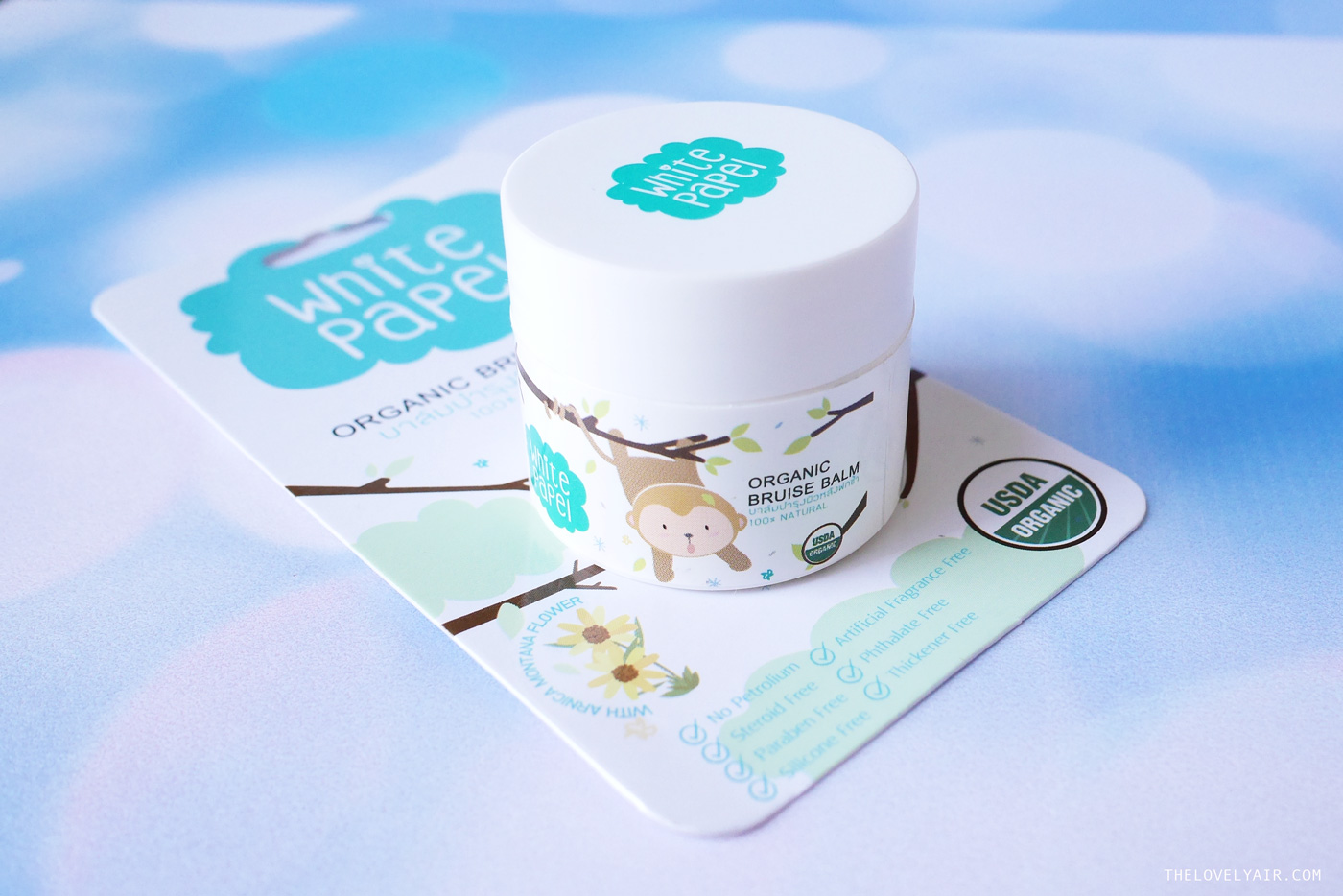 Let's get to know about this White Papel's Organic Bruise Balm.
First of all, this balm is the Thailand's first balm that has been created by Thai's brand. Uses to treat swelling, pain relief, and muscle pain also contains good smell because it does not use synthetic smell. It is also a natural extraction, you do not have to worry about using to the child. Also certified by USDA ORGANIC from the United States and have been tested under the supervision of a physician from CERES. This can be used without the irritation of sensitive skin which suitable for children's sensitive skin and can be used with children since their birth.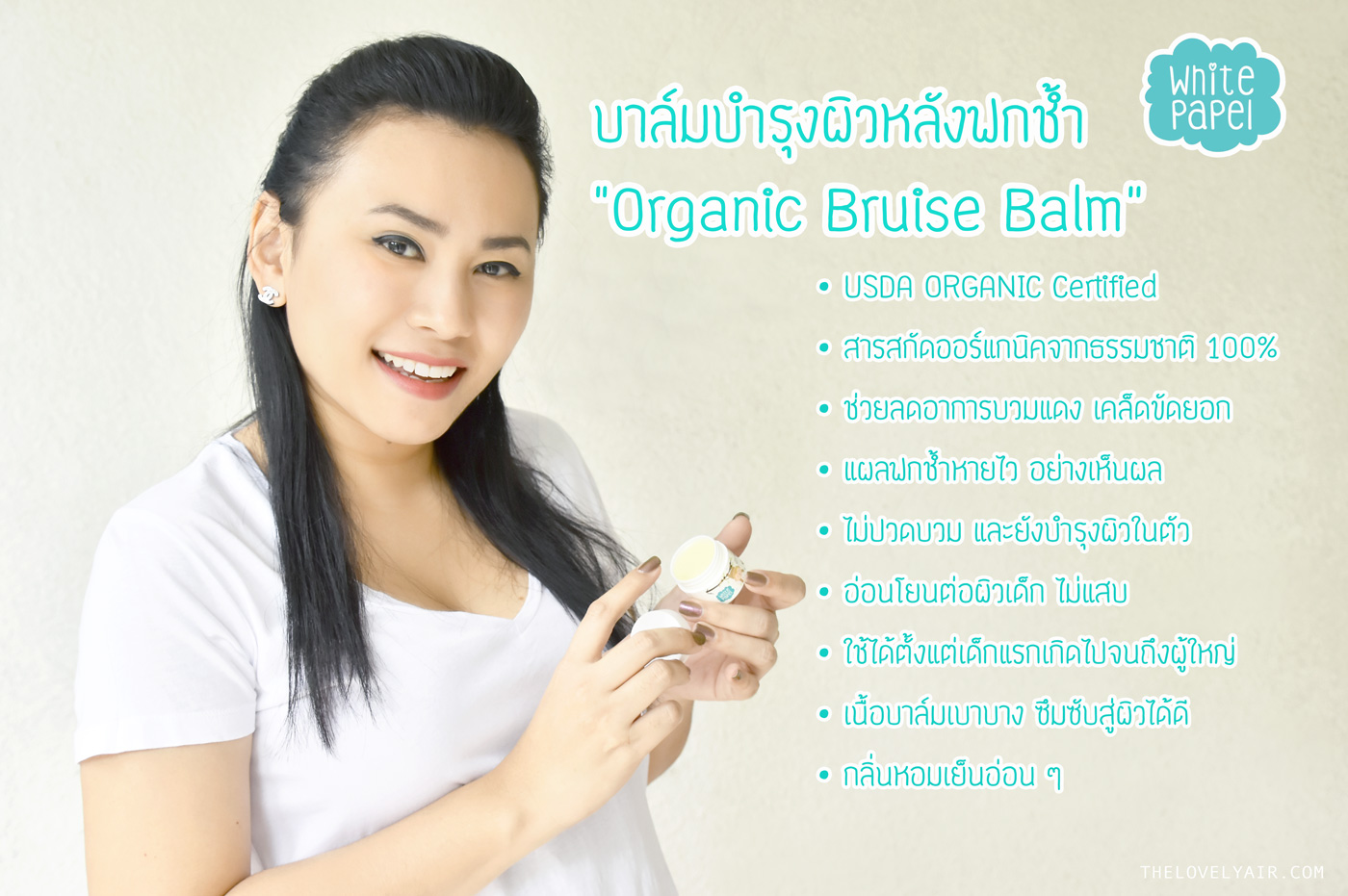 This balm is free from dangerous chemical ingredients including Steroid Paraben Silicone and Colophony. Therefore, you can trust this product for sure.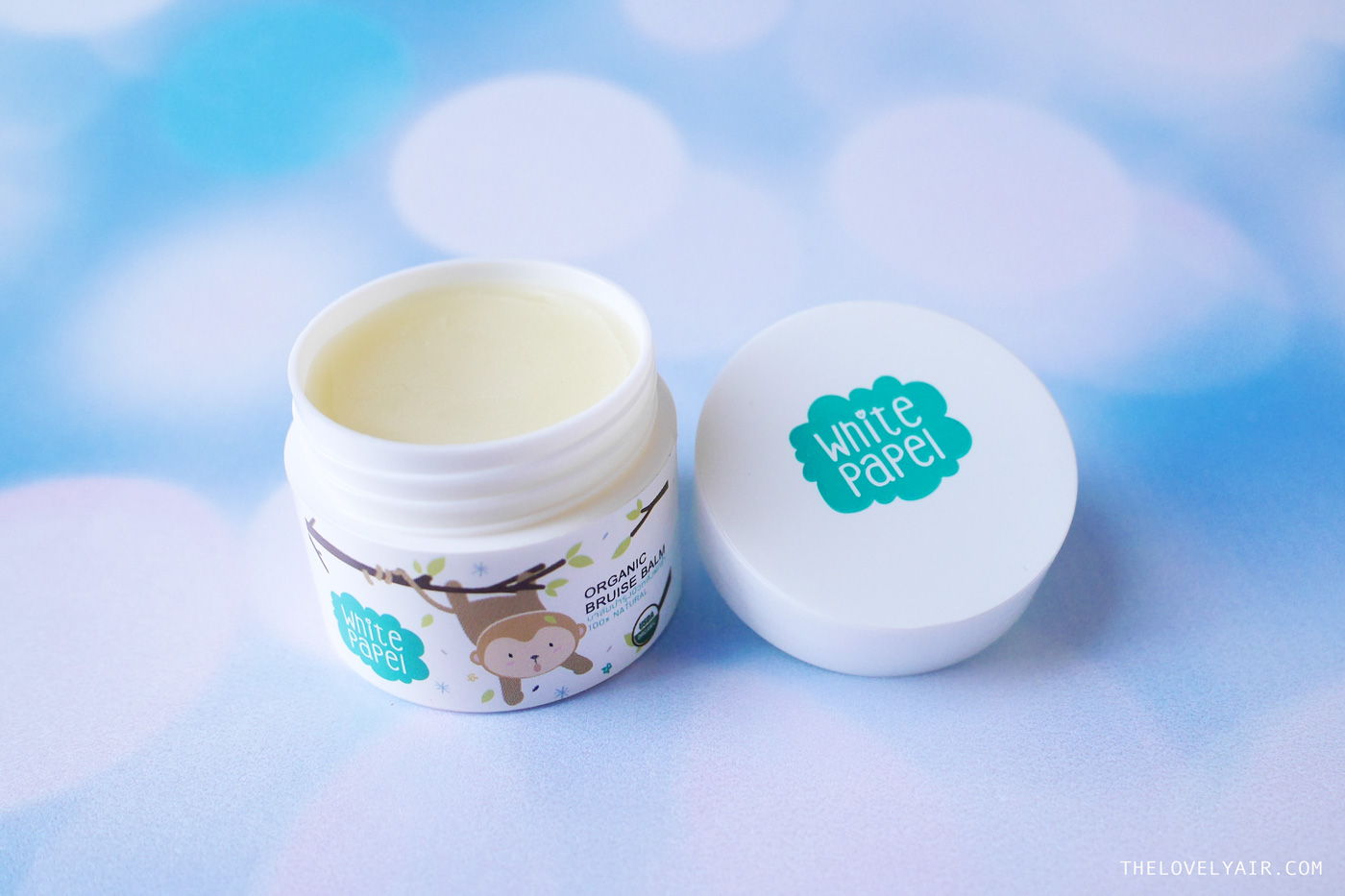 Let's take a look at the natural ingredients.
Arnica Montana Flower, this is an interesting ingredient from the mountain that reduced swelling, stale or sprains. Often used to treat surgical wound, including cosmetic surgery, such as bat filler, silk thread, etc., to help reduce swelling and redness from the surgery.
There are also Shea Butter essential oil from ginger, peppermint essential oil and eucalyptus oil which helps in the treatment of pain relief inflammation, reduce muscle contraction, toxic insect bites and reduce sunburn. It also contains olive oil, Jojoba oil, coconut oil, sunflower oil which moisturizes and protects the skin.
Organic Bruise Balm is gentle for the skin. I gently massage on the swollen area. If it hurts, they will scream but they are not scream at all. This is the reason why I'm attracted to this balm.
The Organic Bruise Balm (15g.) price is 390 Baht
Let's take a look at another interesting product.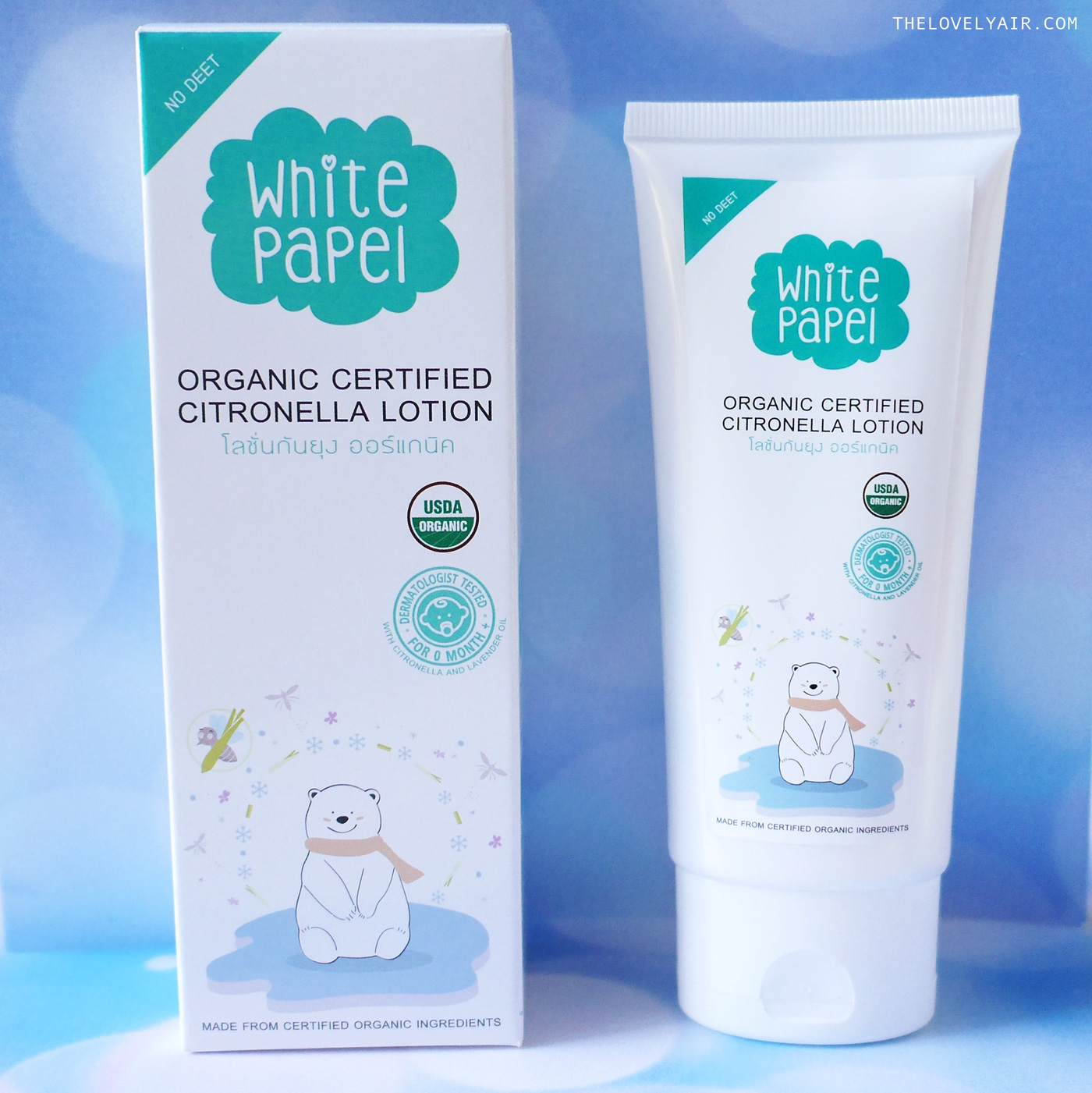 Because of there are a lot of mosquitoes in our house. The kids should be careful about mosquitoes bite it would be trouble if they have a Dengue. As a parent, it is the thing to worry about. So, I would like to recommend this one 'White Papel Organic Mosquito Repellent Lotion' which can be used both mosquito and insect infestation. Formulated with natural extracts of lavender and citronella. This mosquito-repelling lotion also helps to keep the skin moist. It contains organic extracts from Shea Butter, Virgin Coconut Oil, and Aloe Vera. It is rich in vitamins and essential fatty acids which moisturizing. The texture is not sticky and protects the body from the mosquito for up to 6 hours.
I would like to suggest the baby mum, if you want to buy a mosquito repellent product for your kids you should carefully read the labels, they should be written Deet free or pesticide free. This mosquito repellent lotion is free of Steroid, Paraben, and Silicone which mean this product is safe for kids.
The White Papel Organic Mosquito Repellent Lotion 3m+ (80ml.) price is 690 Baht
I always keep the White Papel's Organic Bruise Balm and Organic Mosquito Repellent Lotion in my bag and in my house. Believe me there are good for mummy like us.
To get more information, you can directly message at (m.me/whitepapel)
IG : Whitepapel
[email protected] : @whitepapel
or https://goo.gl/sDEtwM
Tel : 081-777-3271
Let's take a look at review video of White Papel's Organic Bruise Balm