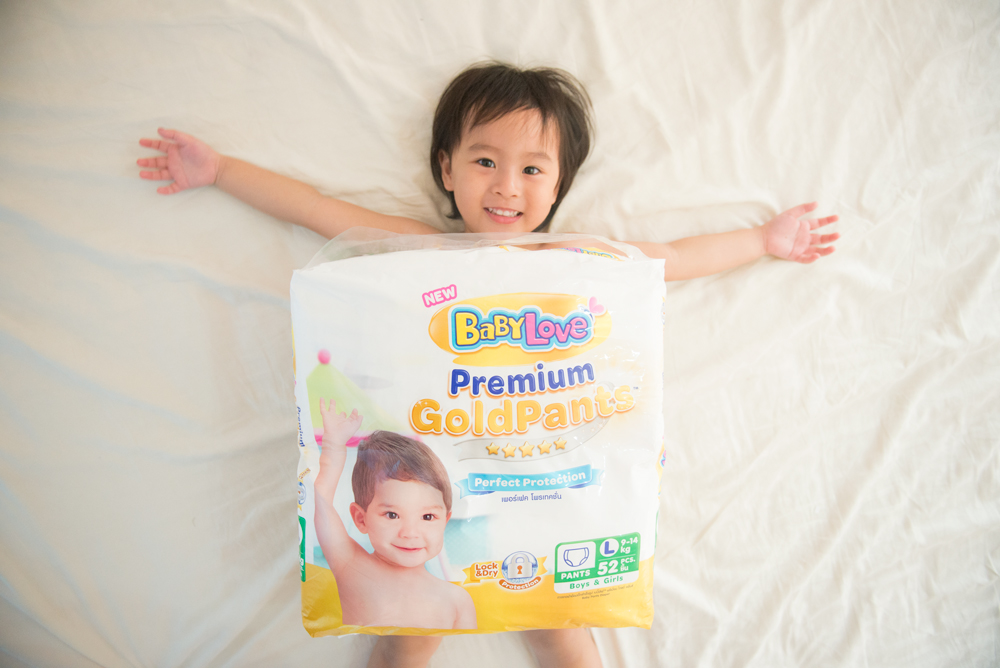 BABYLOVE PREMIUM GOLD PANTS – The Best Diaper For Baby !!!
Hello, I will review the baby diaper which is the most important need for modern mothers today .. Latest, the brand Baby Love launched new diaper model called Premium Gold Pants … So, I won't miss to review it and test its quality.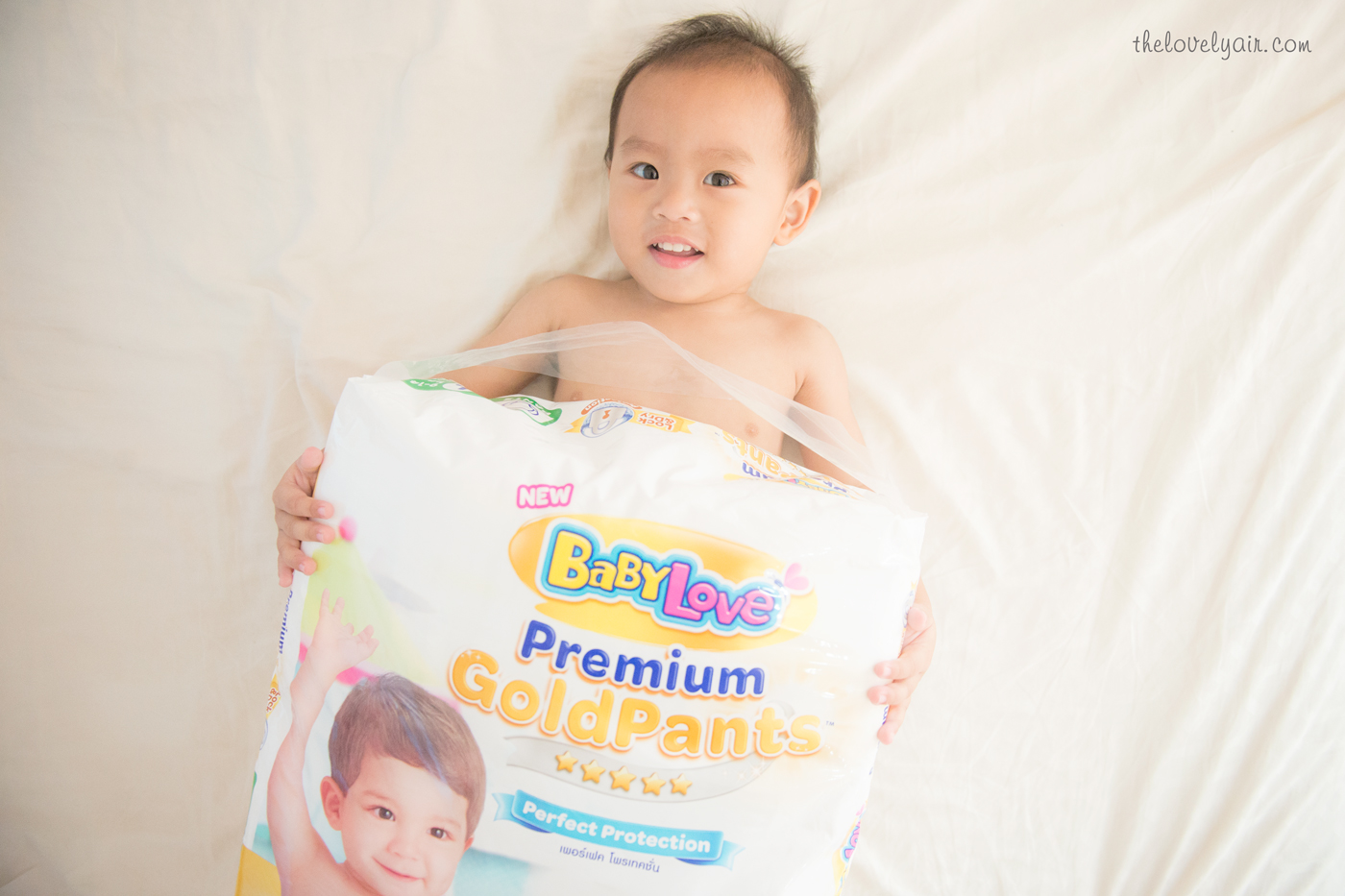 My youngest son still uses diapers. Now, he is 1 year and 10 months. The son is in naughty and playful age. He doesn't just waddle bit he runs and climbs. It makes me so tired…. Have you ever had a problem with your baby's diaper? It's just like a diaper is slipping away when your baby is walking. I also faced with bad-quality diapers. For example, diapers are too thick when your baby wears it, it look big bulky. It makes the baby vey uncomfortable. Some of diapers are very bad hum causing diaper rash. Some diapers don't absorb urine well. It clusters in front of the diaper. Some diapers absorbs slowly. Urine spills out when the baby pees on the diapers. You see a lot of problems ,right. Based on my experience, it is difficult to find a great diapers for baby although there are good-quality diaper in somewhere else.
My son, named Louvre, is a big baby. He is 1 year and 10 months but his weight is 13 kg which is the same weight as his sister. Moreover, he is tall in the same range as his sister as well. So, I have to use a bid diaper for him. There are many concerns when I buy diapers for him such as a size, texture and the thickness of diapers. As I afraid that my baby will be uncomfortable when he is wearing it.
Babylove is a popular brand among mothers. The brand launched new diaper model called Babylove Premium Gold Pants addressing all of my concern. Its diapers absorb quickly and immediately dry when my son pees on a diaper. I guarantee that it is better than the previous model. Let's see how brilliant it is in the following review.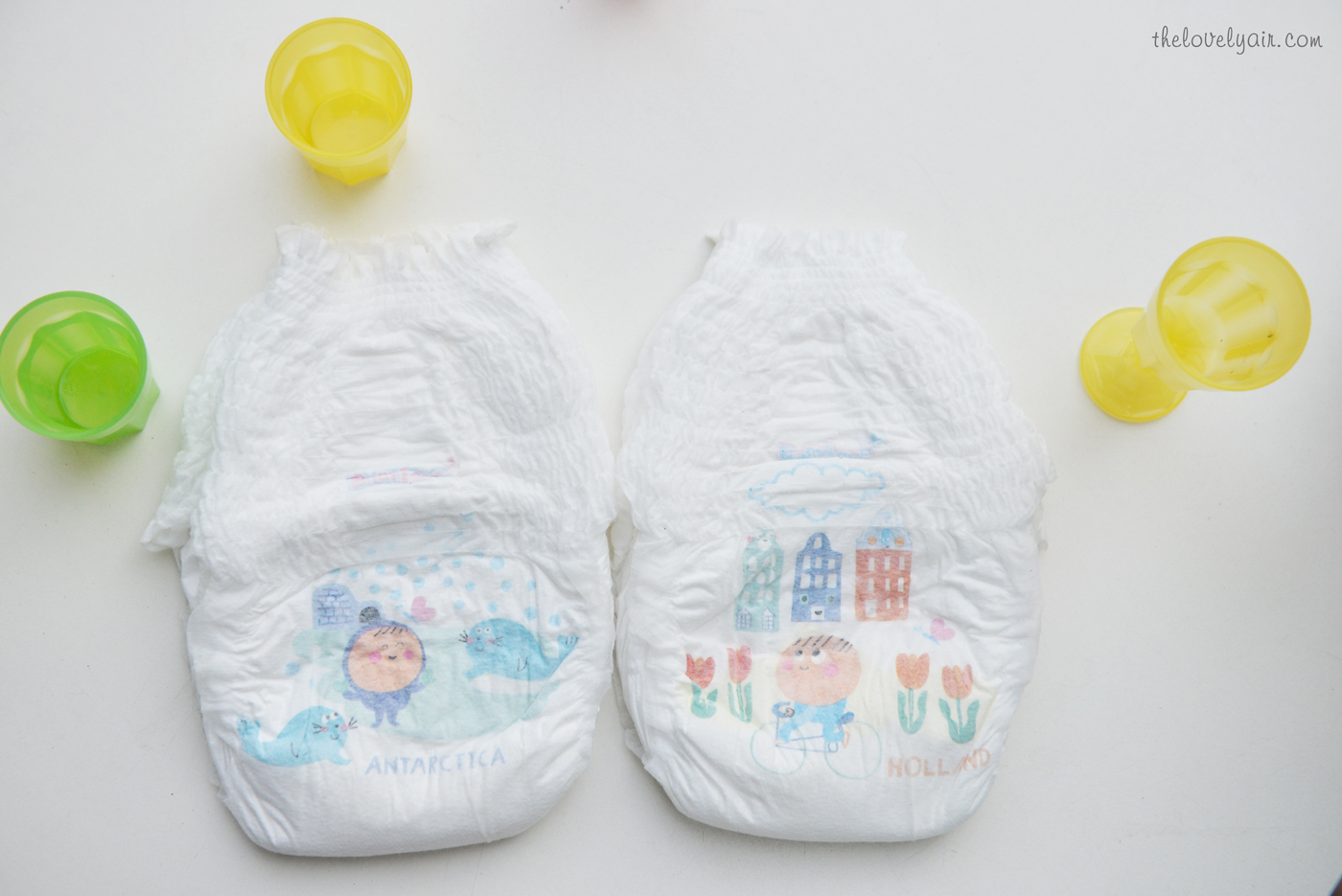 Front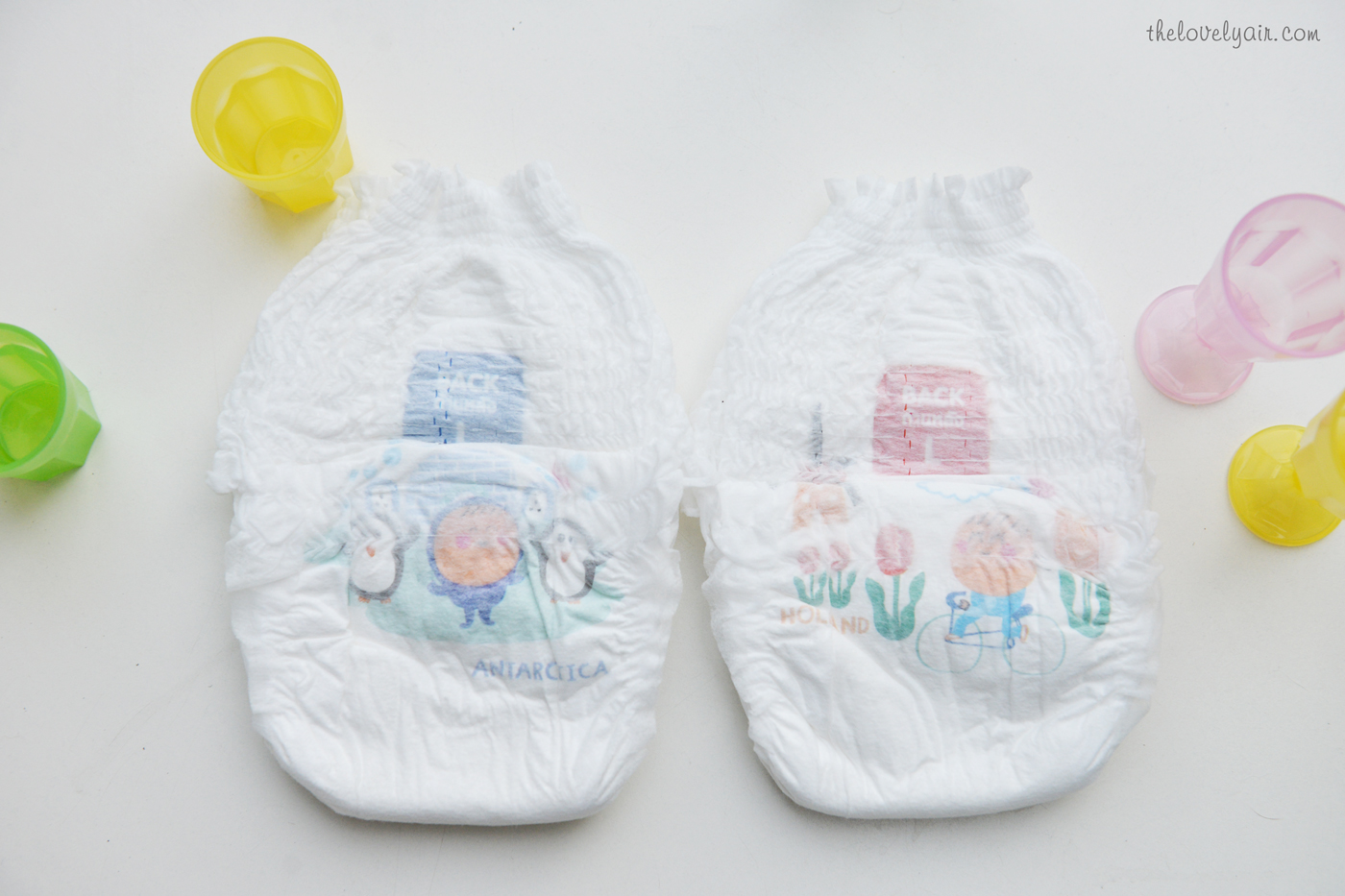 Back
Babylove Premium Gold Pants contains 2 designs in a pack. There are many cute cartoon on diapers. This first design is wind wheel and tulip which is the symbol of Holland. The second one is seal and penguin in theme Antarctica. It looks cool like North Pole.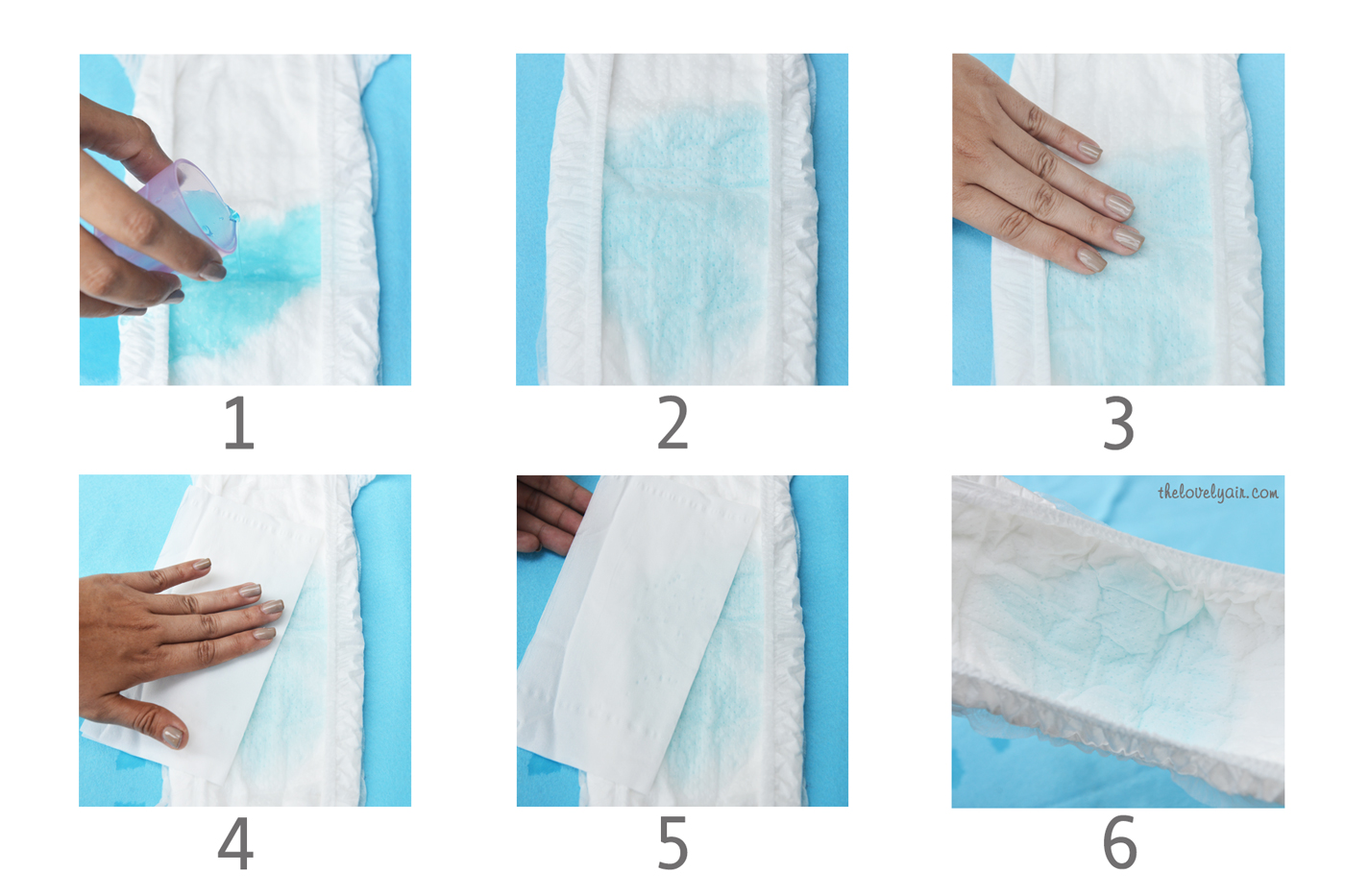 1.Testing by pouring water on a diaper
2. After pouring water, it seems that water disperses well without clutter. It absorbs quicker than the previous version.
3. After pouring water, I immediately touch a diaper. It is wet but not soaked.
4. Gently pressing tissue on a diaper in order to test the absorption.
5. As a result, it does not leak or soak a tissue because a diaper has 2 layers to absorb water and block water well to prevent the leakage.
6.This picture shows that Babylove Premium Gold has a leg stand that is waterproof and it is curved to fit in a baby hip to prevent lateral leakage. As I know, this model has an air flow sheet which can drain the dampness from the inside to the outside.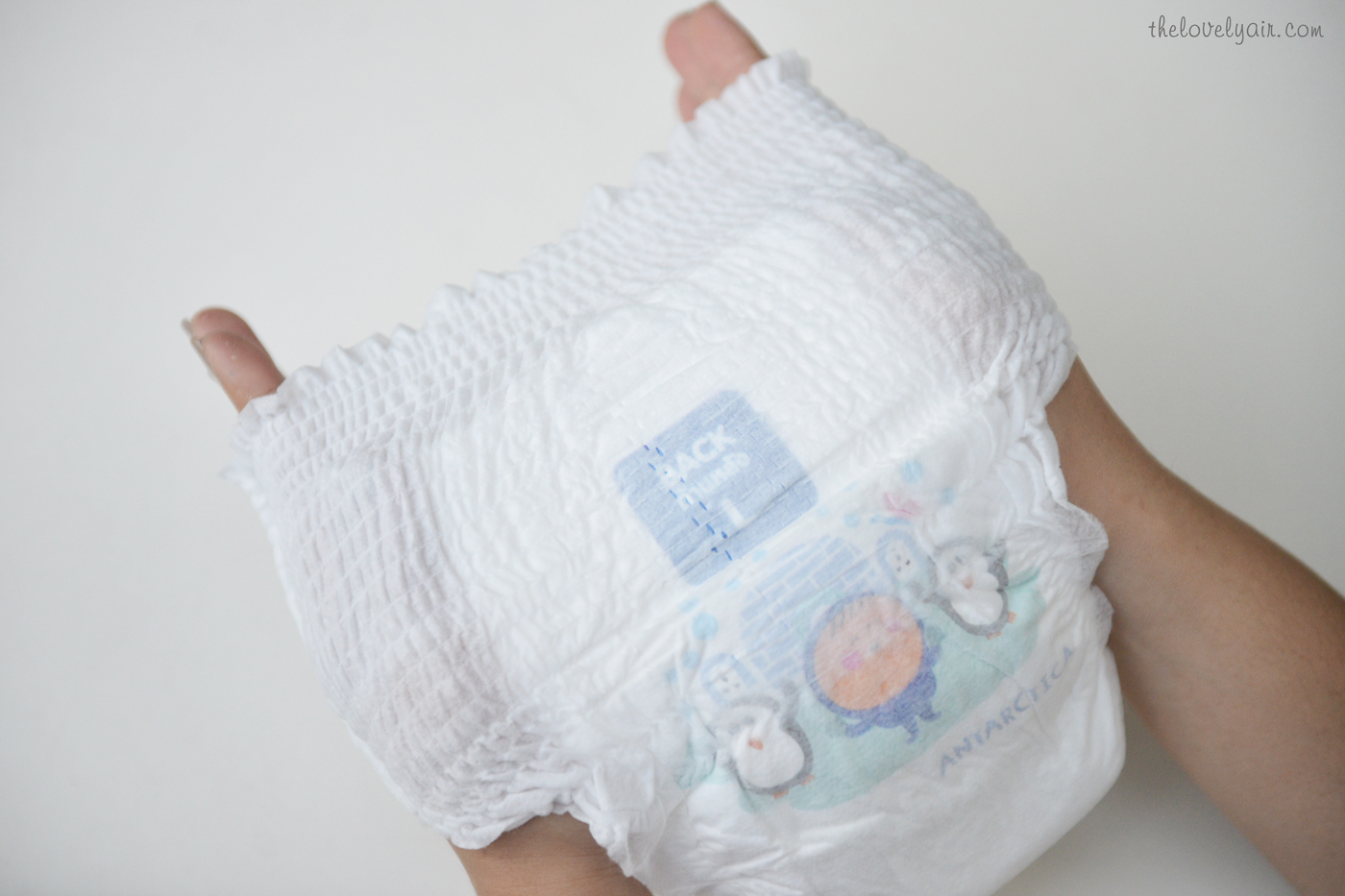 Babylove Premium Gold Pants has a wide waist which is flexible for baby. It makes my son easy to move. My son can run in the middle of the day comfortably. In the softness of the diaper, this model is very soft and gentle (Soft premium). This makes baby skin comfortable. I have touched a baby diaper on my face and it's very soft!! : P
Let's see the fashion diaper collection by my son.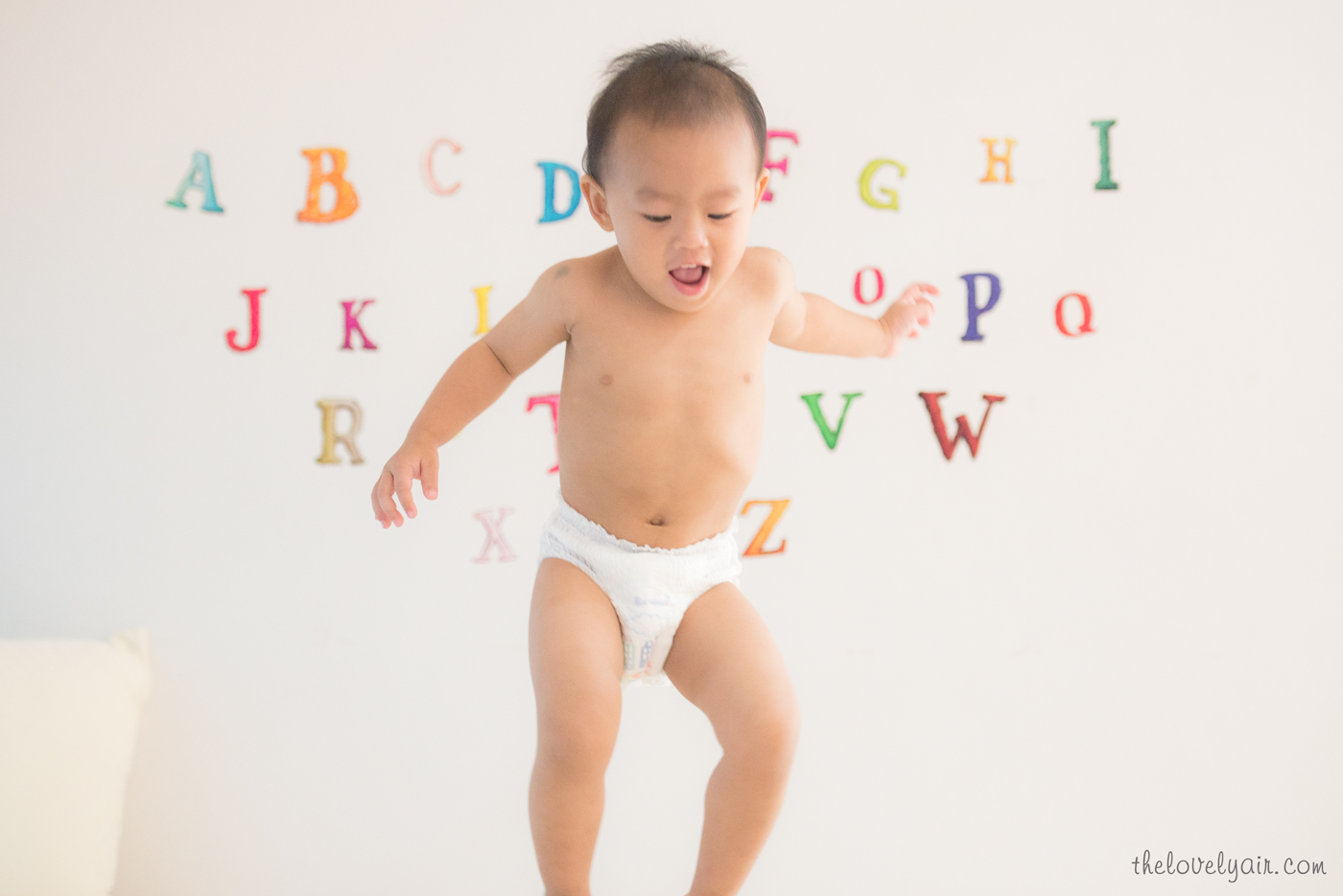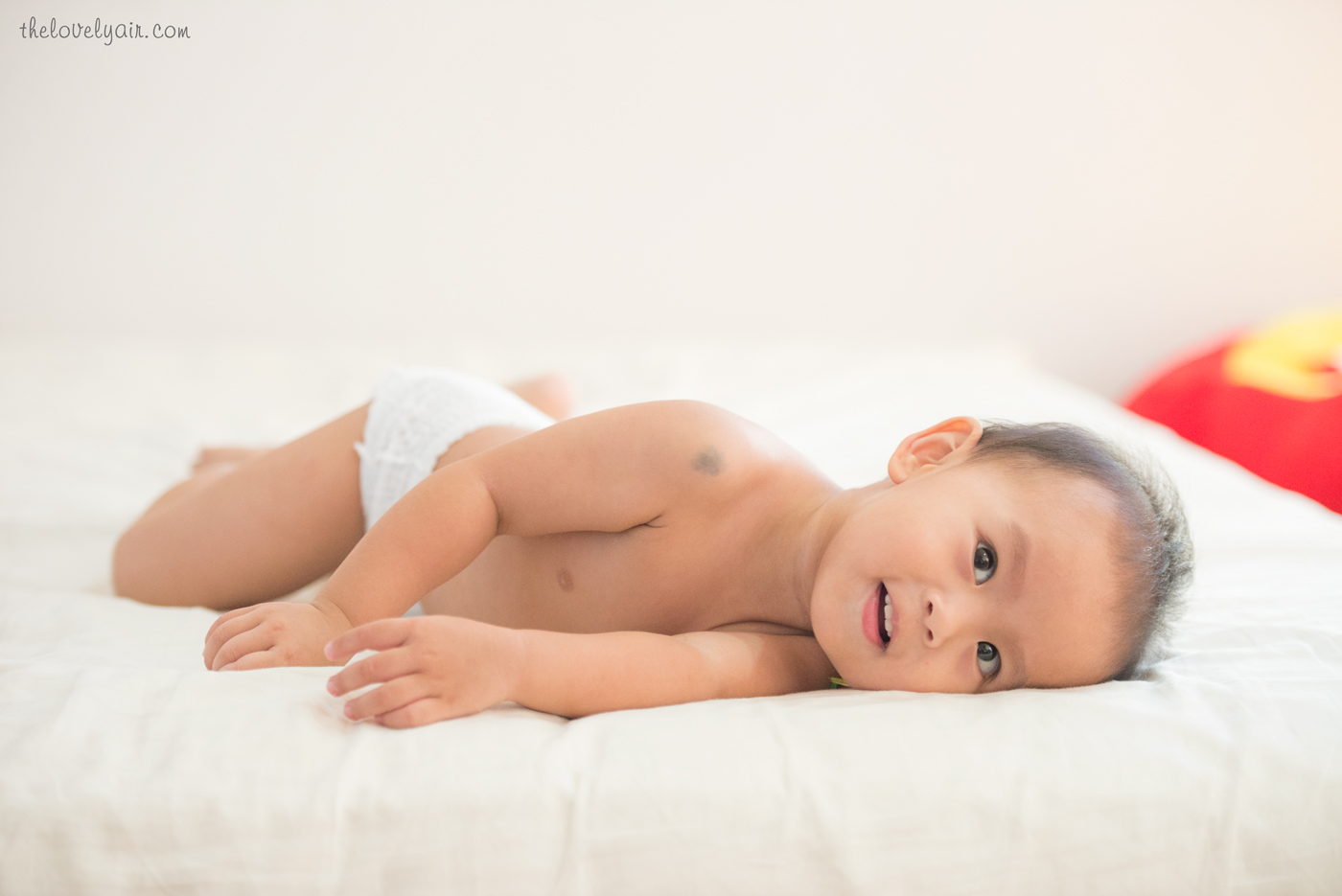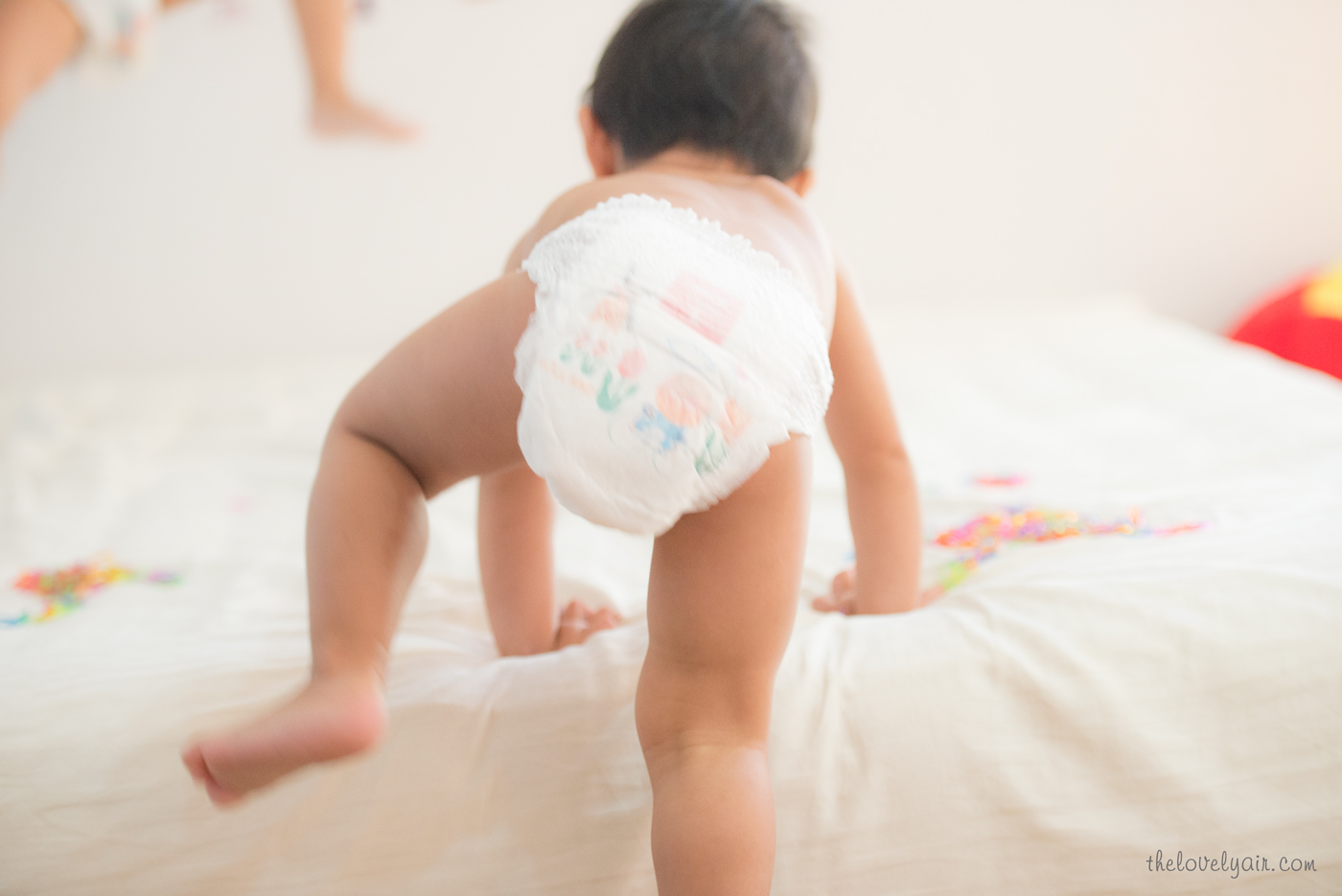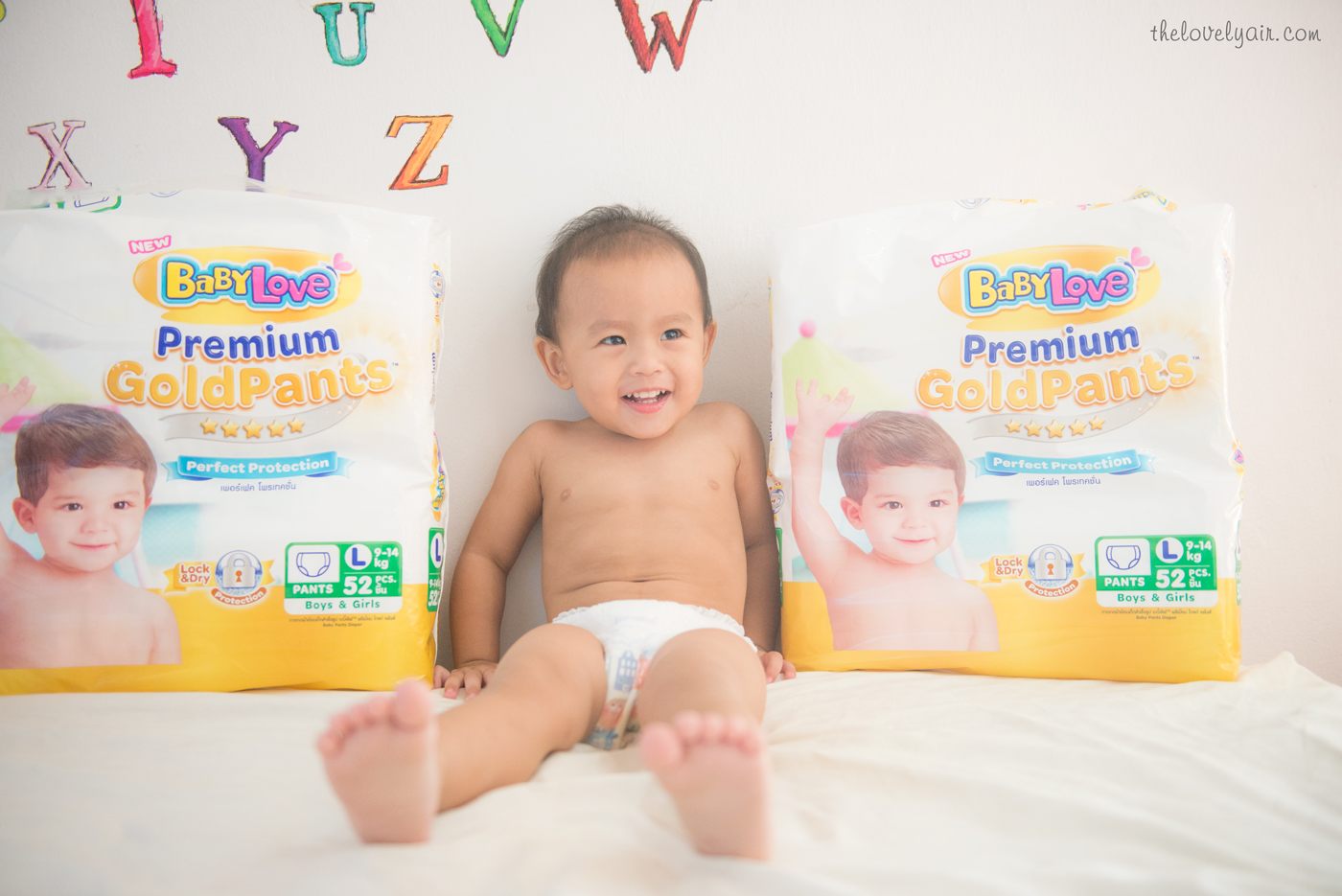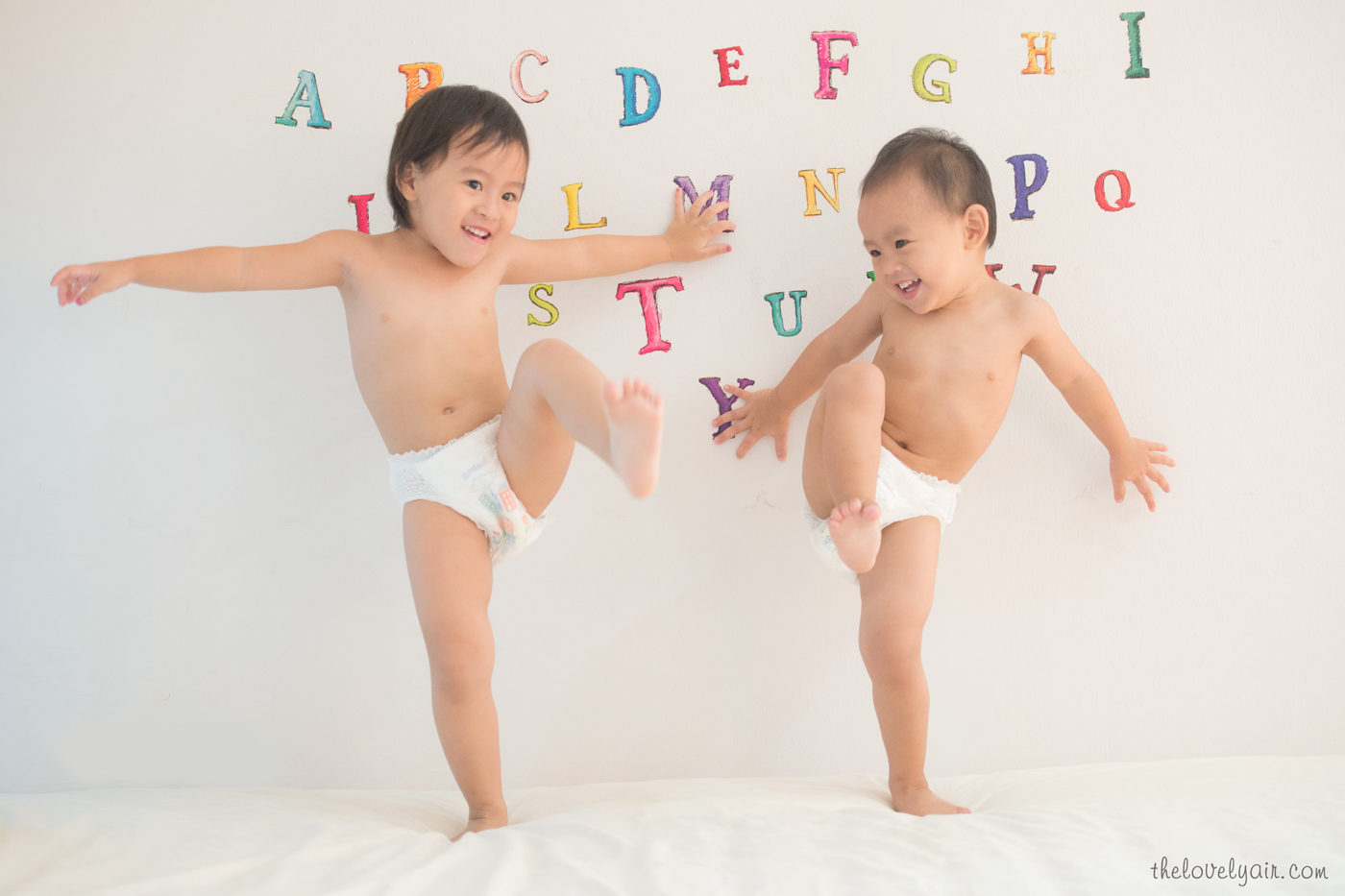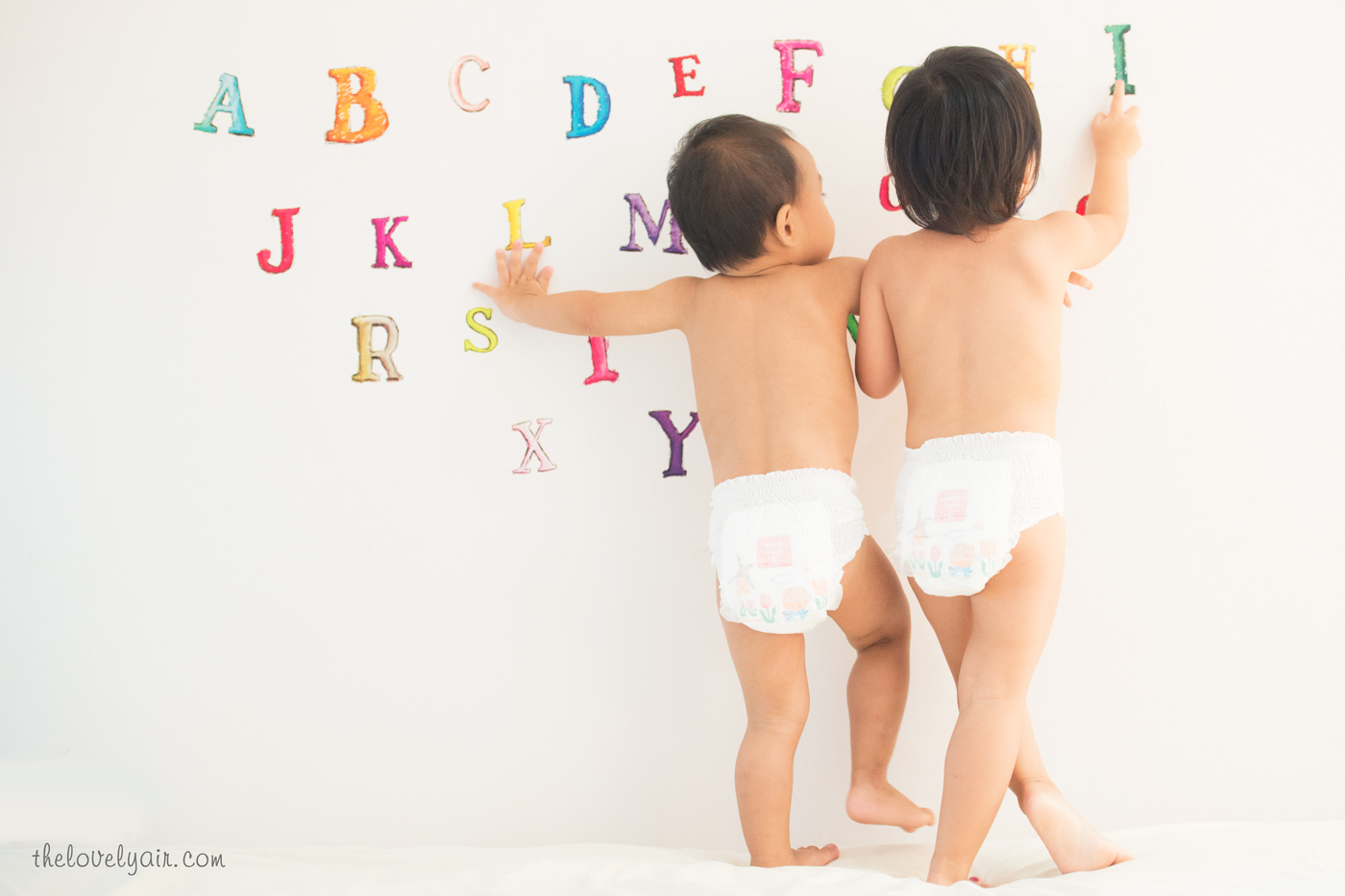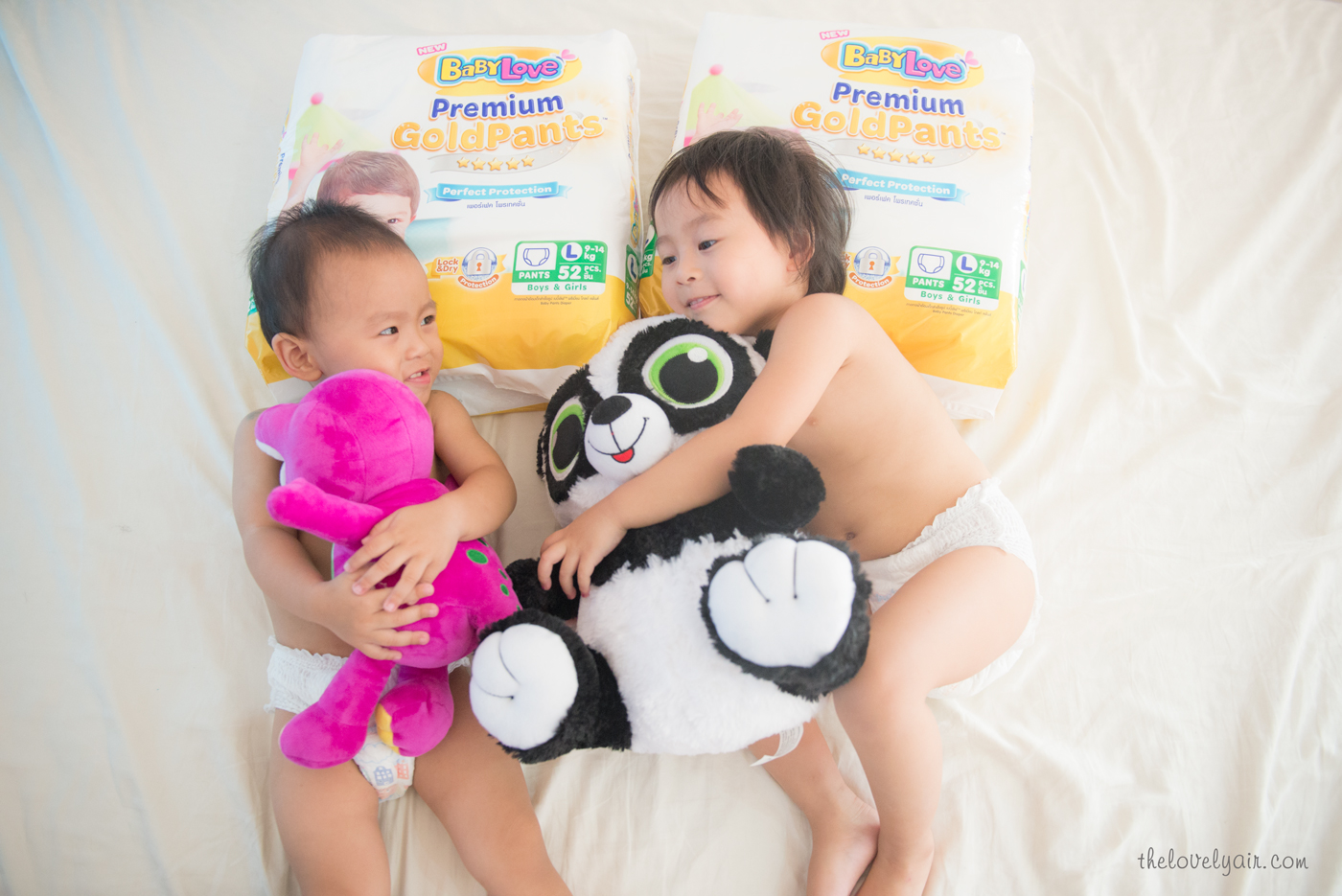 Babylove Premium Gold Pants is fit with my babies. They are comfortable while they are wearing diapers. My daughter also want to take pictures when she saw her brother shooting.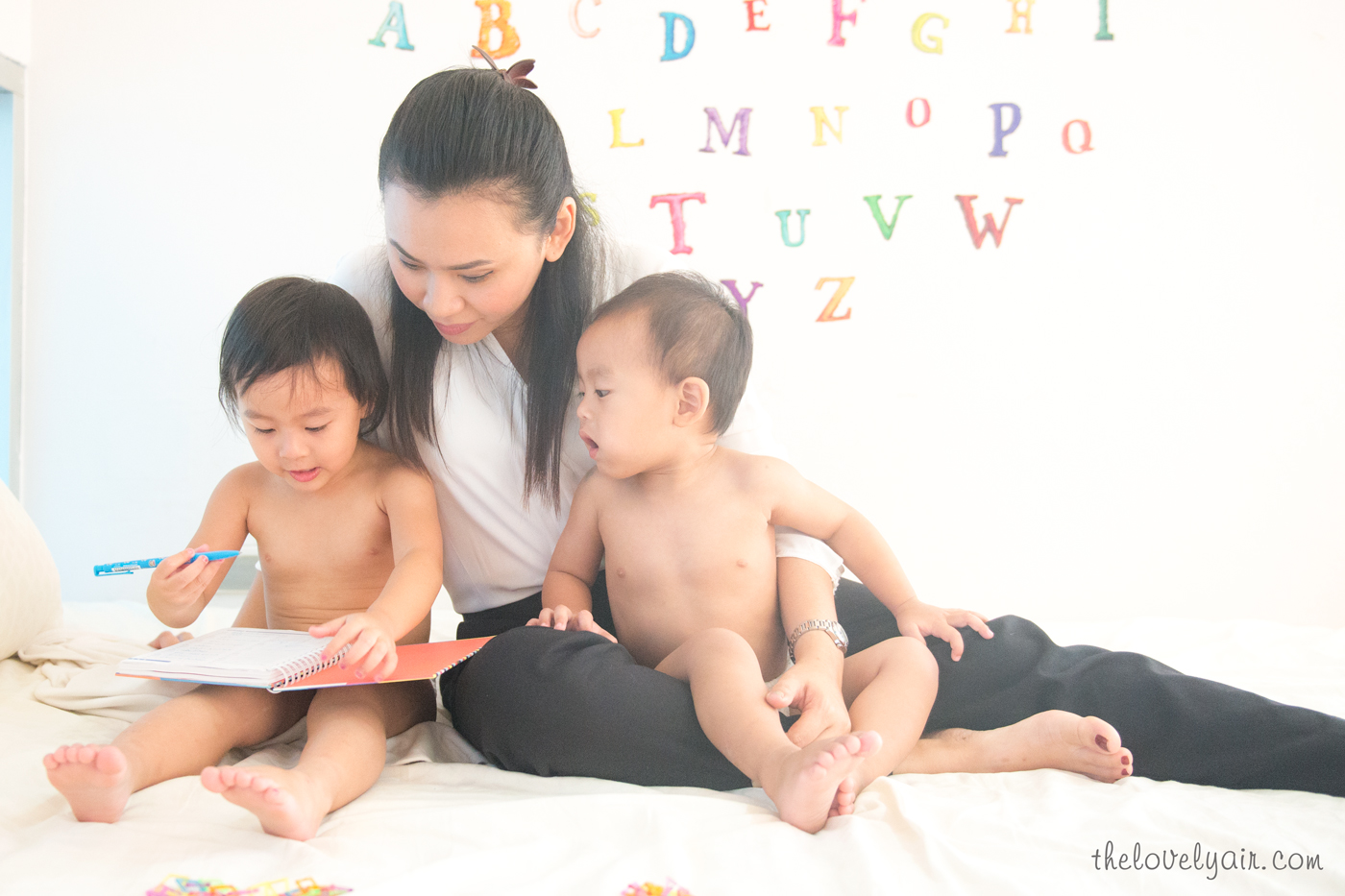 The result of testing and using this diaper.
In terms of absorption, I feel that this model is faster and better than previous Babylove model due to Lock & Dry protection, which has the power to absorb liquid to flow into the gel absorbed rapidly. I would recommend that mothers who are looking for diapers, diapers should make your baby feel comfortable and diapers should be soft and absorbed perfectly.
Babylove Premium Gold Pants are dry and it does not flow back. This makes my son's skin dry and no staleness. As I know that Babylove Premium Gold has gel absorbed two layers. It is specially designed to absorb rapidly for a long time. My son sleeps well when he's wearing this diapers.
The price of Babylove Premium Gold Pants is reasonable when it is compared with the quality.
If you are interested in this diapers, you can register to get a sample of Babylove Premium Gold
for FREE at > https://www.babylove.co.th/member
Online Purchase through Orami > https://www.orami.co.th/th/catalogsearch/result/?q=babylove+premium