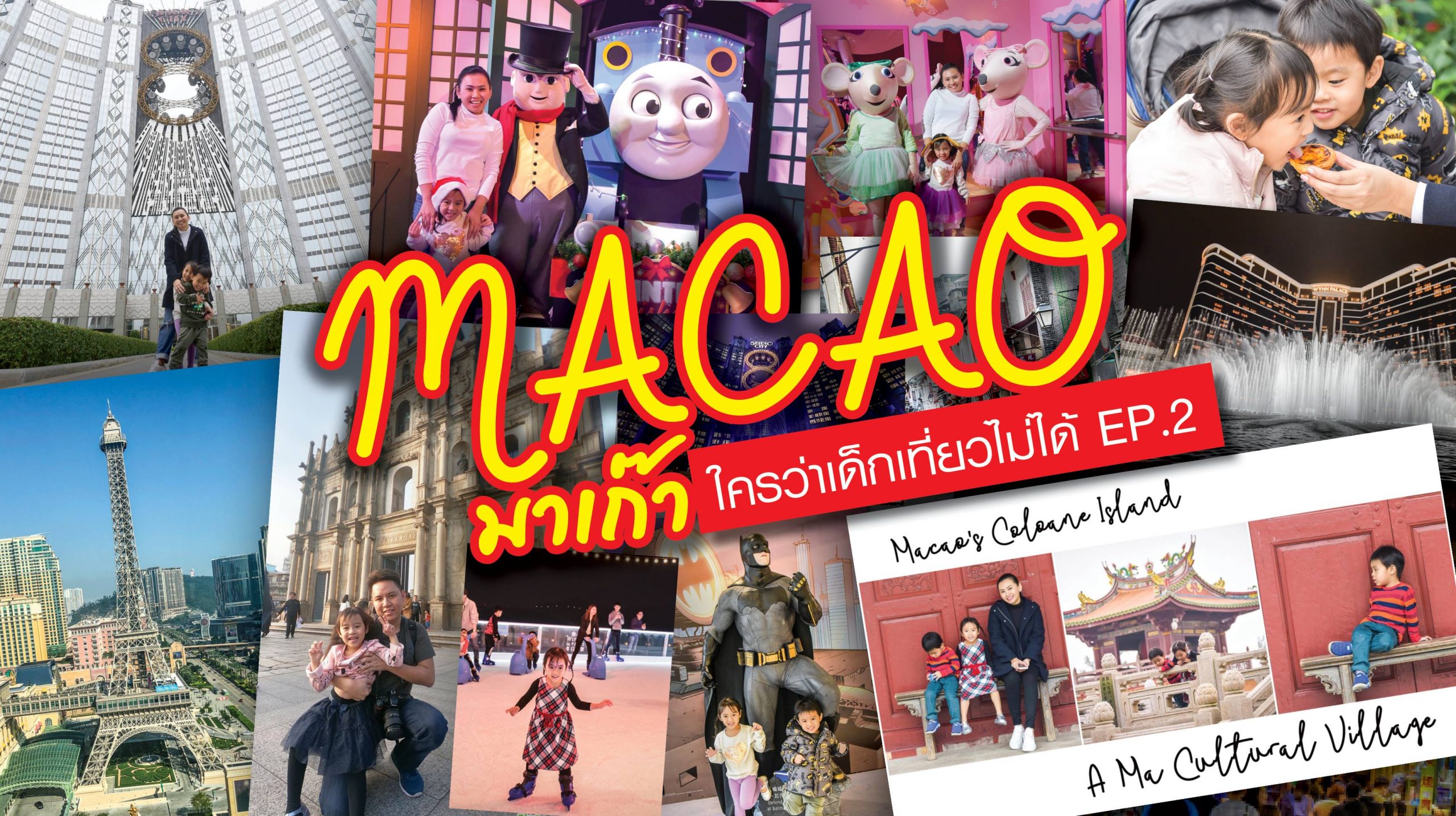 Who says Macao is not for the kids?! EP. 2
After the article of Macao trip ep. 1 was published, I want to update this ep. 2 as soon as possible, There might be some family who wants to follow our guidance. Firstly, you can read the schedule for day 1 and day 2 at the link below:
Follow "Who says Macao is not for the kids?! EP. 21" here.
Let's see what did we do on that 3rd day…
DAY 3: TAIPA (Cunha Street) → Studio City Macao → KID'S CAVERN → THOMAS & THE LITTLE BIG CLUB ALL-STARS SHOW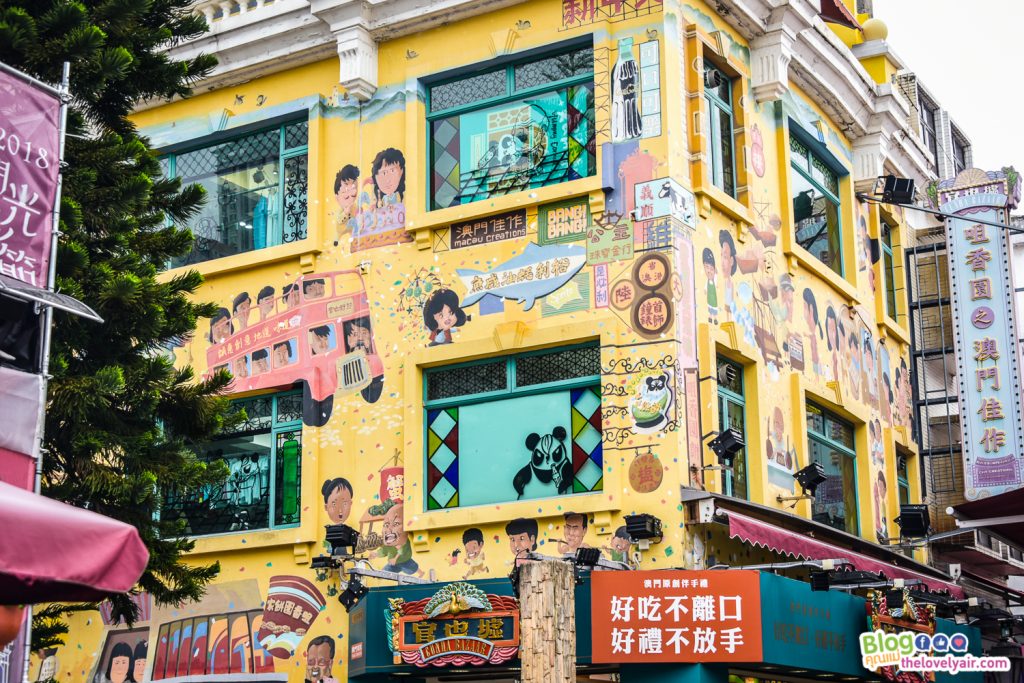 We got up quite early and took a taxi to have breakfast at Cunha street. It is another shopping landmark which gathers all famous brands. You can walk and try some food here such as egg tart or Pork Chop Bun, the Portuguese style food. Traditional bread stuffed with pork in Macau style can also be tried here.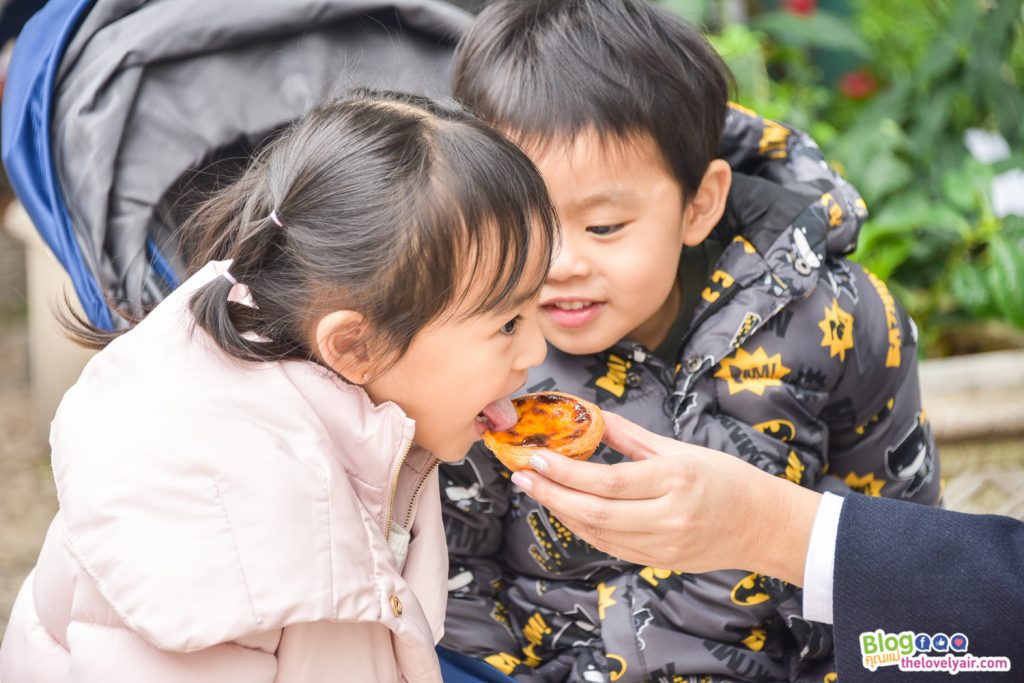 Deedy and Louvre could not miss egg tarts when they were in Macao!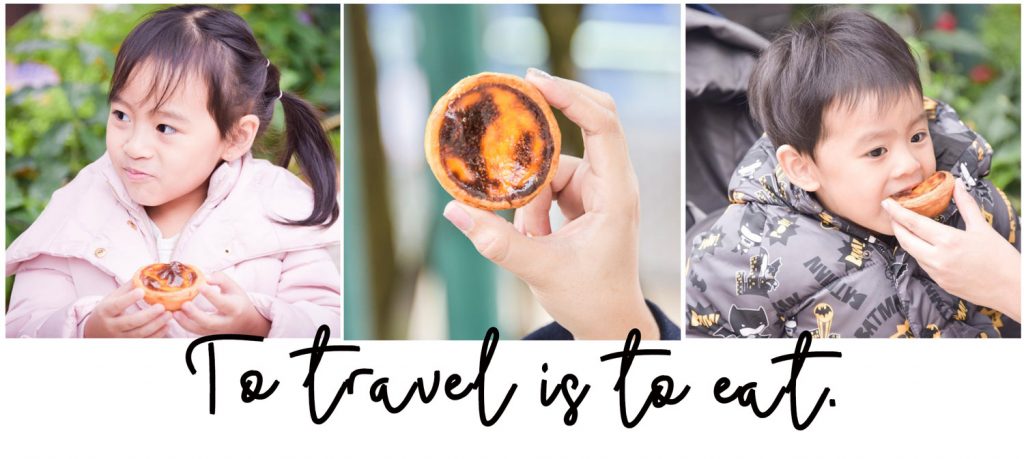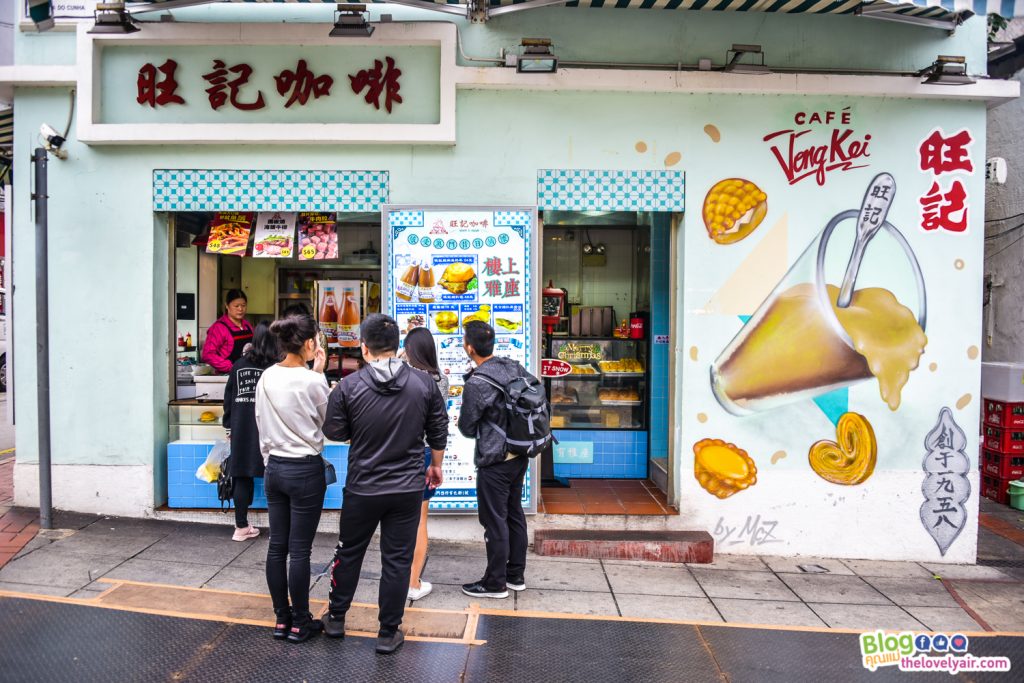 We can walk through the alleyways in this zone. Each alley has food shops, cafes, and souvenir shops.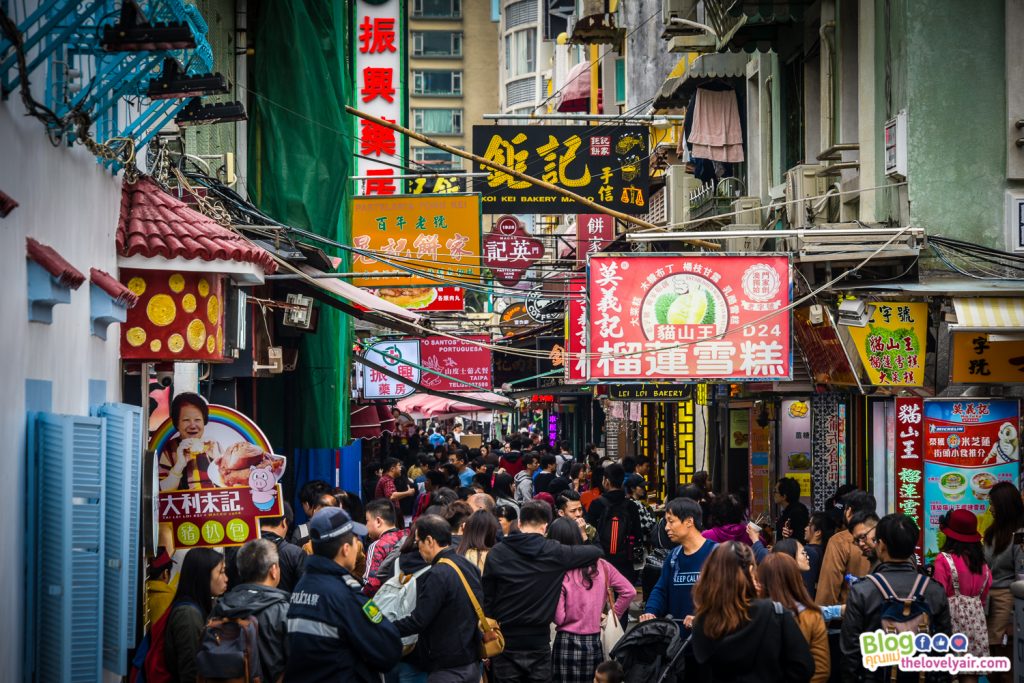 If you come early, there won't be many people. However, if you arrive after brunch time, it would be like this…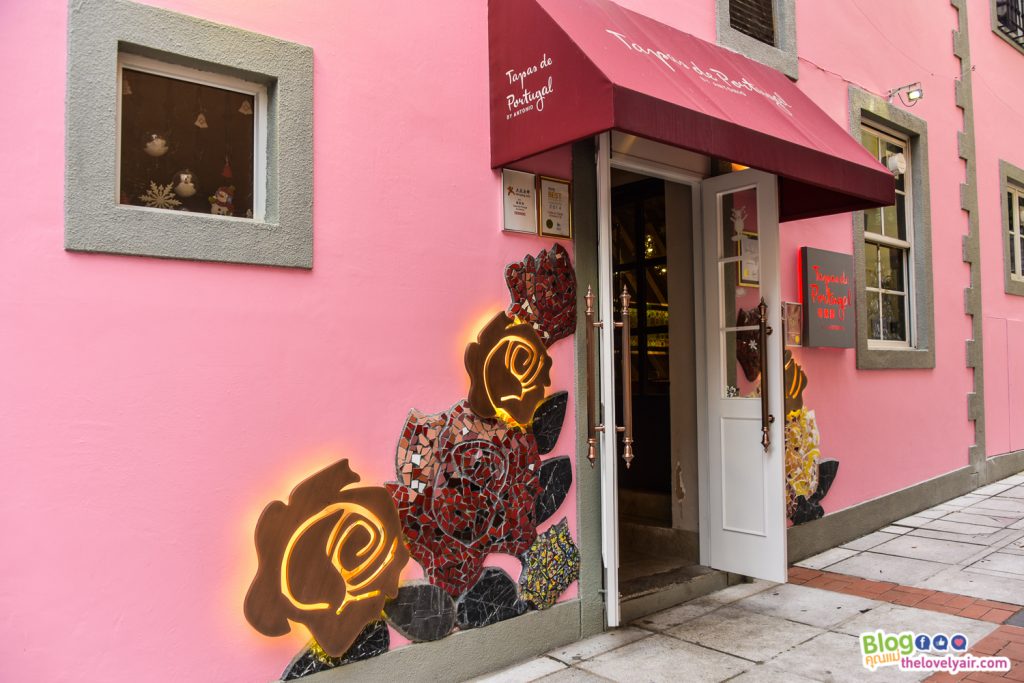 There was also a Tapas shop.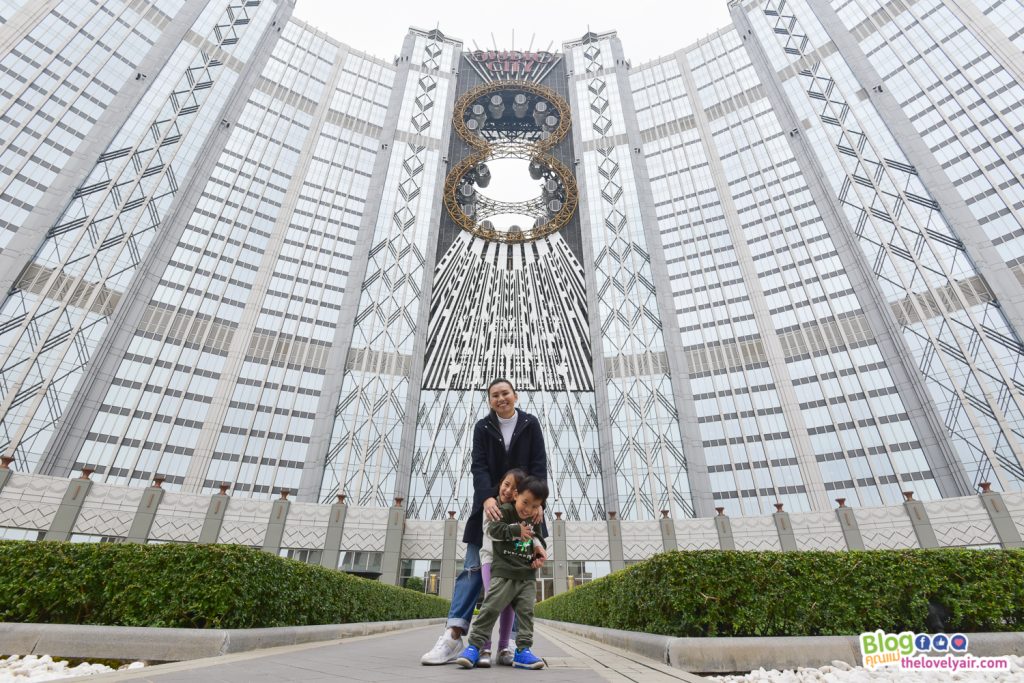 After walking around Cunha street, I wanted to go back and walk along the hotel area. This trip, we stayed at the Studio City Hotel. This hotel's specialty is that it has the symbol of the 8th tallest Ferris wheel in Asia in the middle of the building.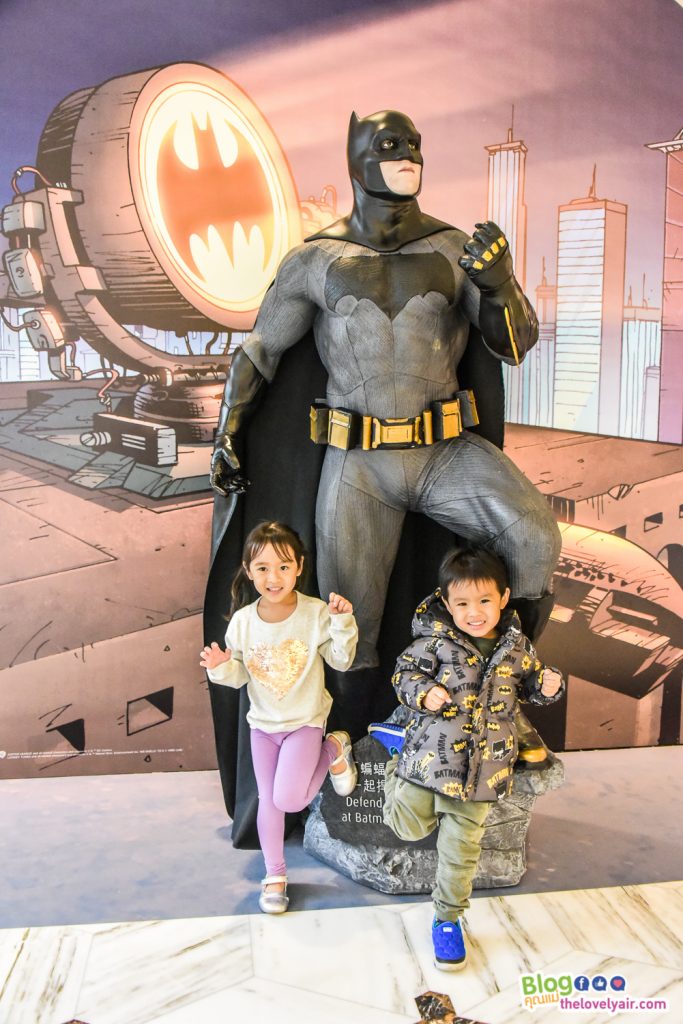 Inside the Studio City are hotels, indoor playgrounds, a Ferris wheel called "The Golden Reel" which the design is in the shape of 8, restaurants, shopping malls, nightclubs, and casinos. When we came here, we received complete facilities. Studio City is divided into 2 buildings which are Star Tower and Celebrity Tower. Our family stayed at Celebrity Tower.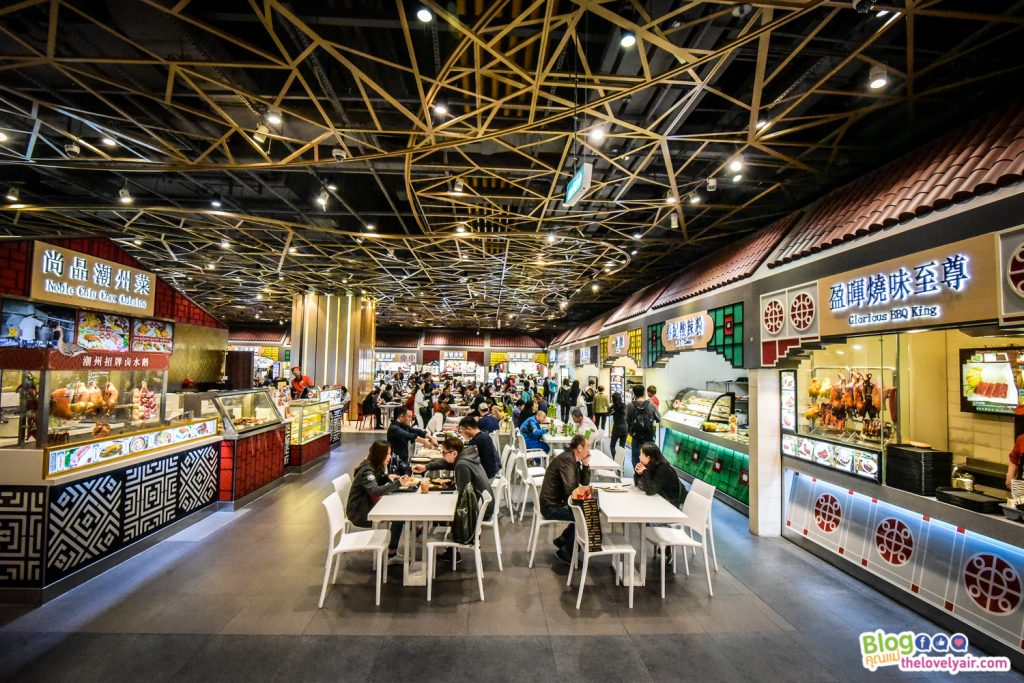 Most hotels in the Macao area are connected to each other. We can walk through from one hotel to another by reading the sign. Our family kept walking through the hotel until we arrived at the Sheraton Grand Macao zone. This building has a mall, a restaurant, a food court on the upper floor. I brought my children to have lunch here.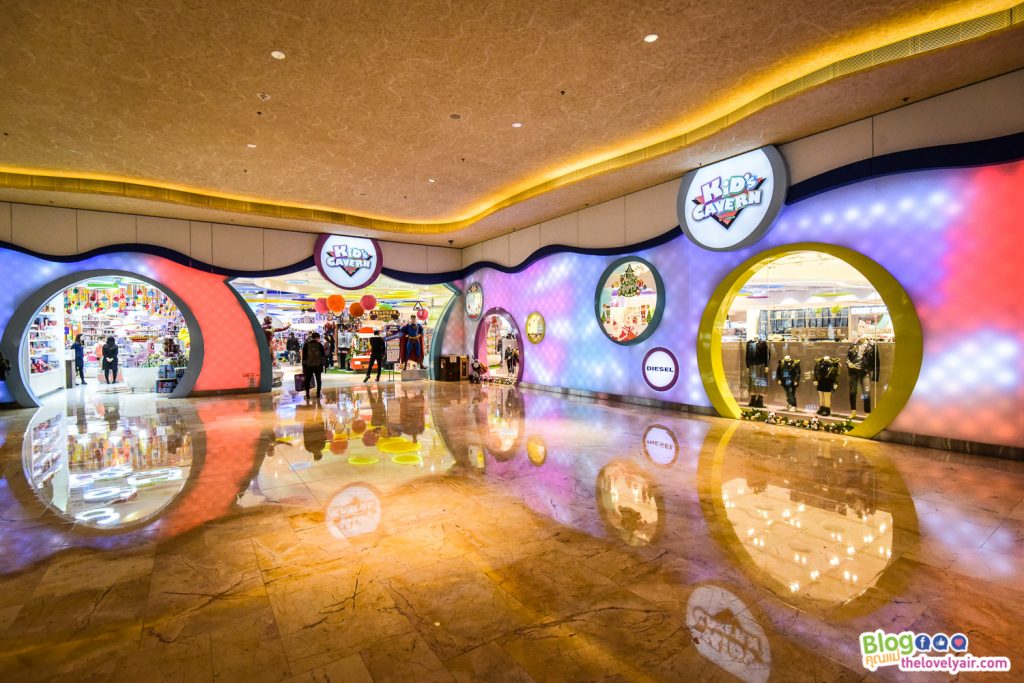 Near the food court shop, there is a large children's toy store called "KID'S CAVERN" Shoppes at Cotai Central on the 3rd floor.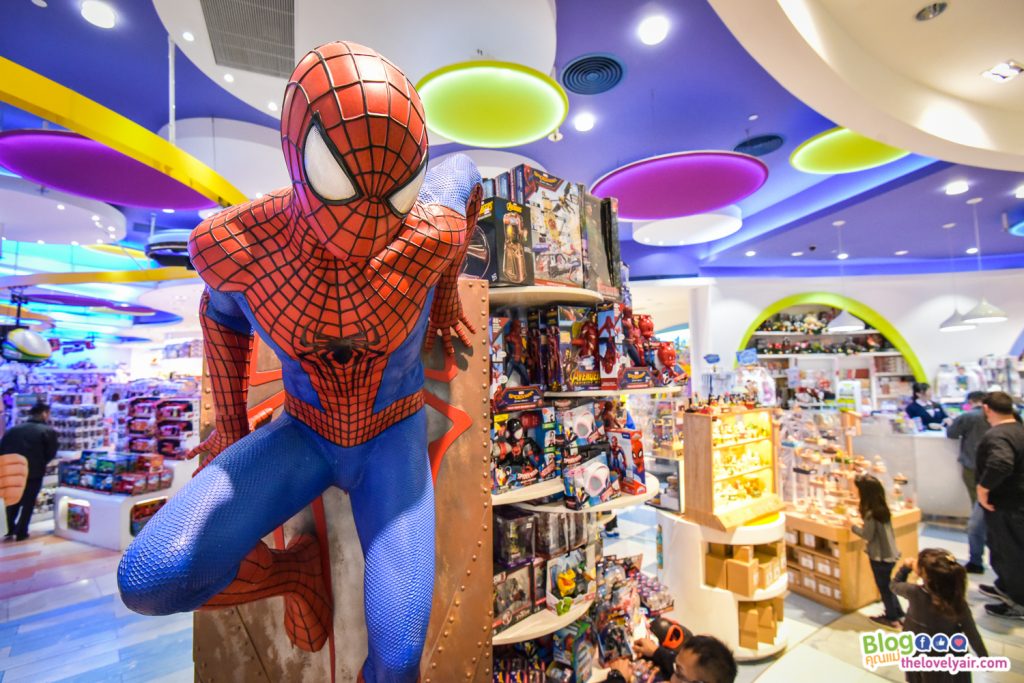 They claimed, "The Largest Kid's Store in Macau ever!"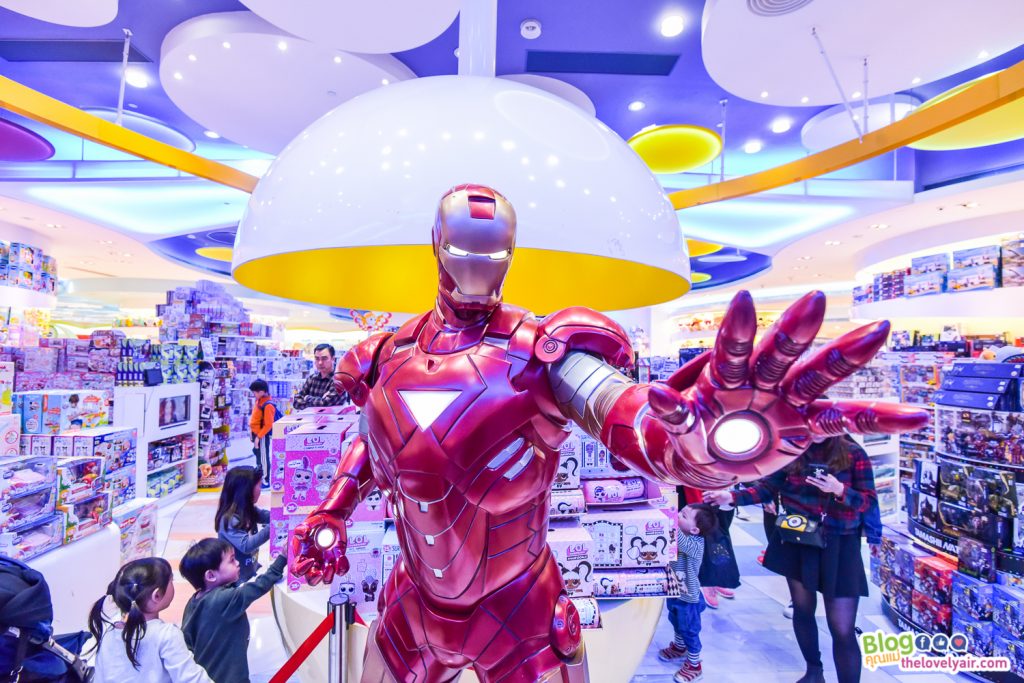 The shop is large, consisting of toys, clothes, shoes and baby's items. It's effortless to spend a lot of money.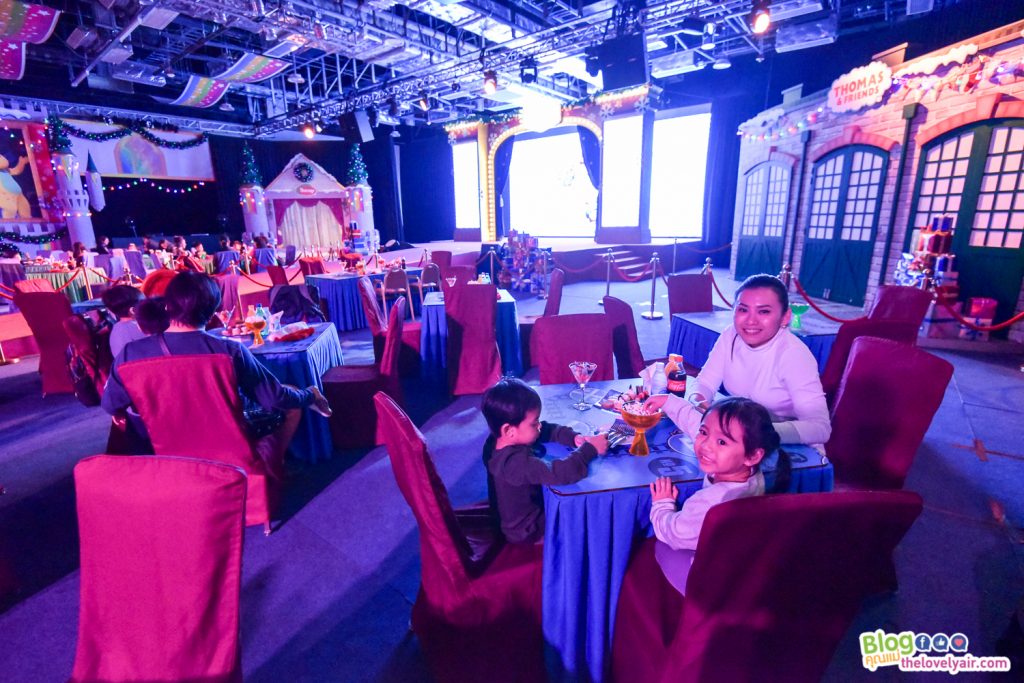 After lunch, I brought the children to watch a kid show named Thomas & The Little Big Club ALL STARS at Sands Resorts Macao. Performances are available daily from 3.30 pm – 5.00 pm at Urumqi Ballroom, 4th Floor, Sands Cotai Central. We have to buy tickets; the adult is 100 MOP, and the kid is 80 MOP. While watching the show, there are also snacks and drinks. The stage performance began after we ate meals a little bit.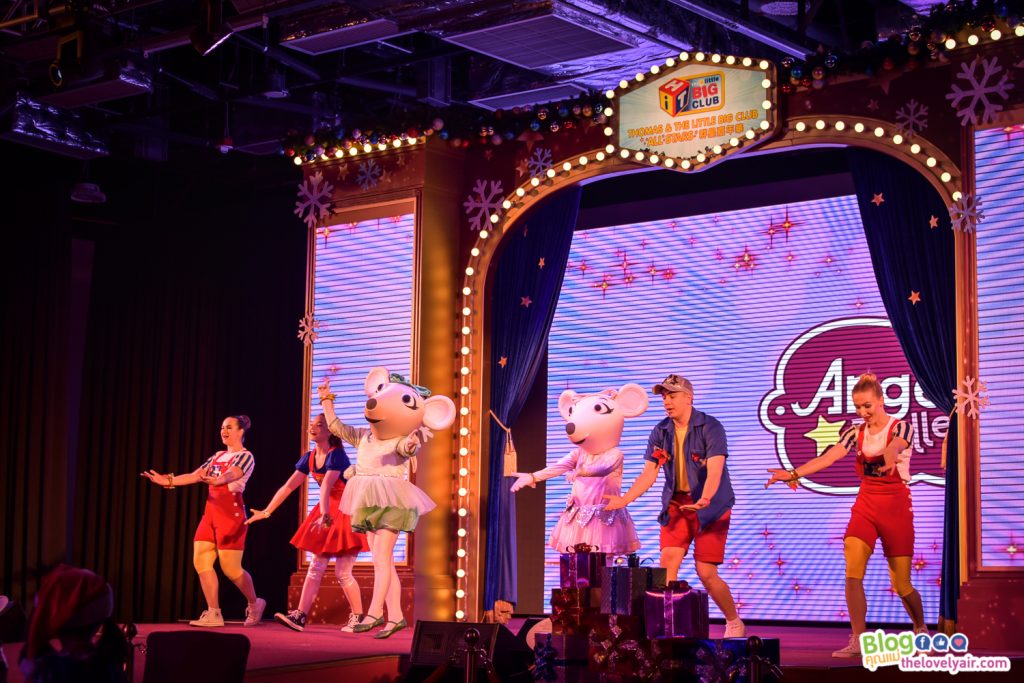 There were a lot of kid's all-time-favorite cartoon characters such as Barney, Thomas & Friends, Angelina & Ballerina, and Mike the Knight. After completing the stage performance, children can go to take pictures with their favorite characters. And at the back, there are activities for children such as coloring, archery, learning to dance ballet.
Tickets can be booked from 10 am-10 pm daily at
SANDS® COTAI CENTRAL Box Offices THE VENETIAN MACAO Box Offices THE PARISIAN MACAO Box Office
Open 10am-12pm; 1pm-7pm; 8pm-10pm daily SANDS MACAO Box Office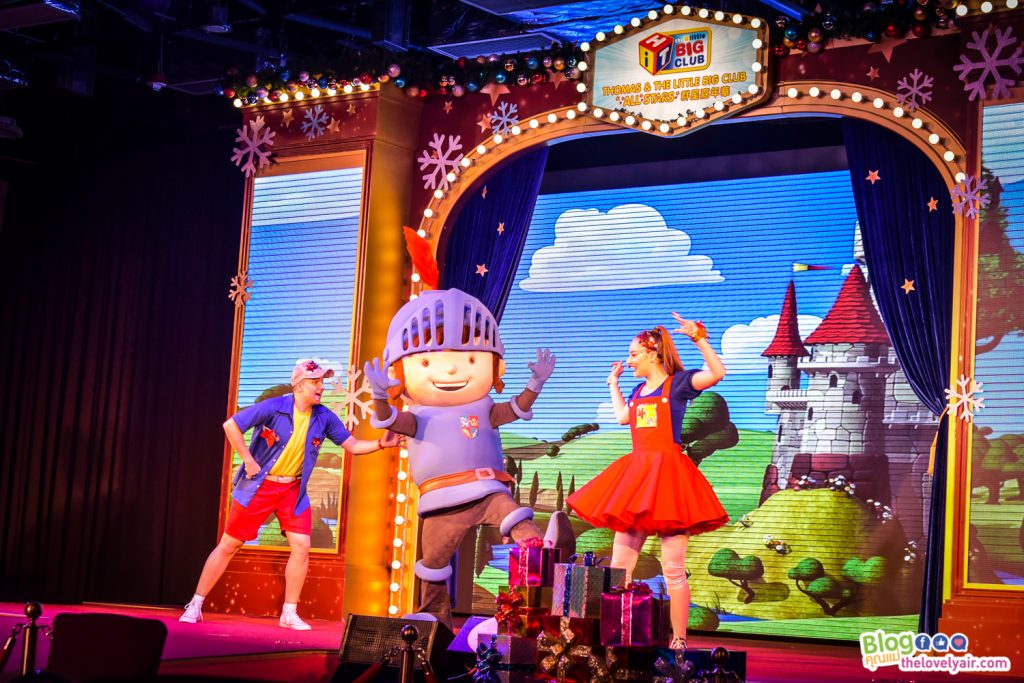 Louvre said it was amusing. He liked Mike the Knight and Thomas & Friends the most. But he fell asleep during the performance and didn't take a picture with them.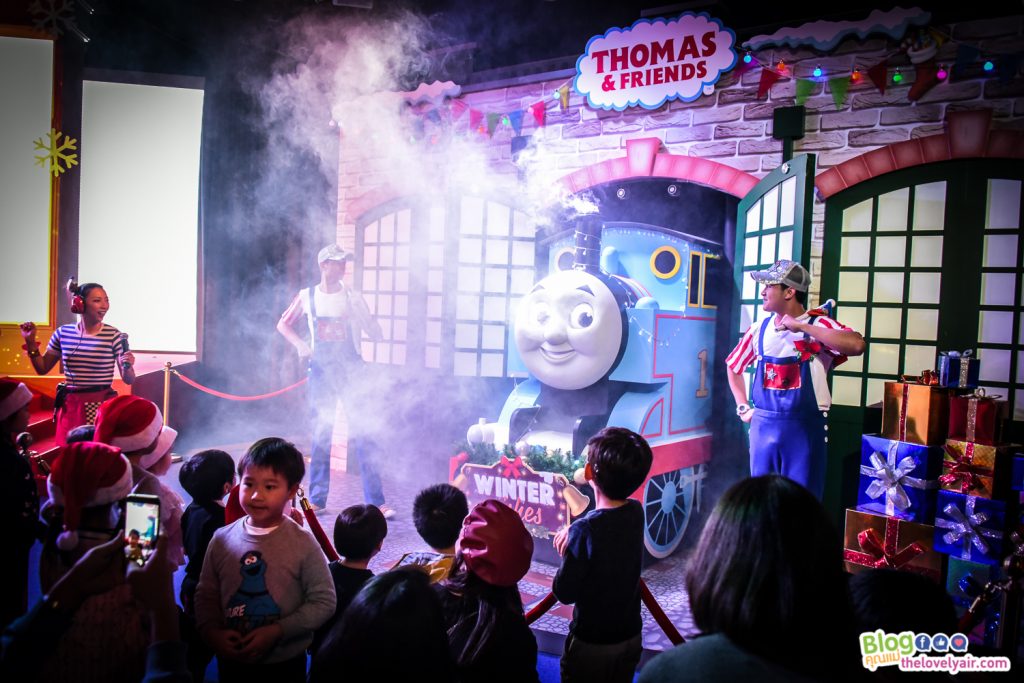 Thomas & Friends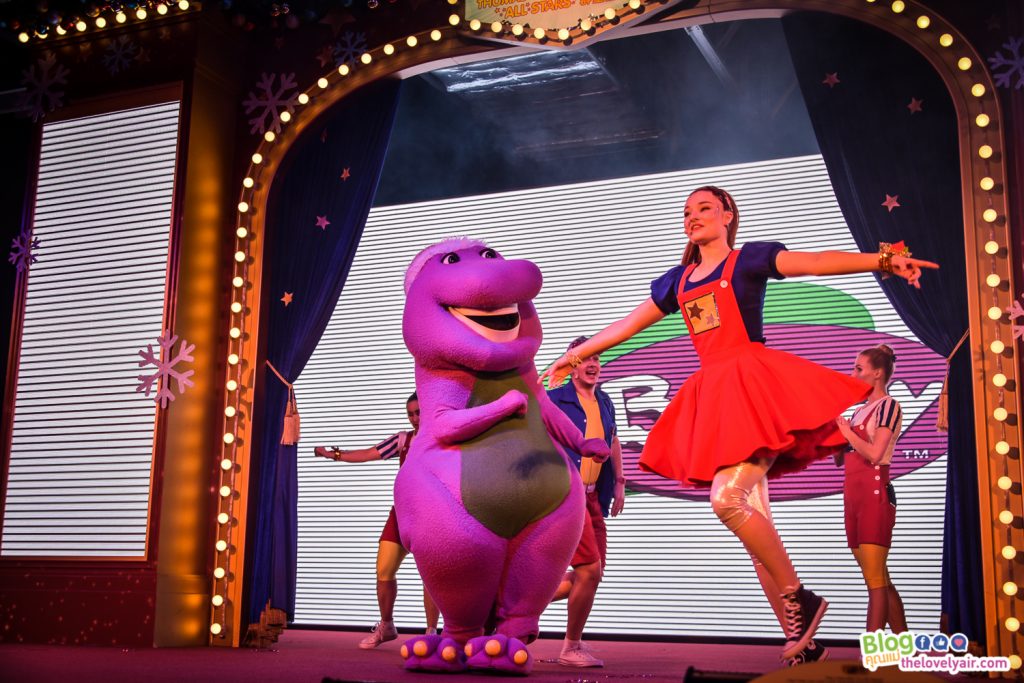 Purple "Tyrannosaurus rex" Dinosaur, it is cute and kind Barney!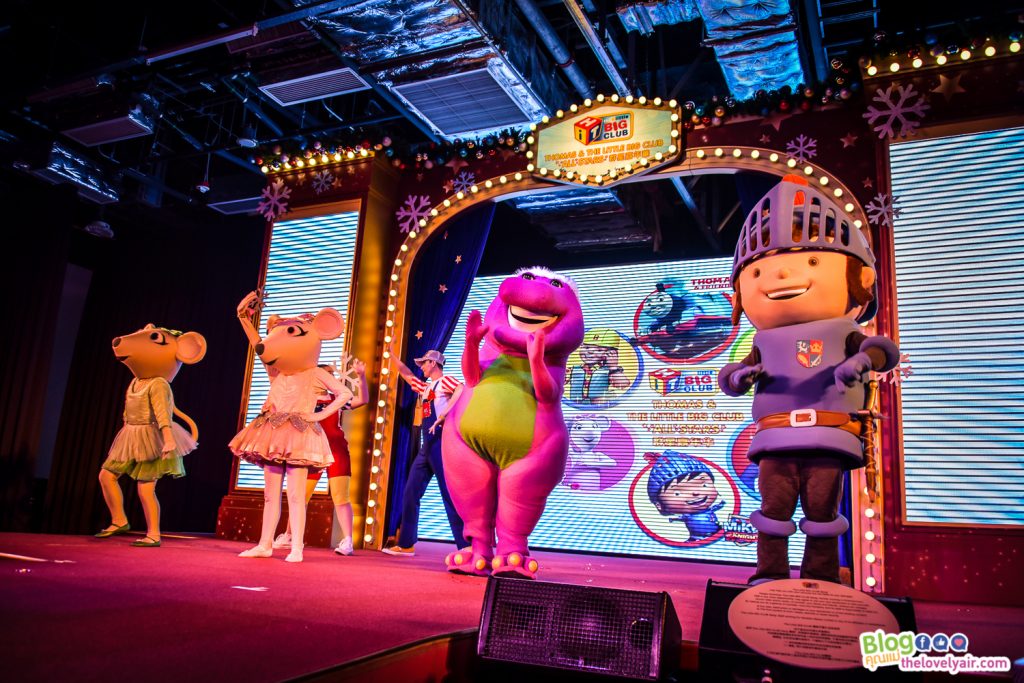 Full team!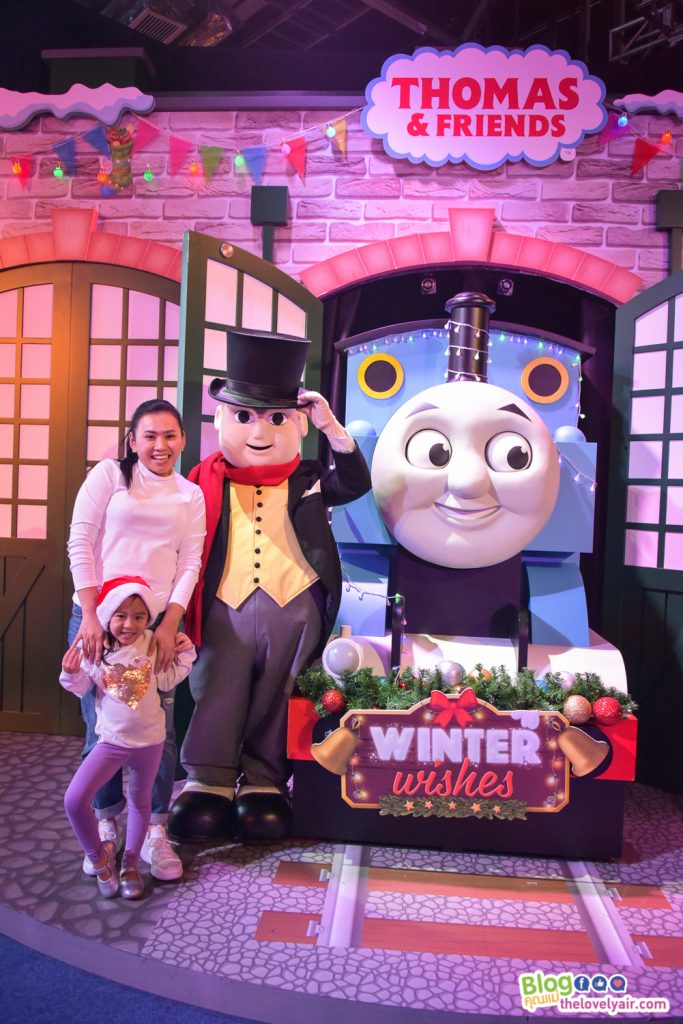 After the performance ended, they let us spend time taking photos with our favorite characters.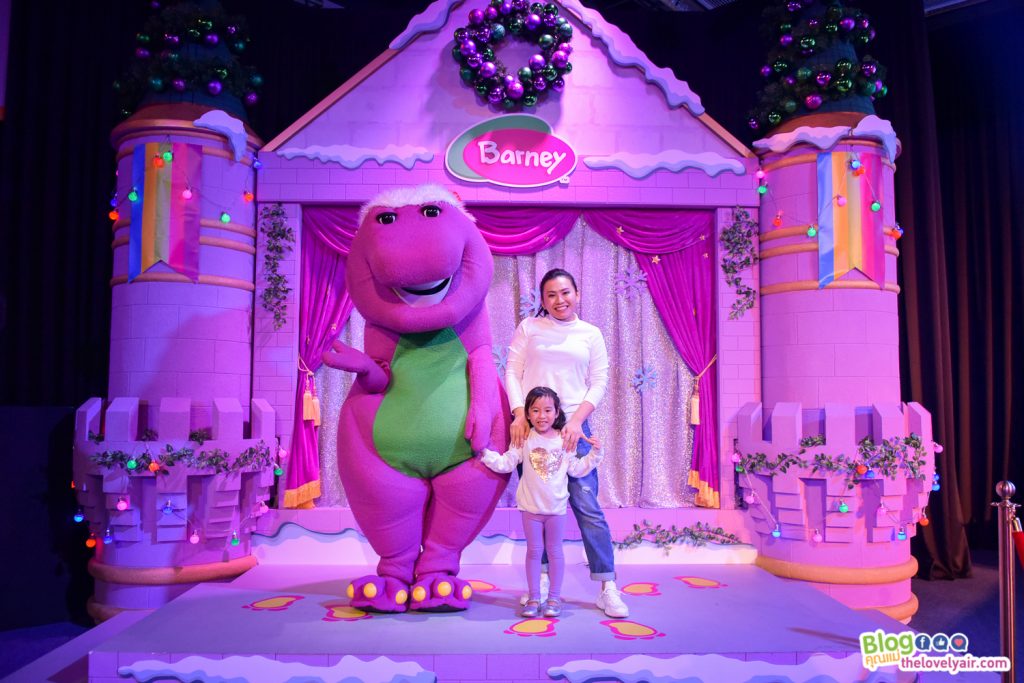 Deedy wanted to take a photo with Barney.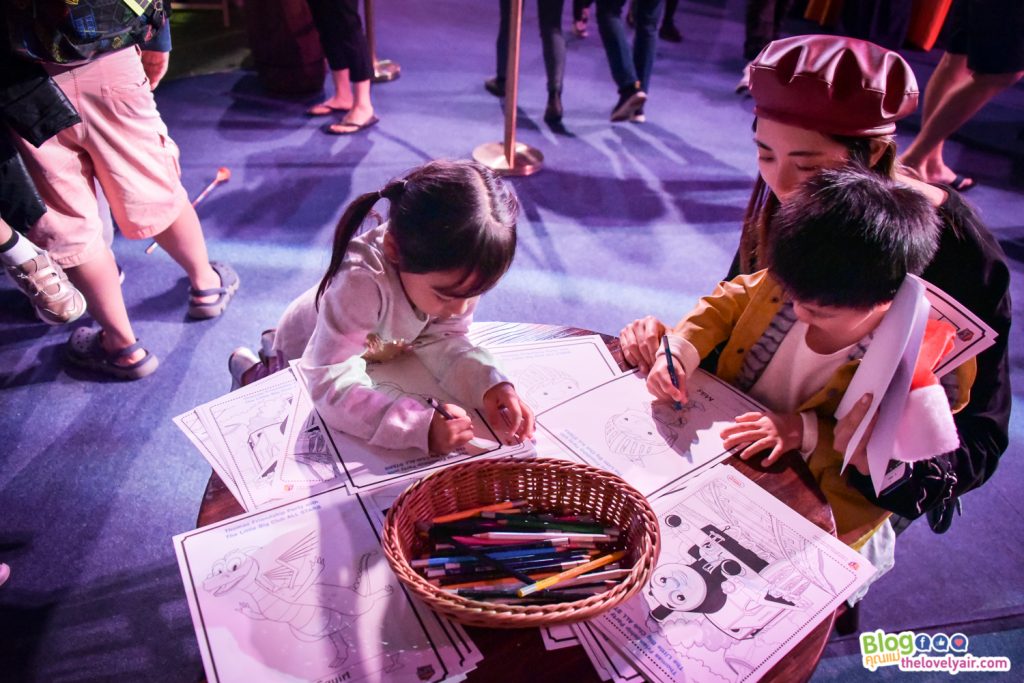 There are other activities for children to have fun together too.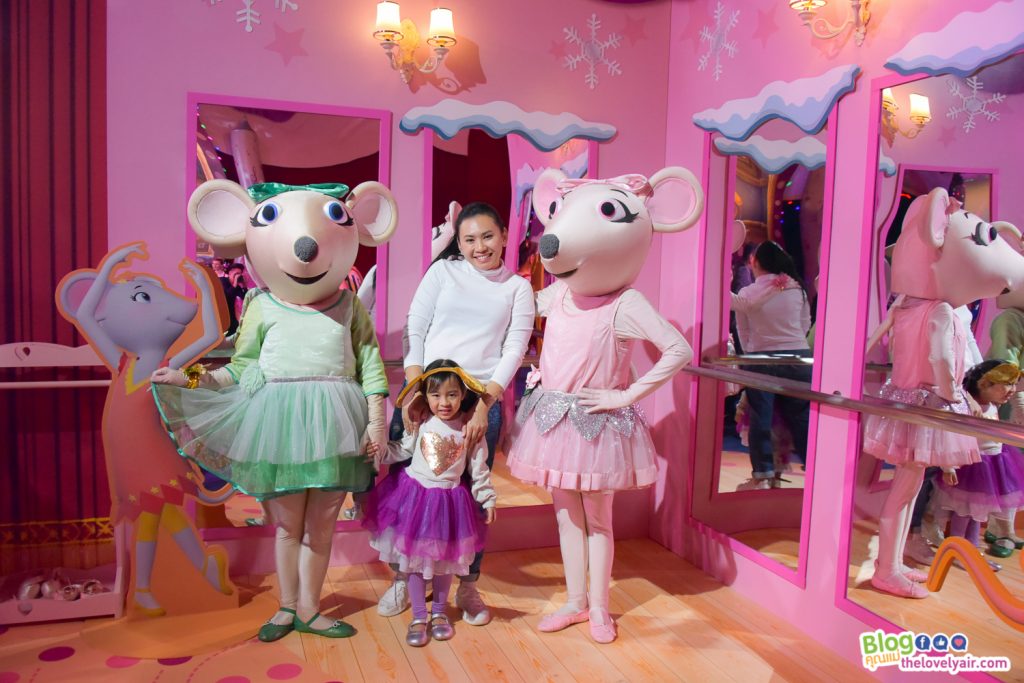 Have you ever seen Angelina Ballerina? (British animated children's television series)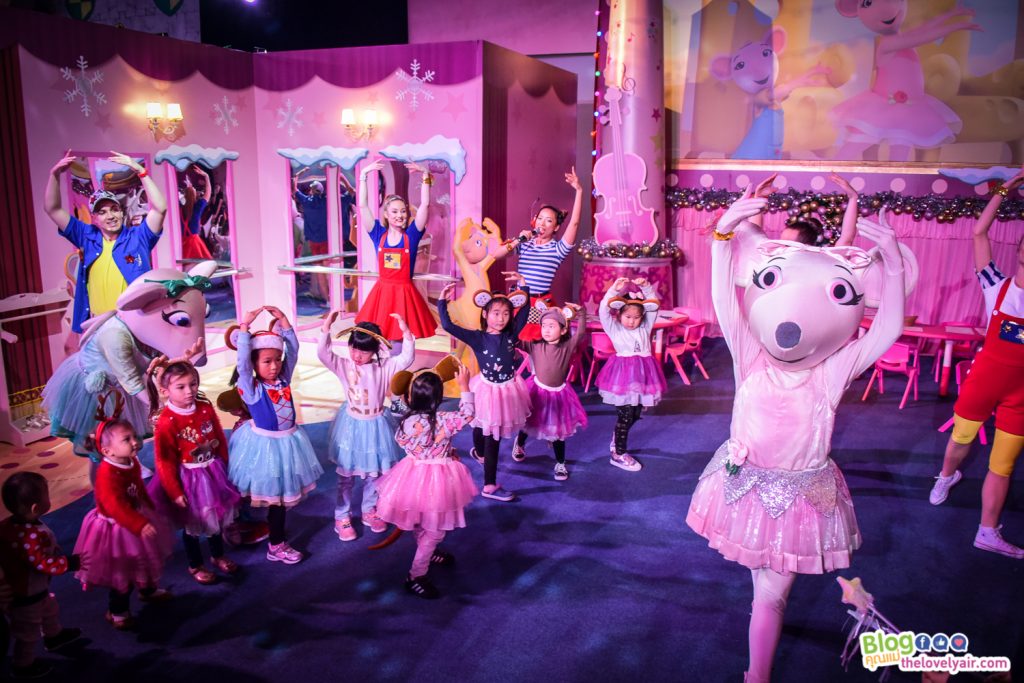 Before returning to the hotel, the children practiced Ballet with Angelina Ballerina.

Our family went out for a bit of shopping after watching the show.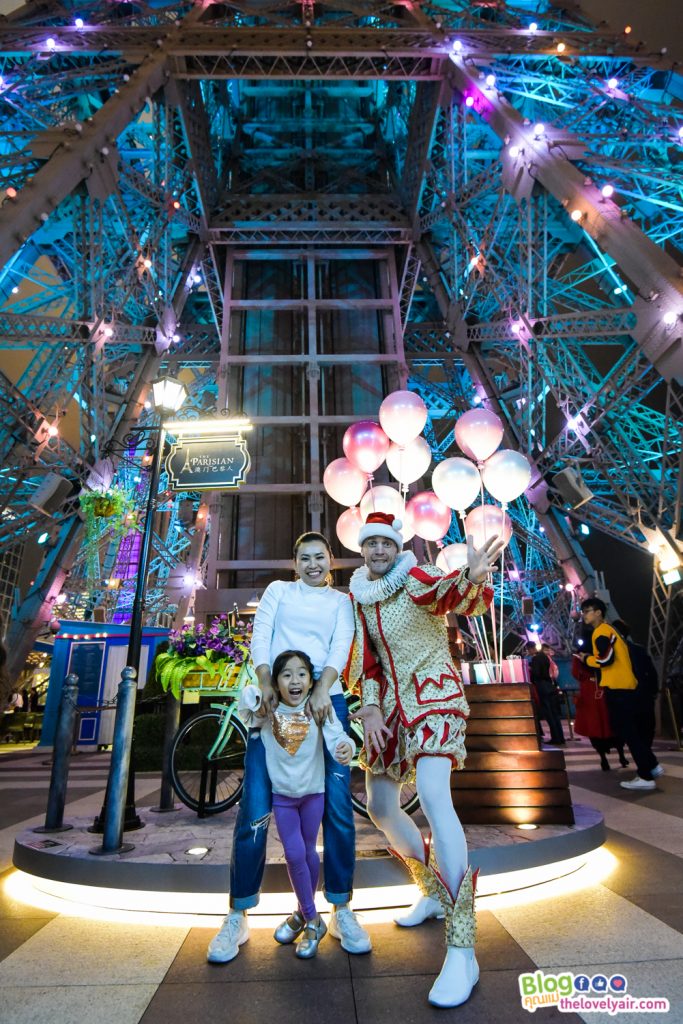 We finished Day 3 by taking the children to have dinner at The Parisian Macao department store near the hotel.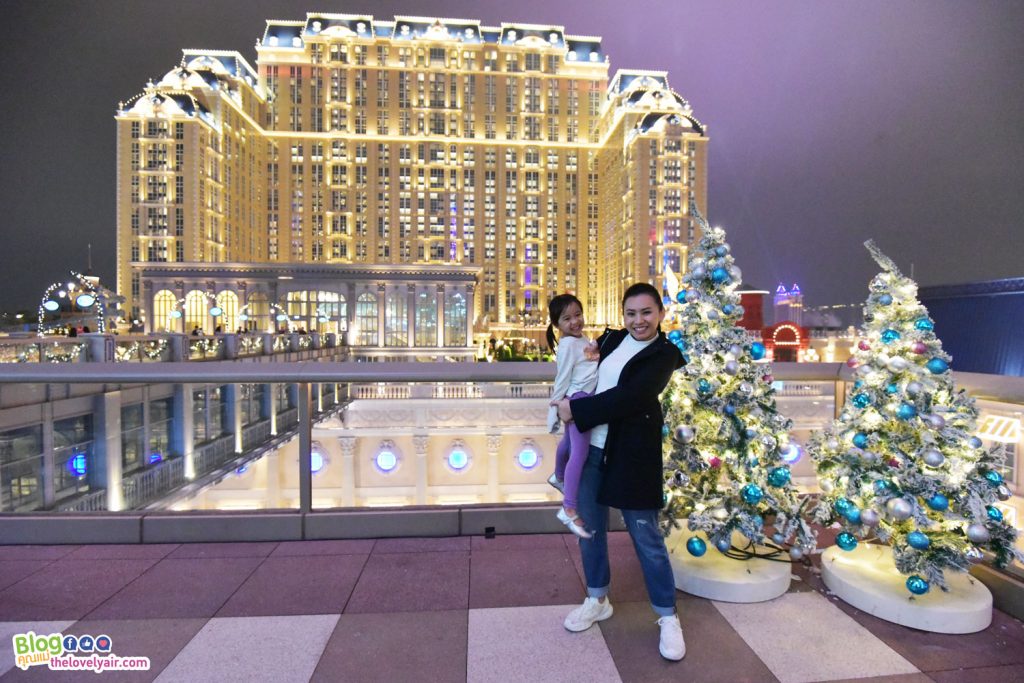 DAY 4: A-Ma Cultural Village →ตึก "Morpheus" → Eiffel Tower, The Parisian Macao → Ferris wheel Golden Reel
Day 4 was the final day. We went back to Thailand on the following day. That day we enjoyed walking around Macau hotels because the lobby of each hotel was beautifully decorated.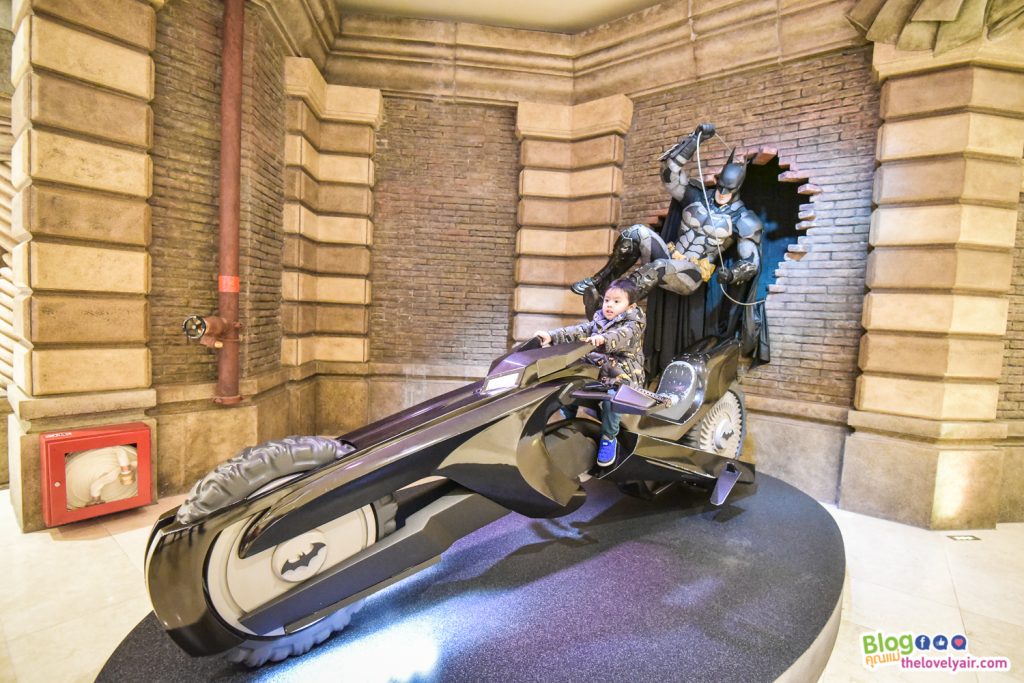 On the way inside the hotel, there was a place where Batman is located. Louvre took a chance to take a picture with him.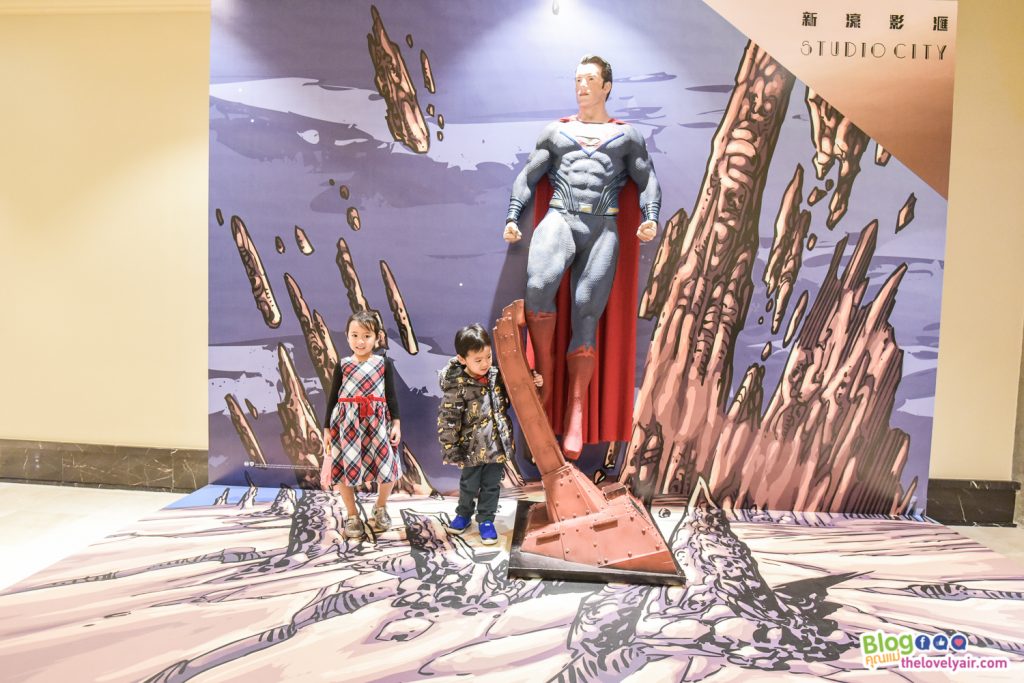 There was also Superman.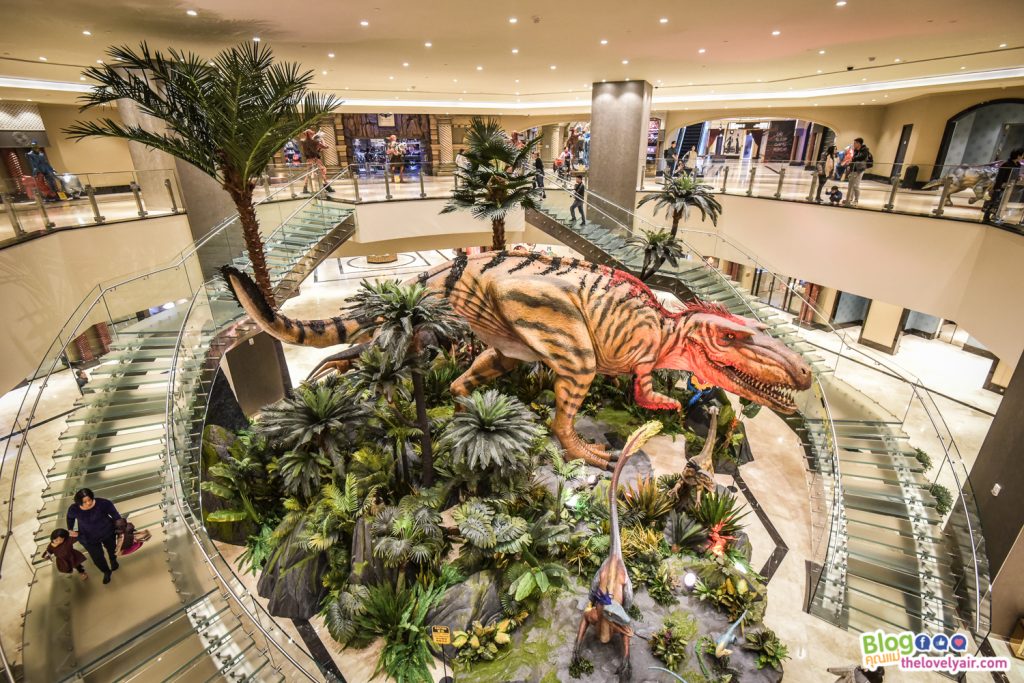 And the Dinosaurs…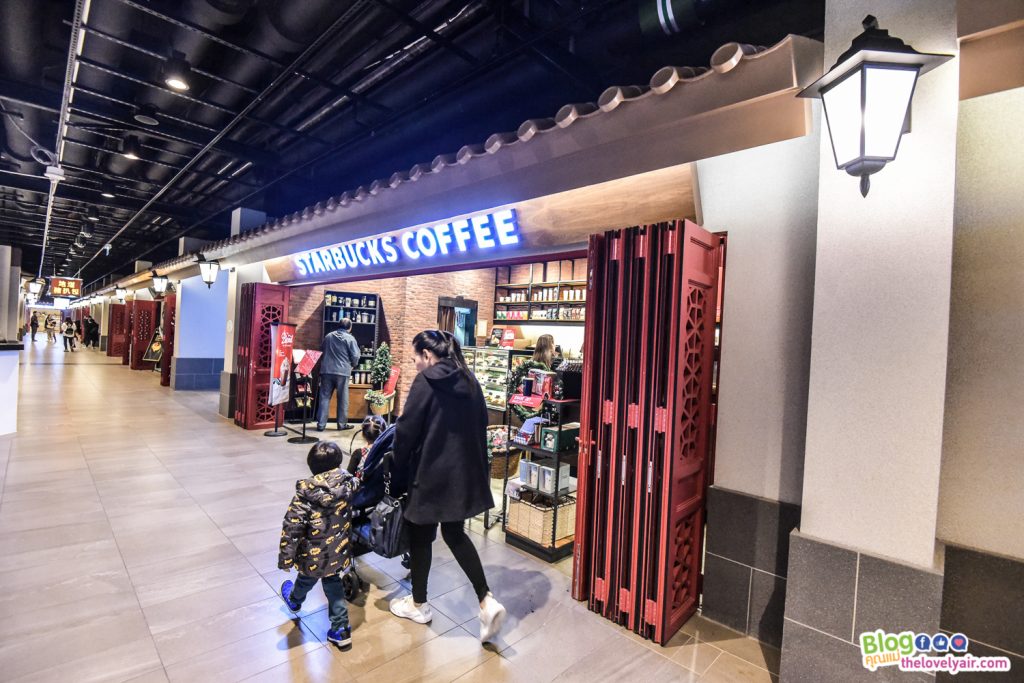 I took the children to have breakfast first. Inside the Studio City Macao hotel, there are restaurants, Starbucks coffee shops, McDonald's, pharmacy, and the most popular local restaurants like Pork Chop Bun and egg tart.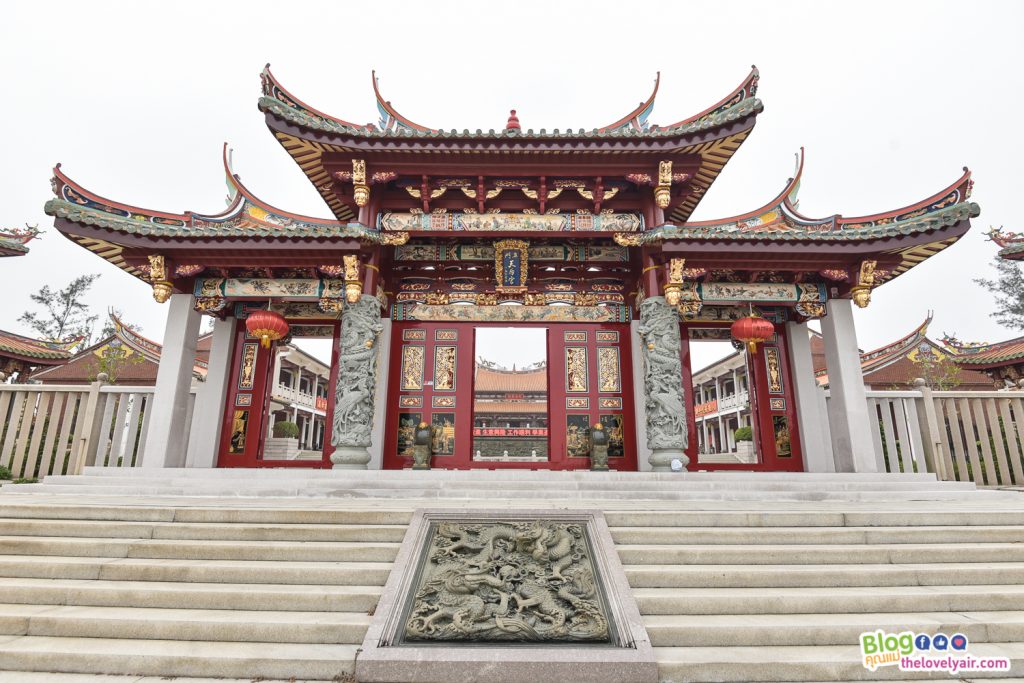 When we finished breakfast, we moved to the A-Ma Cultural Village.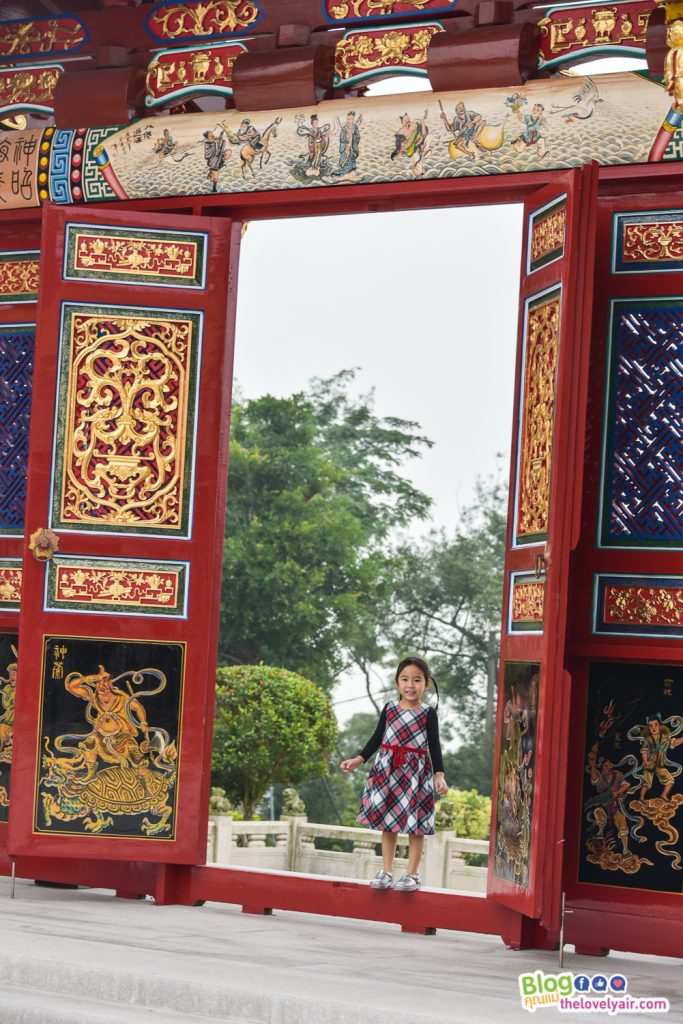 A-Ma Cultural Village has a small temple on the mountain. The weather was charming. Getting off the hill took quite a long time to wait for a taxi. But if you don't want to wait, you can take the temple car, which is a van, but you need to check the timetable before.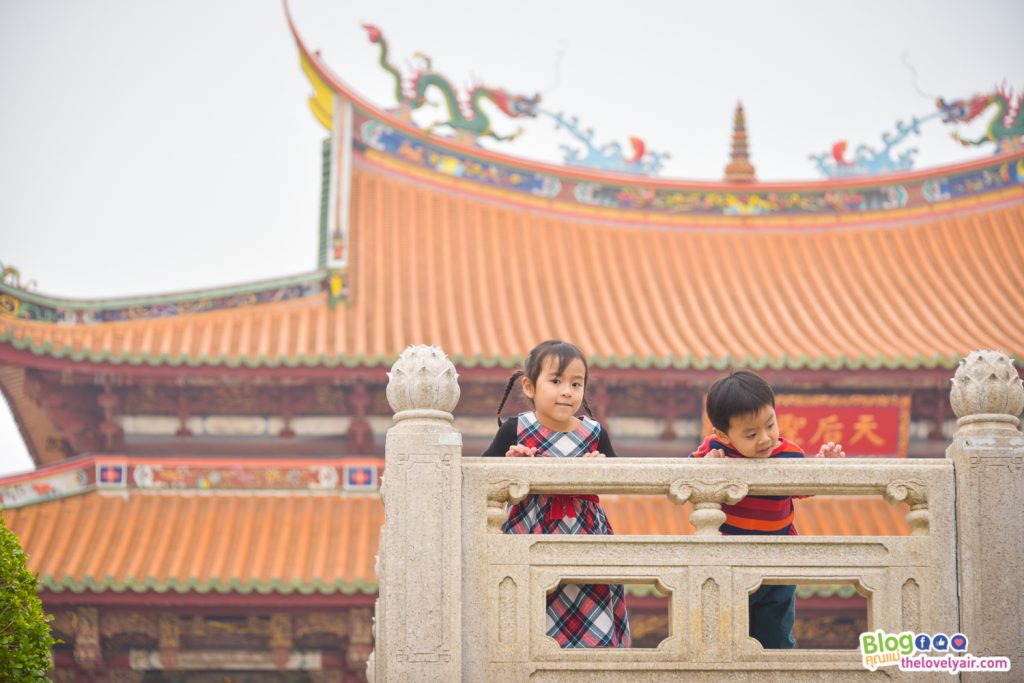 This temple was tranquil. We can take magnificent pictures.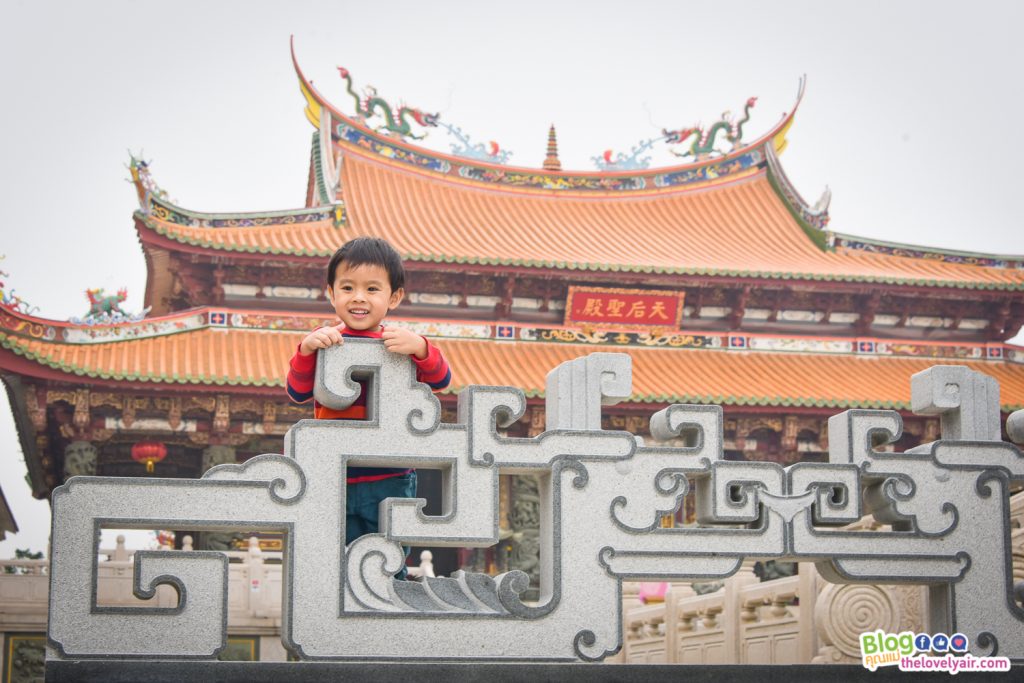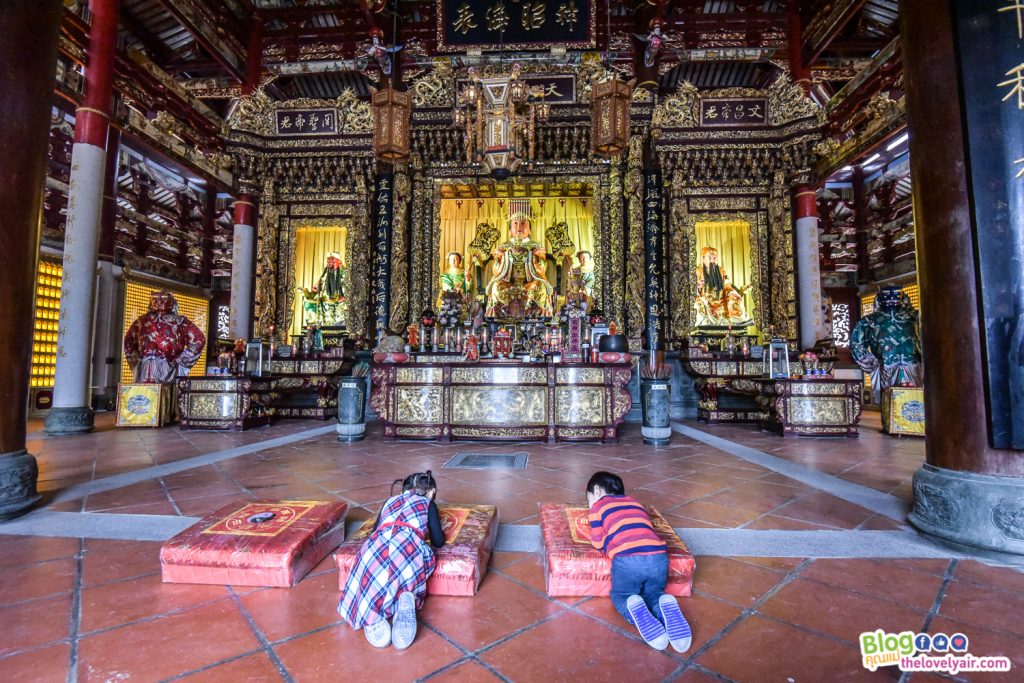 Children come to pay respect to the Ruby goddess.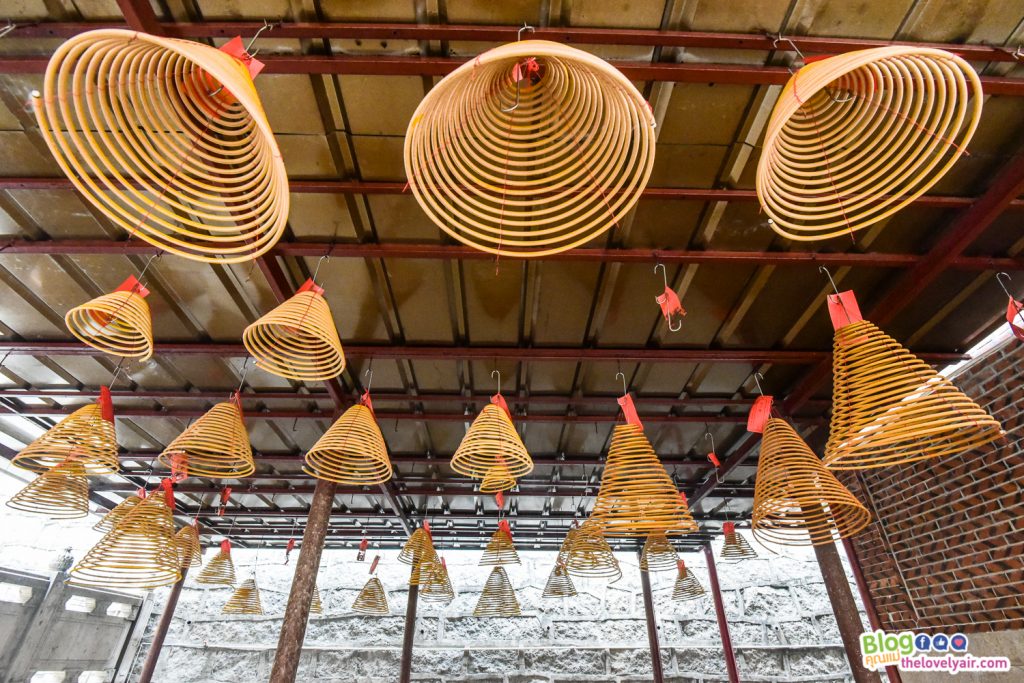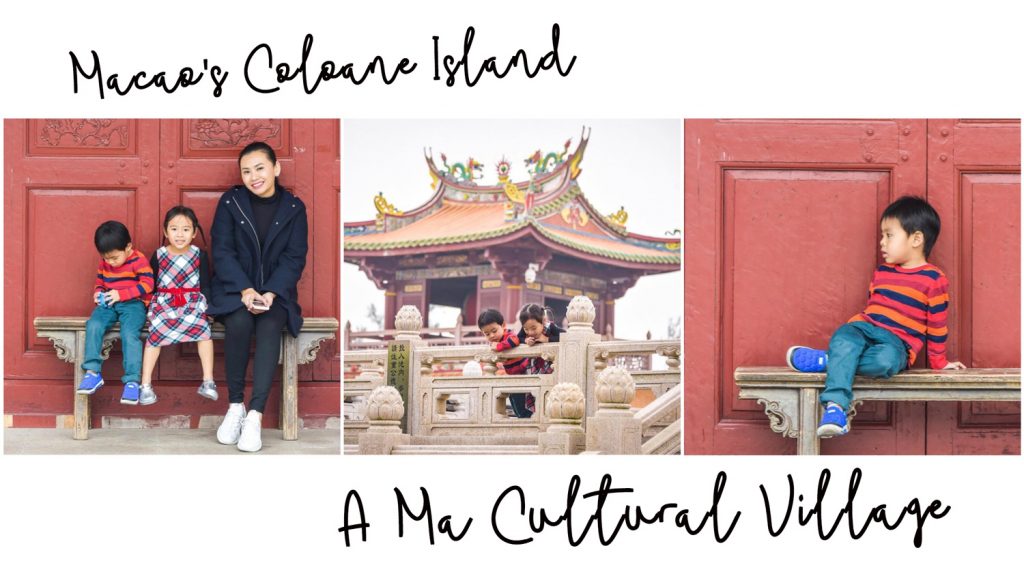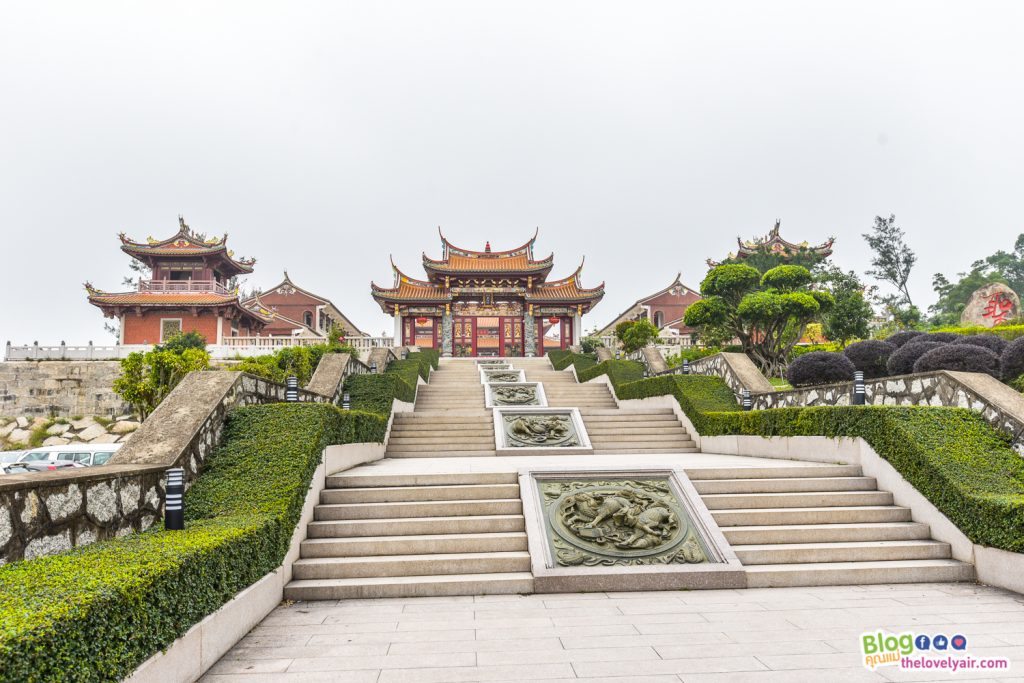 We were lucky to call for the taxi when we needed to go down to the hill, back to our hotel.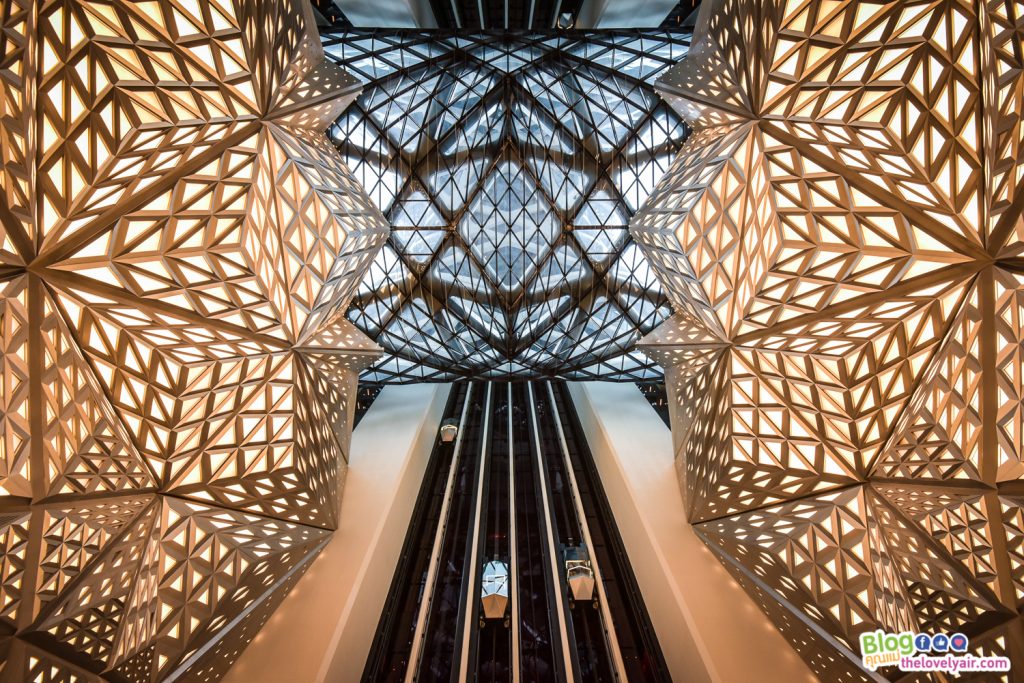 I brought the children to feel luxury experiences at "Morpheus building." Morpheus is a god of dreams in Greek-Roman mythology. This building was designed by Zaha Hadid (the world's first free-form exoskeleton high-rise architectural sculpture). The construction cost is $1.1 billion, affiliated with City of Dreams Macau. Here is a hotel too, with a total of 772 rooms. If anyone wants to experience Luxury, try to stay or walk here.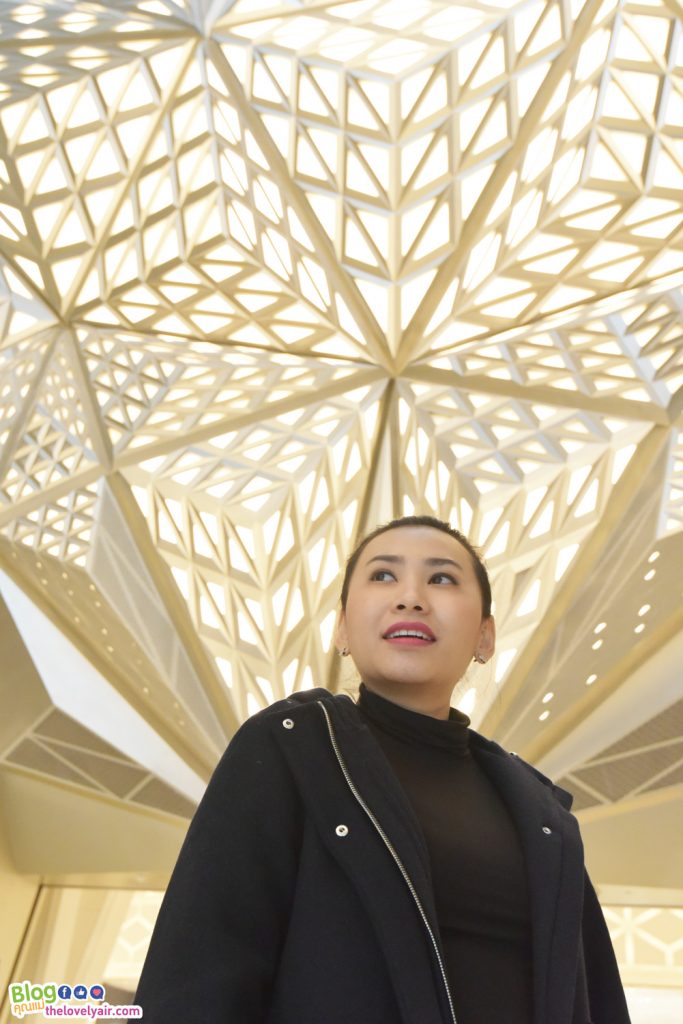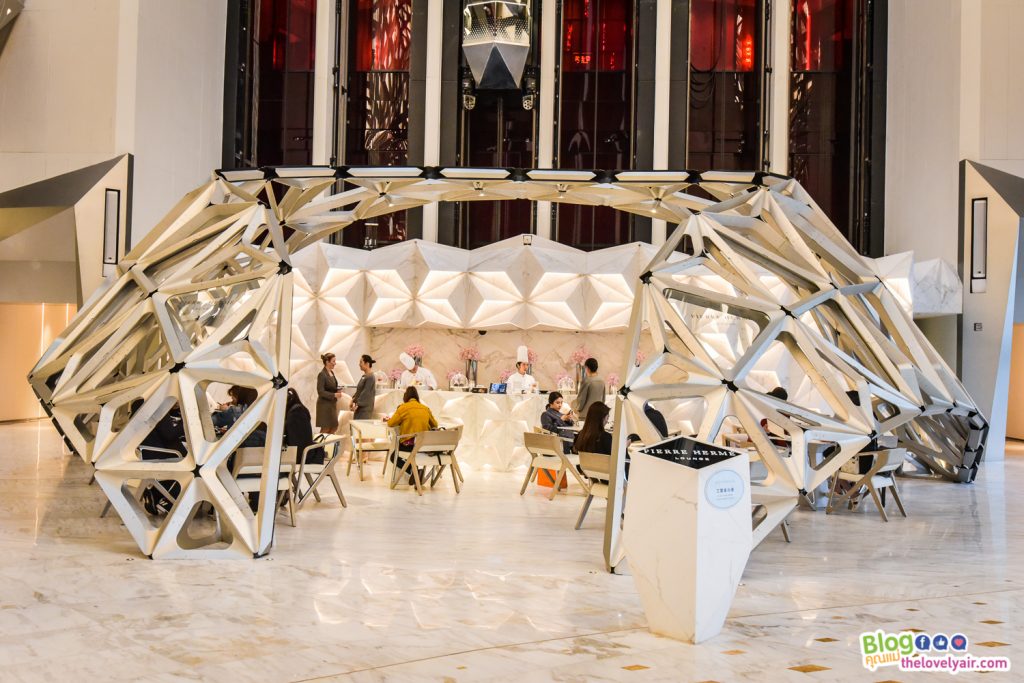 Pierre Hermé Paris, the most famous macaron shop from Paris, is also found in this building.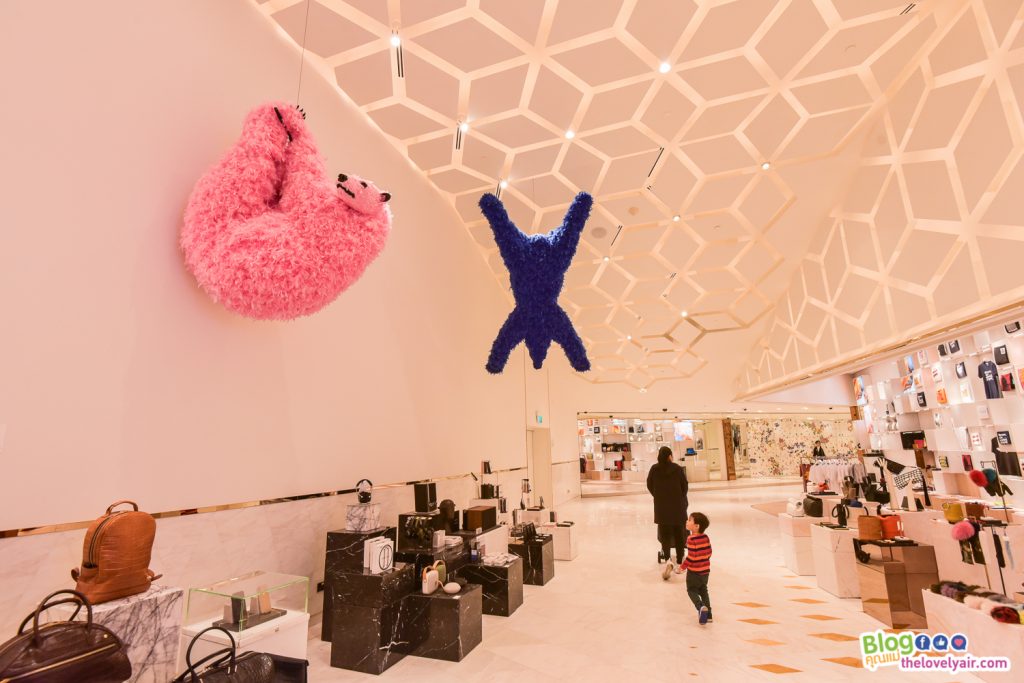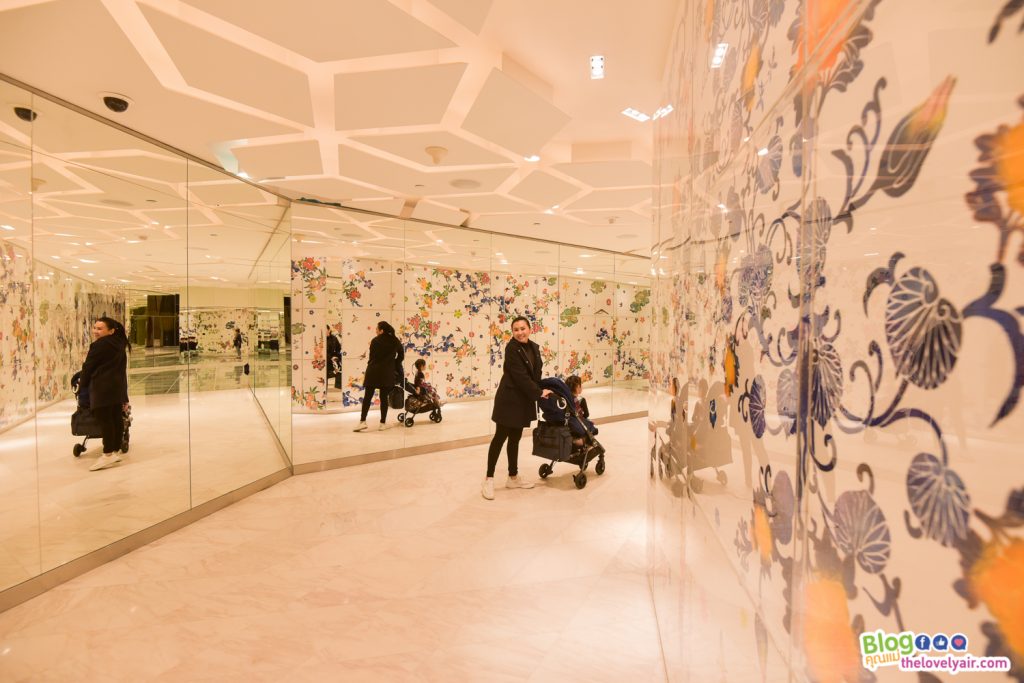 There are many photography spots.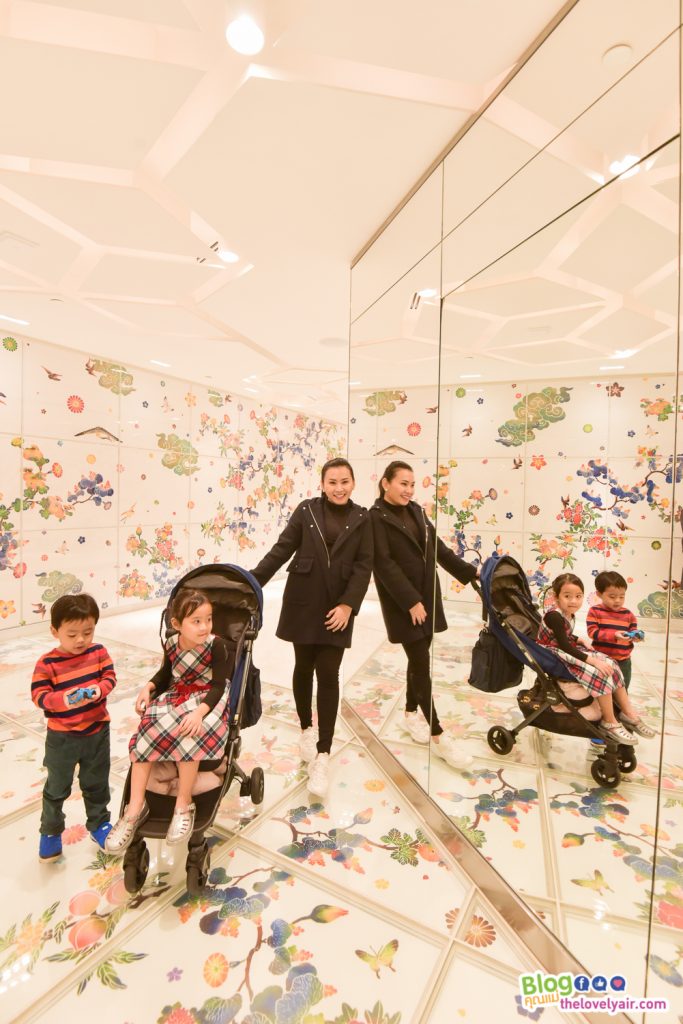 This area is a spacious mirror room.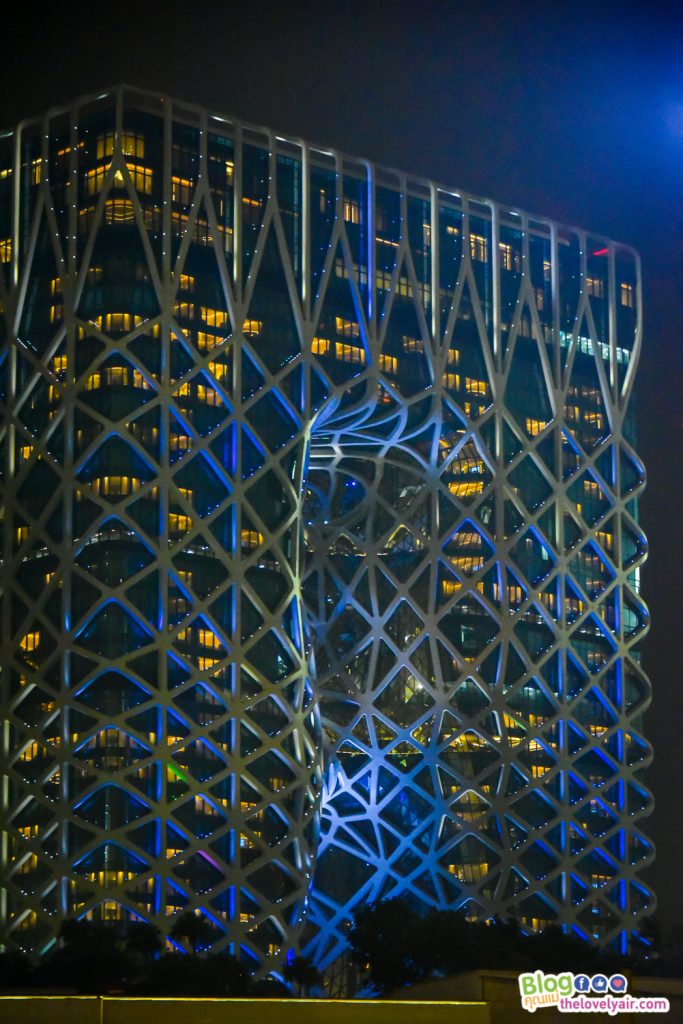 Morpheus building at night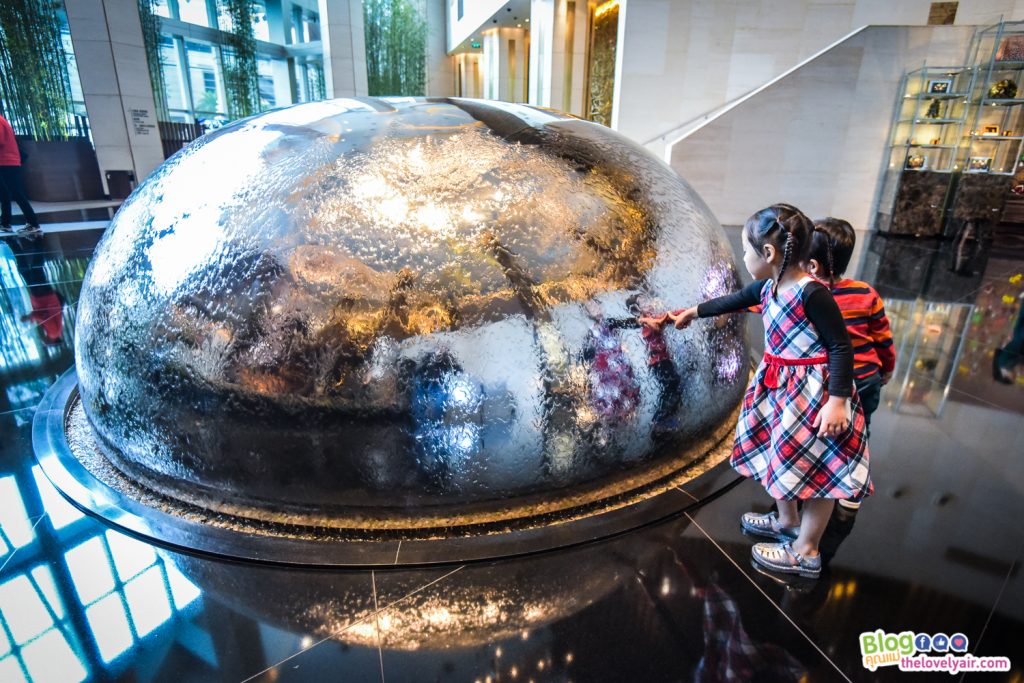 When we walked in, we found some other hotel lobby. Each place is decorated differently, allowing us to walk and enjoy it. As I mentioned that Macao buildings are connected.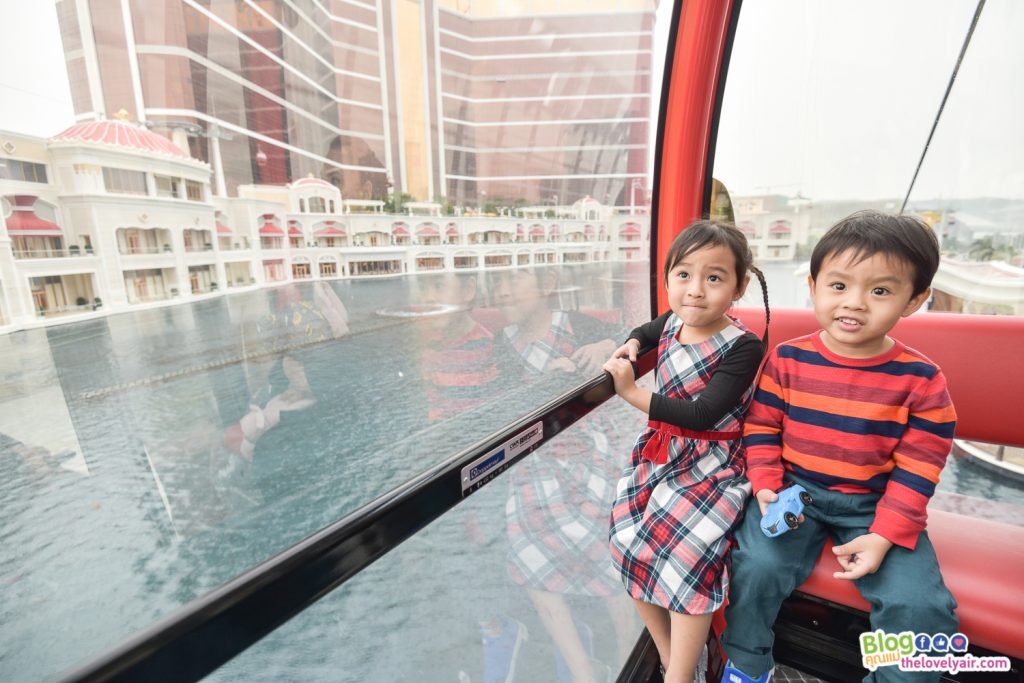 After walking, we arrived at the area of the Wynn Palace Hotel. This hotel is on the Cotai side with a free shuttle bus in front of the hotel. The Wynn Hotel has another hotel of the same name, Wynn Macau, located on the Macau side. Don't be confused.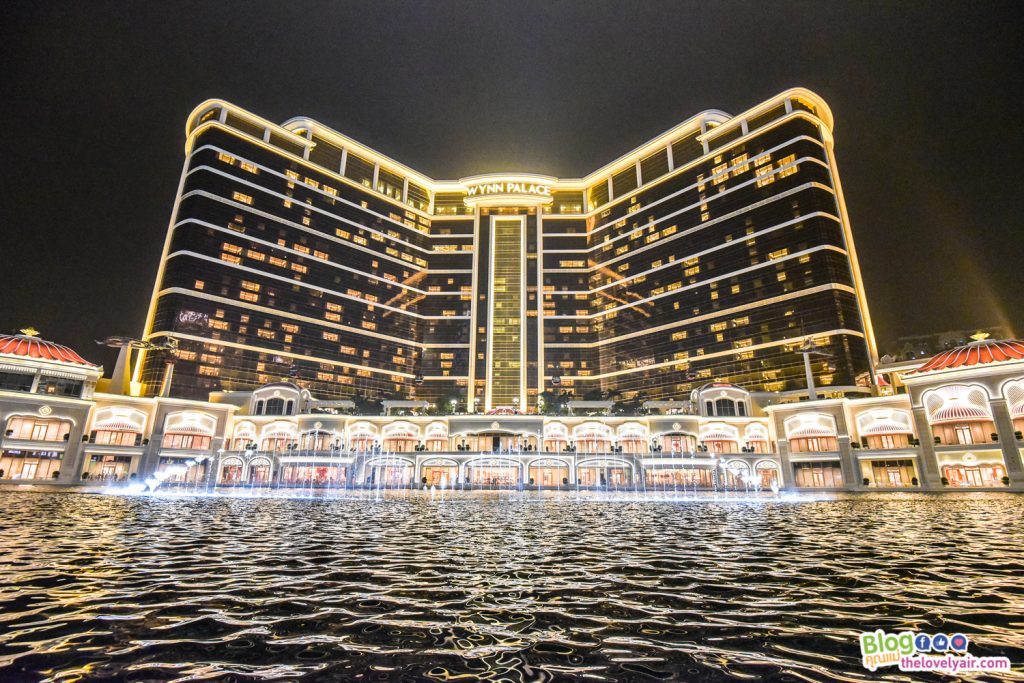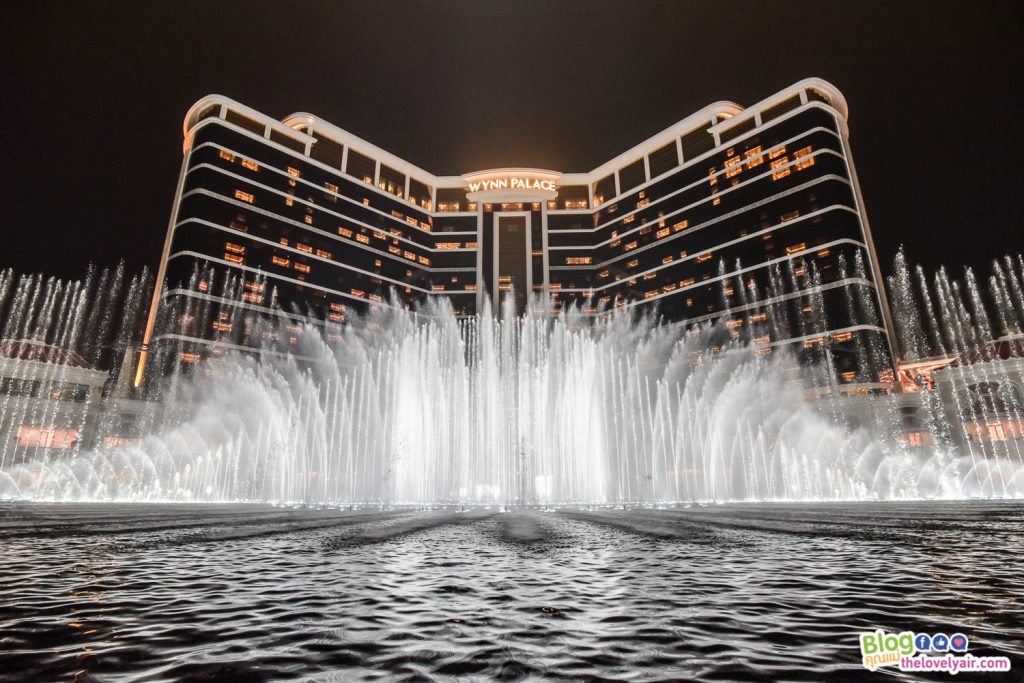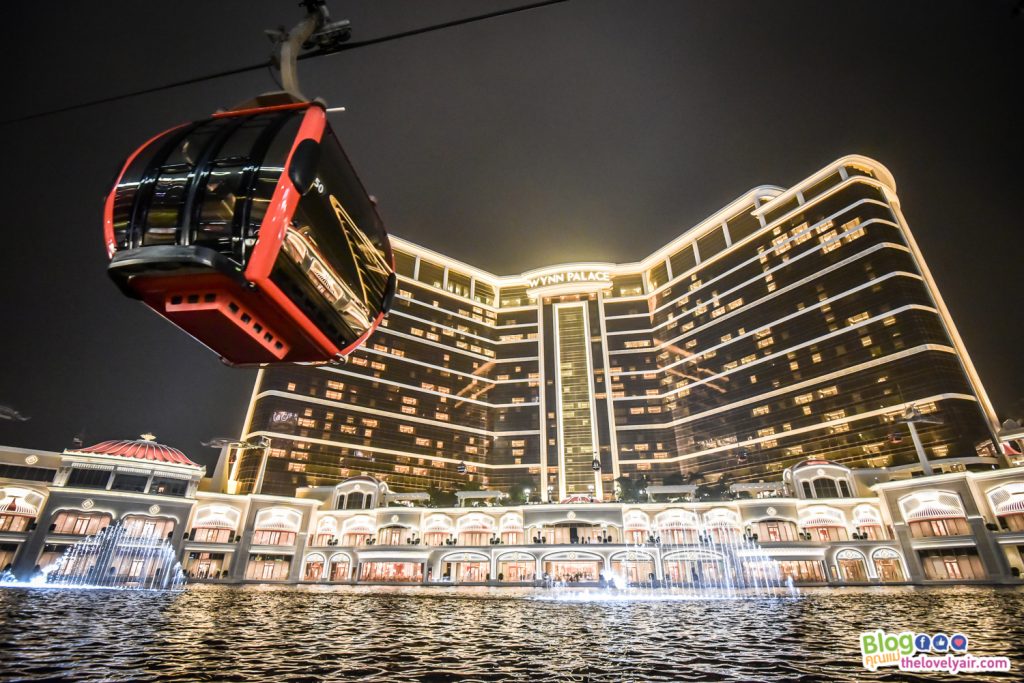 This is the picture of the beautiful night. There is also a fountain show at night. The show is full of light and sound, available every 20-30 minutes.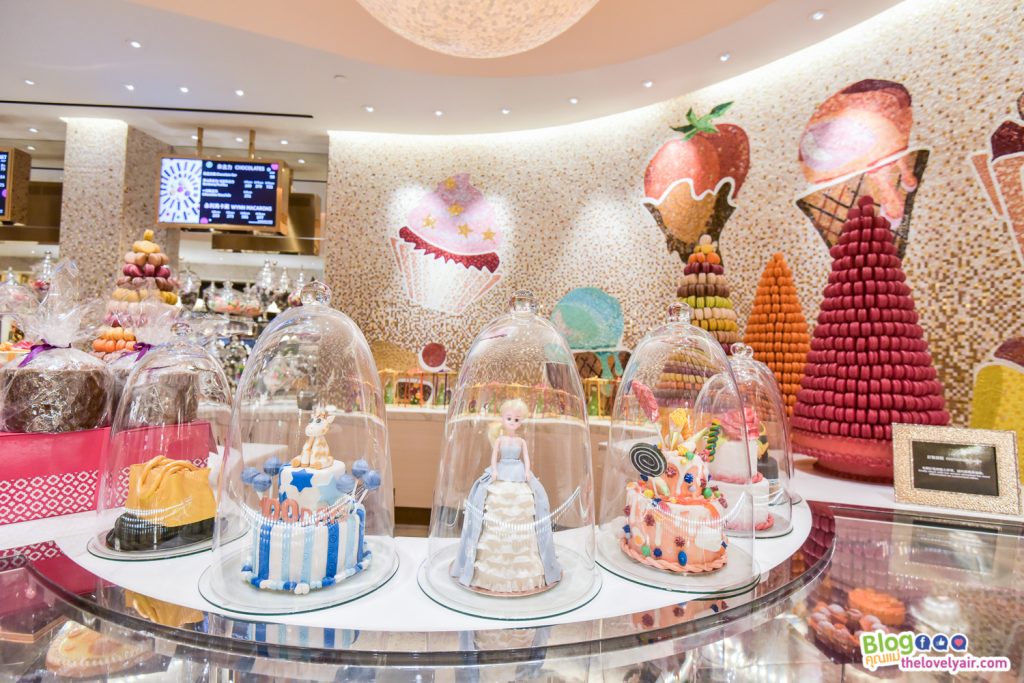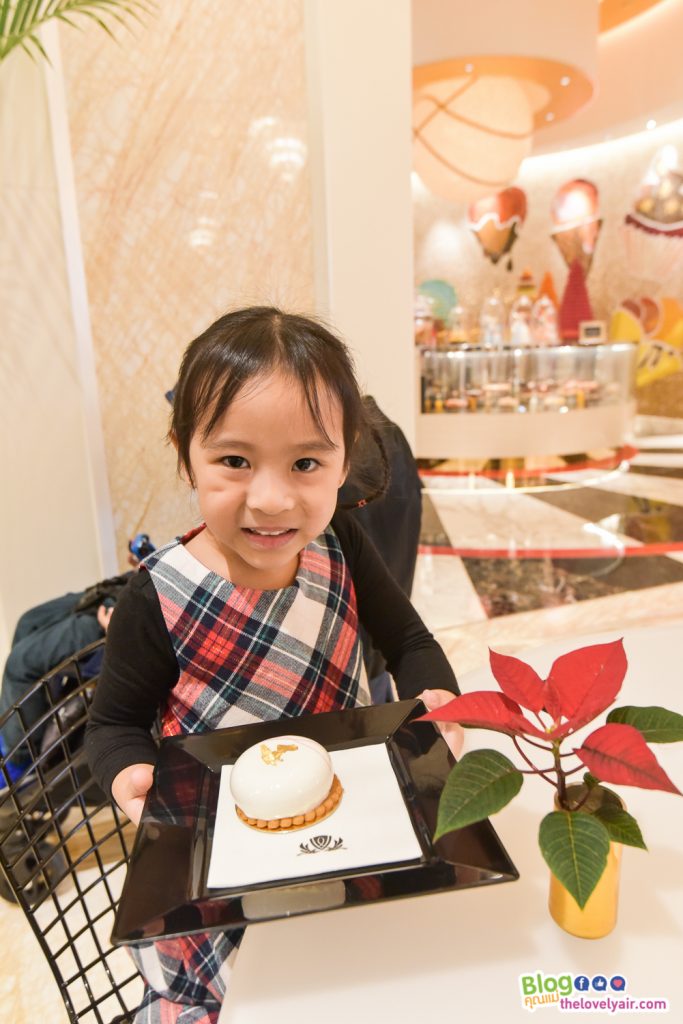 It was time for snacks in the afternoon.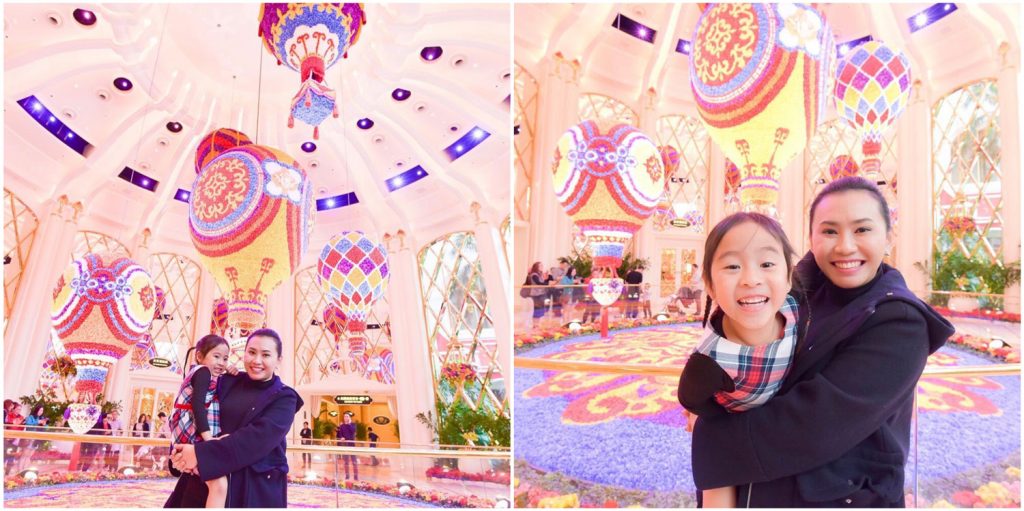 The photoshoot was fun for this trip.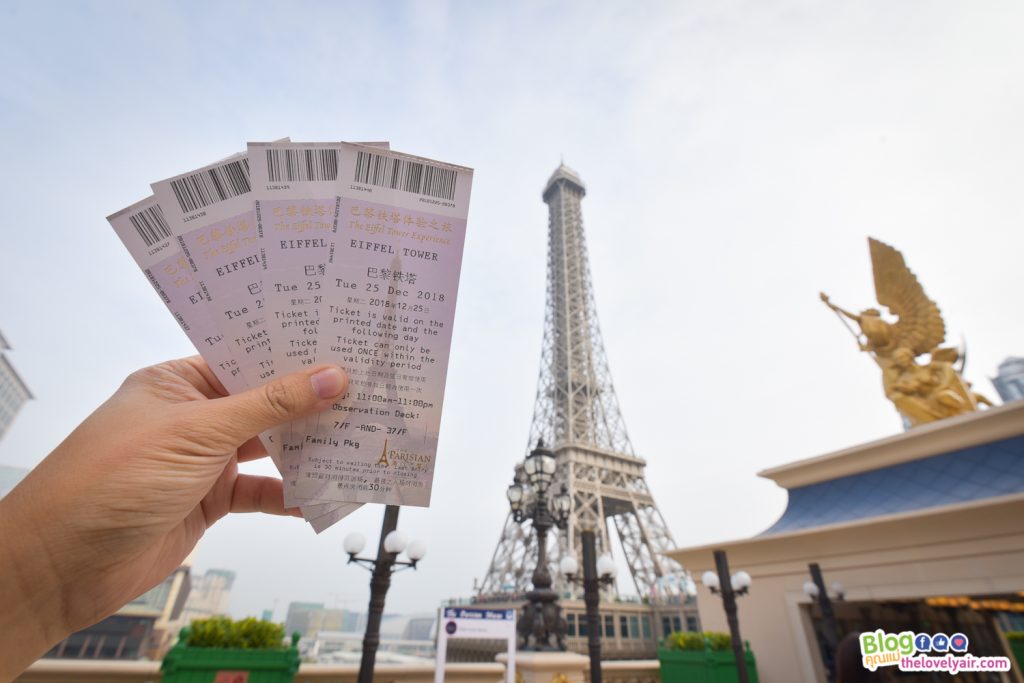 We arrived at Eiffel Tower at The Parisian Macao. We had to buy a ticket first. But if you stay in this hotel, you can go up and see for free without having to buy a ticket.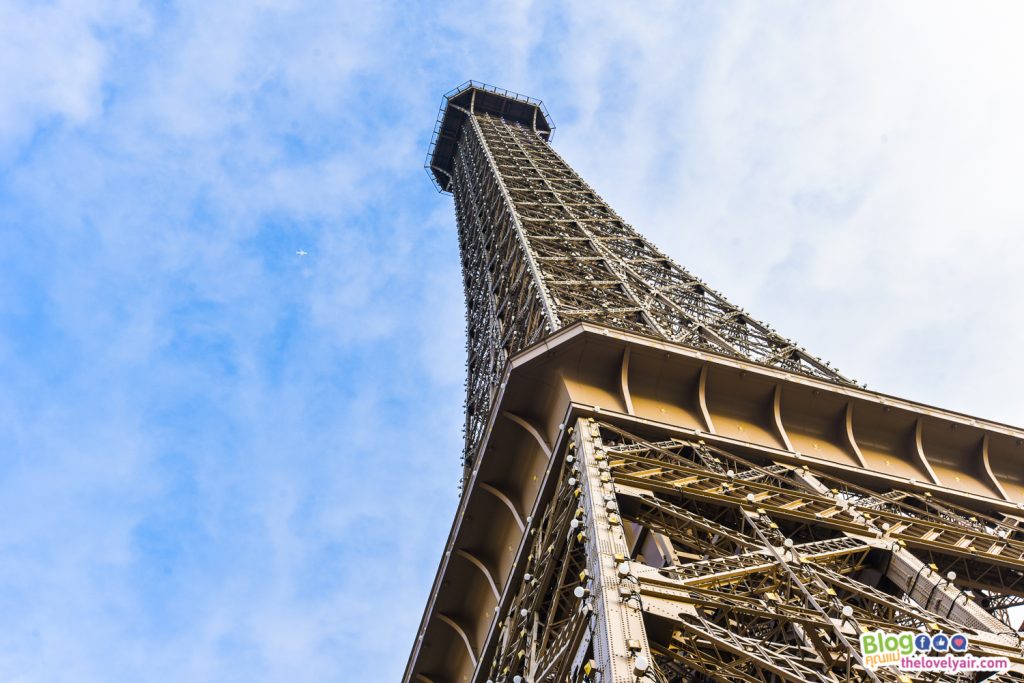 Do you see that small plane?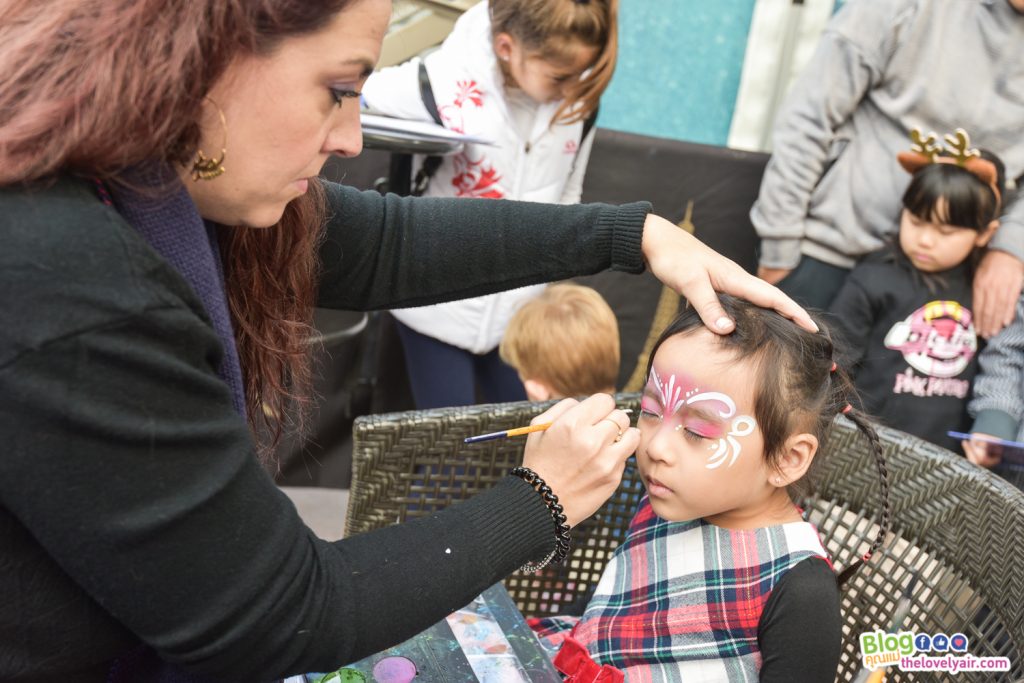 Above the Eiffel Tower has a restaurant and a small cafe. We can eat snacks while seeing the scenery together. There is a "face painting" service for children free of charge, but we had to wait in long lines. So if you want to face painting, please apply for your request first. The activity starts at 4 pm until 8 pm.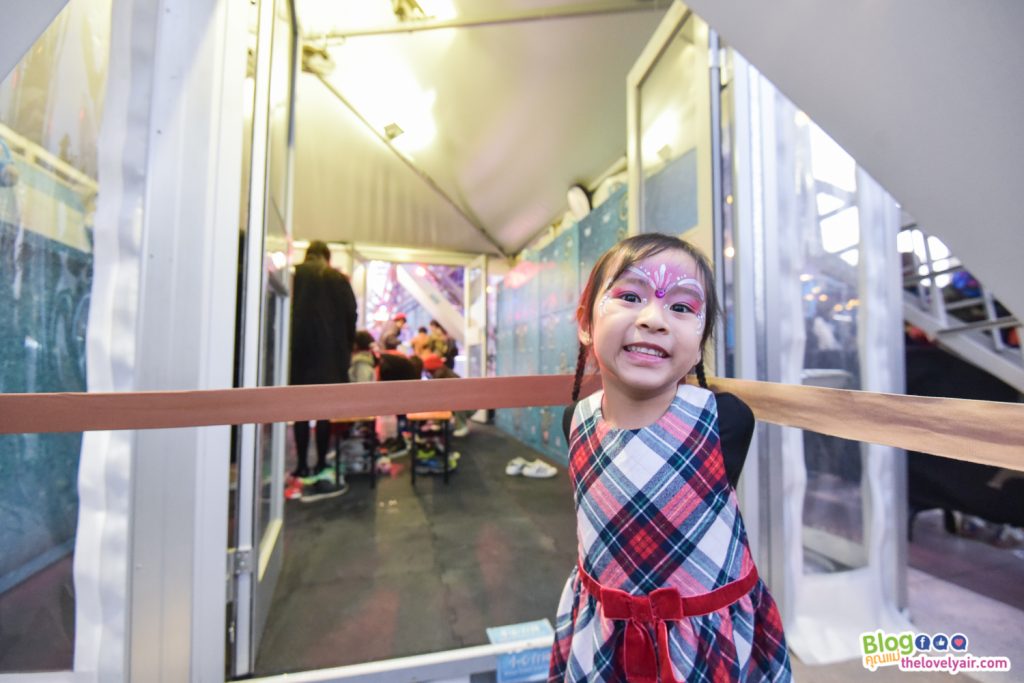 Deedy came early, so she could finish her face painting quickly. My little girl was delighted.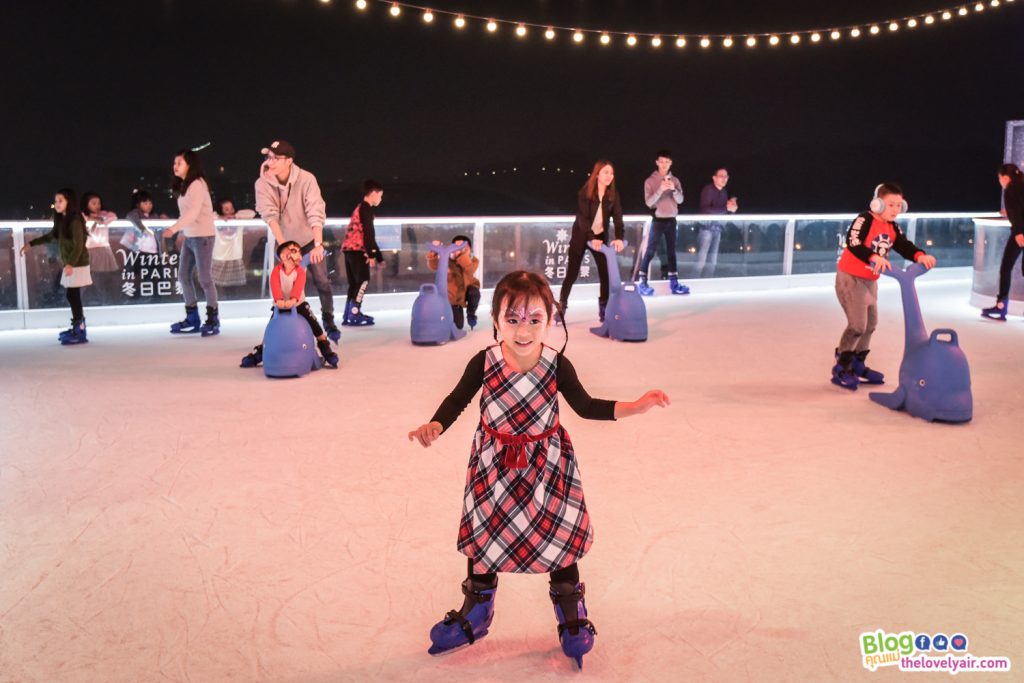 The top also has an ice skate patio. Deedy was happy again because she knows how to play it.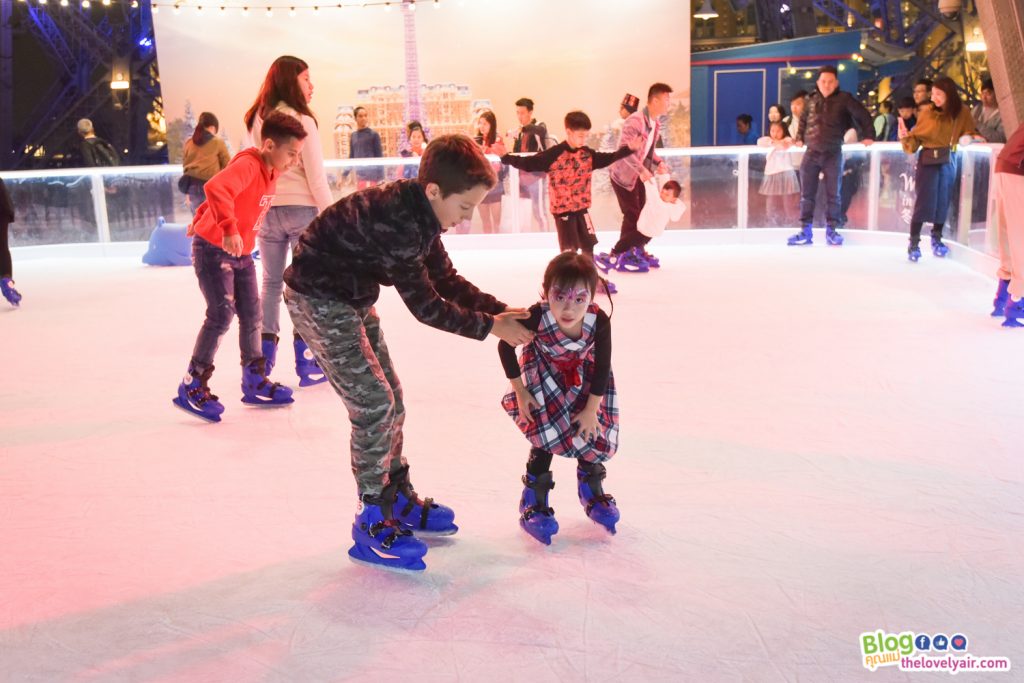 She stumbled, and a boy came to help her.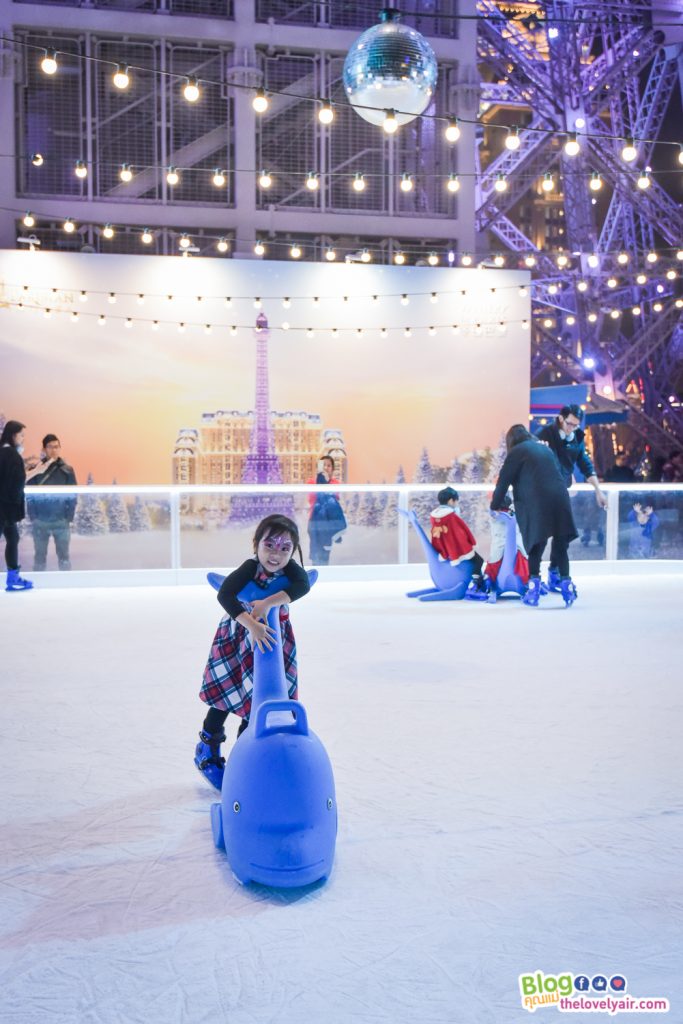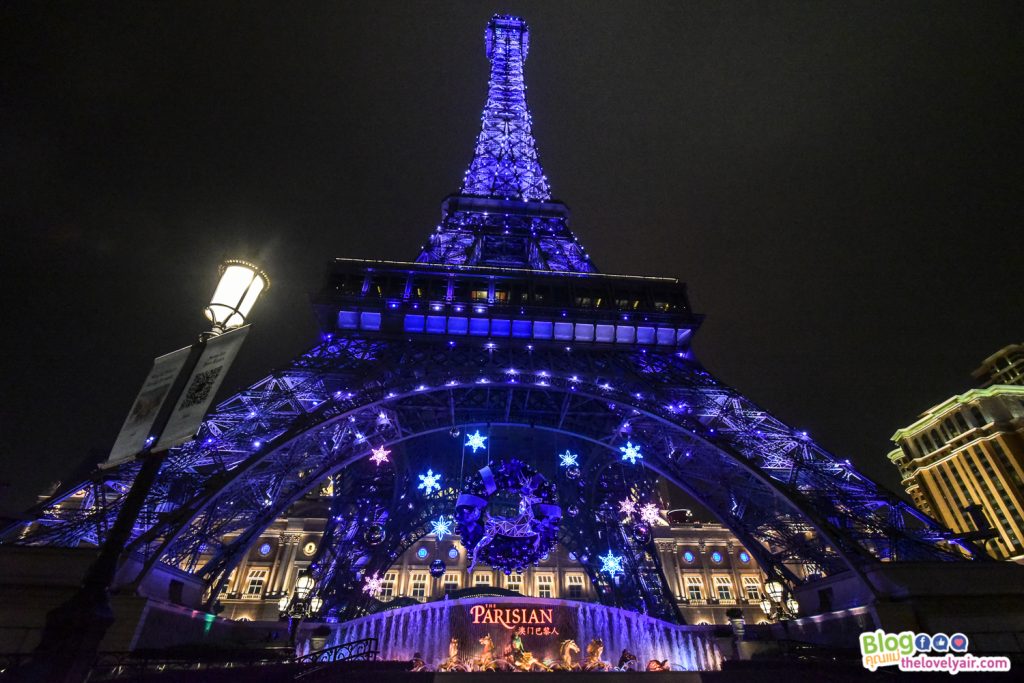 View of the Eiffel Tower at The Parisian Macao at night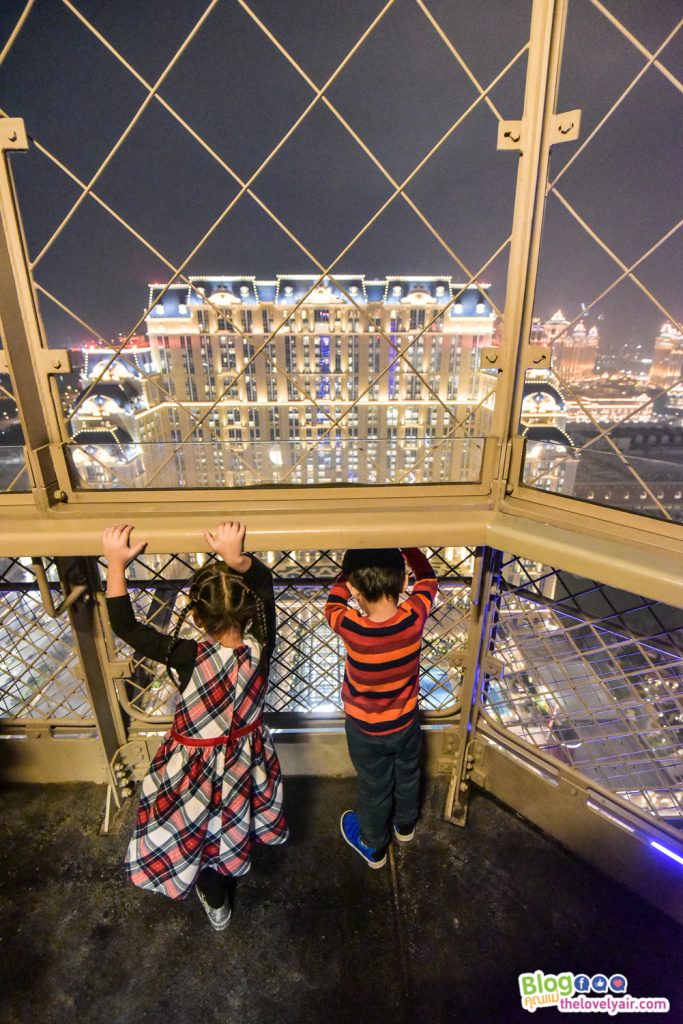 Don't waste the price of the ticket, we have to get up to see the highest view of the Eiffel Tower.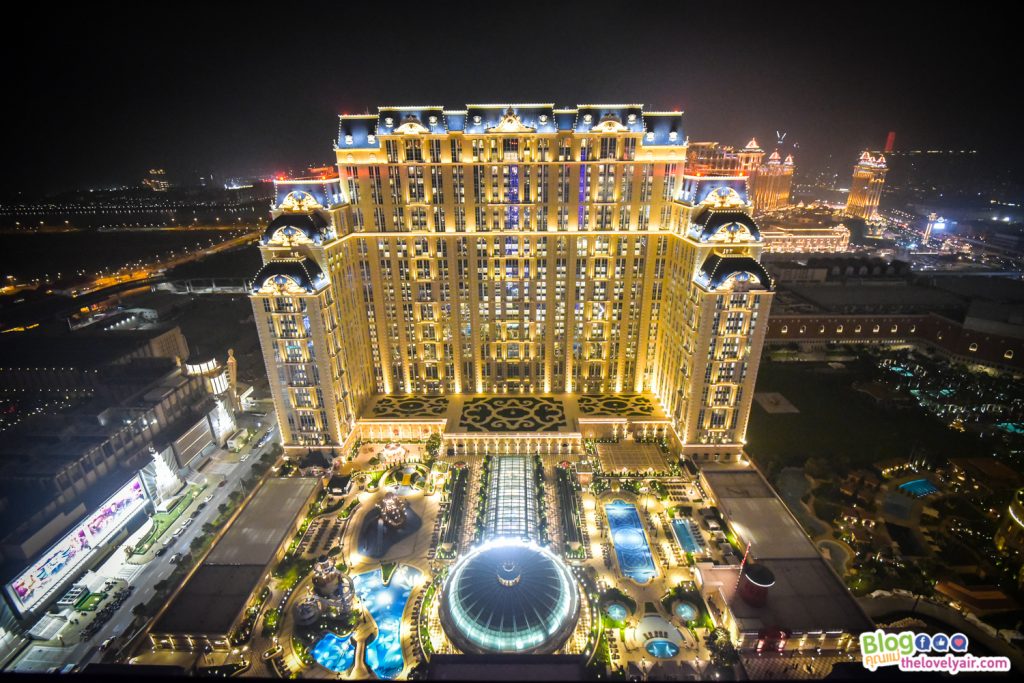 This is a view from the top of the Eiffel Tower. Below is the Parisian Macao, which is both a hotel, a mall, and a casino.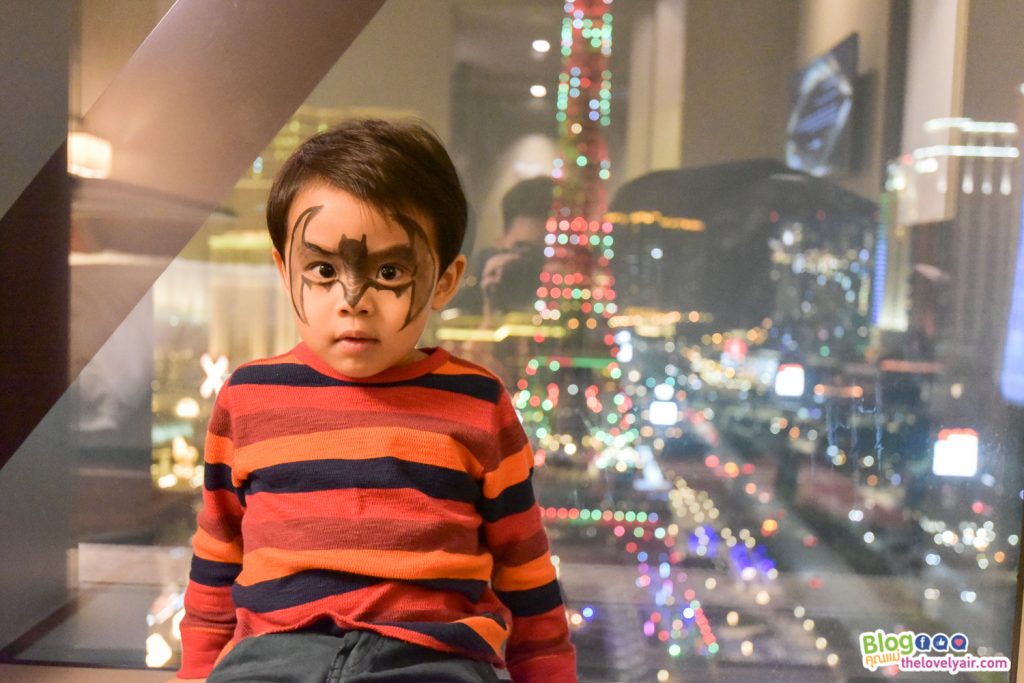 Louvre also did face painting.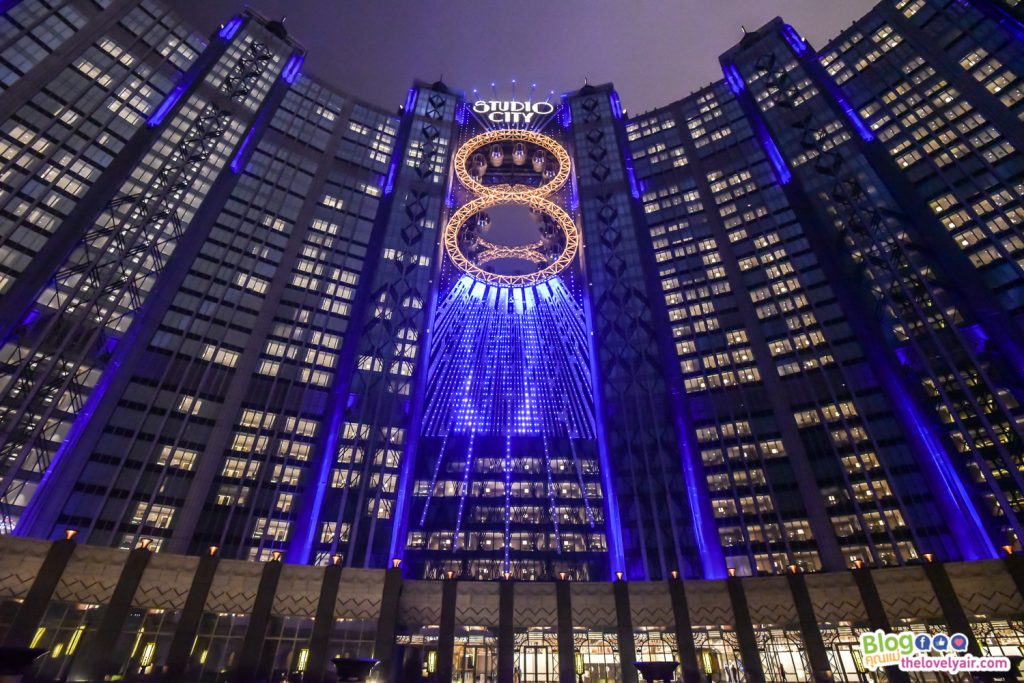 We were going back to the Studio City Hotel to take the Golden Reel Ferris wheel. It is the first and highest number of 8 designed Ferris wheel in Asia. It is interesting, isn't it?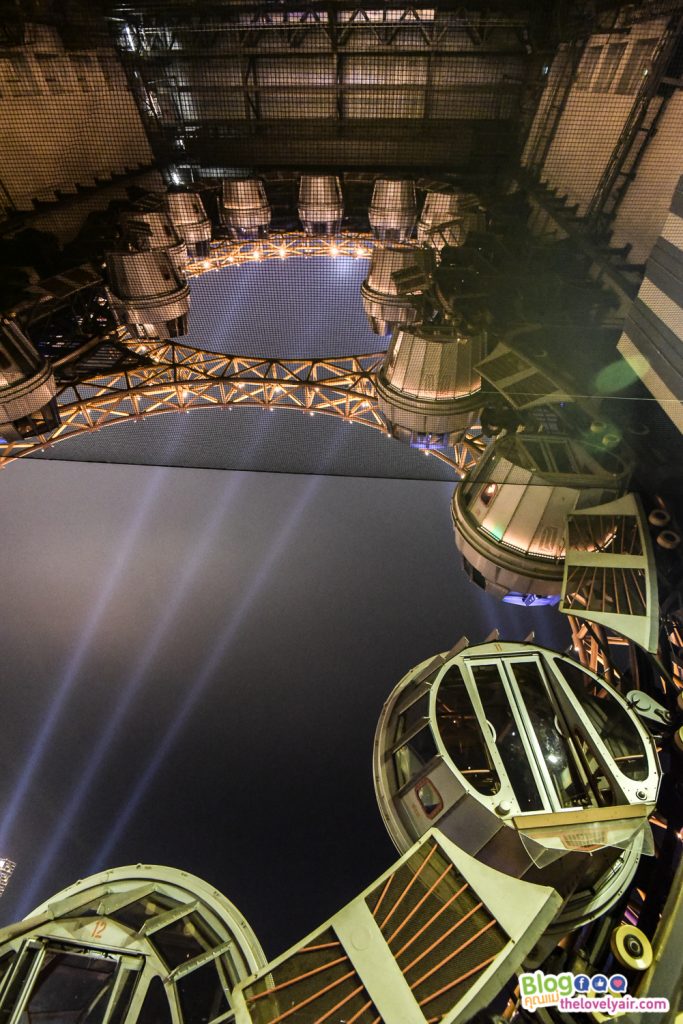 Golden Reel Ferris wheel, can you see number 8?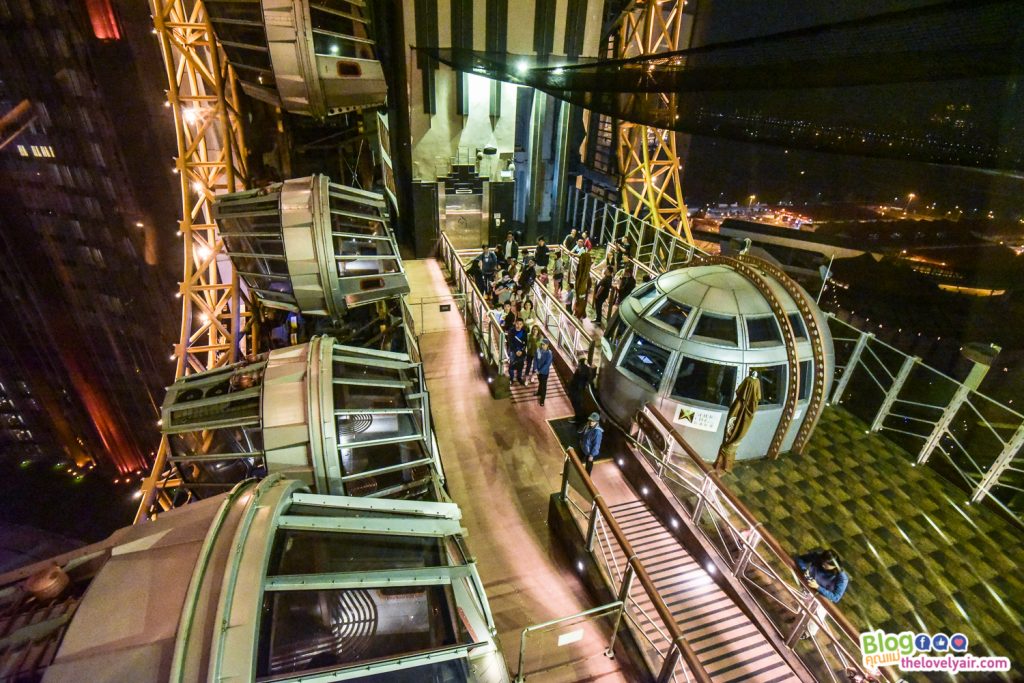 Before getting to the swings, we have to buy tickets too. People staying here get a 100 MOP discount card.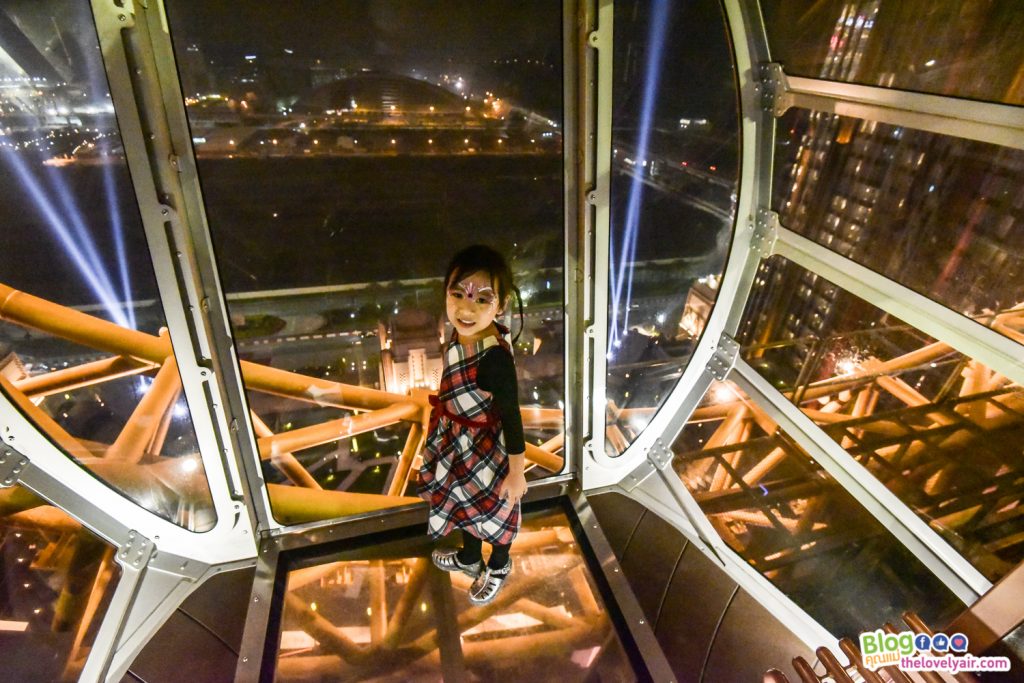 Deedy conquered the Golden Reel Ferris wheel with design number 8.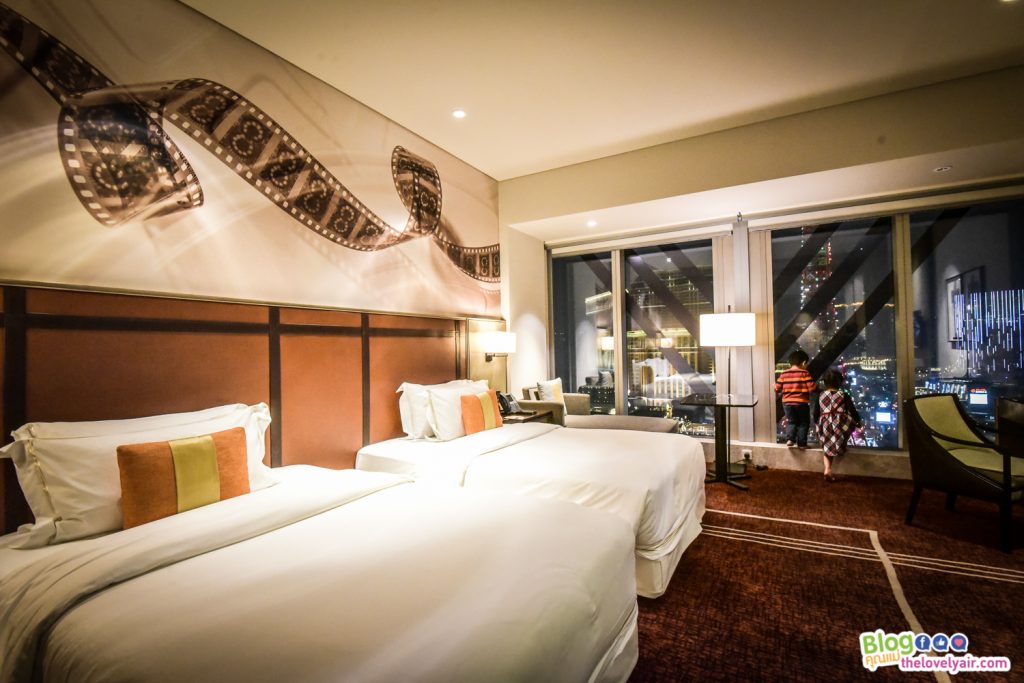 After enjoying the Ferris wheel, we went back to take a rest. Our family stayed at Studio City Macao hotel.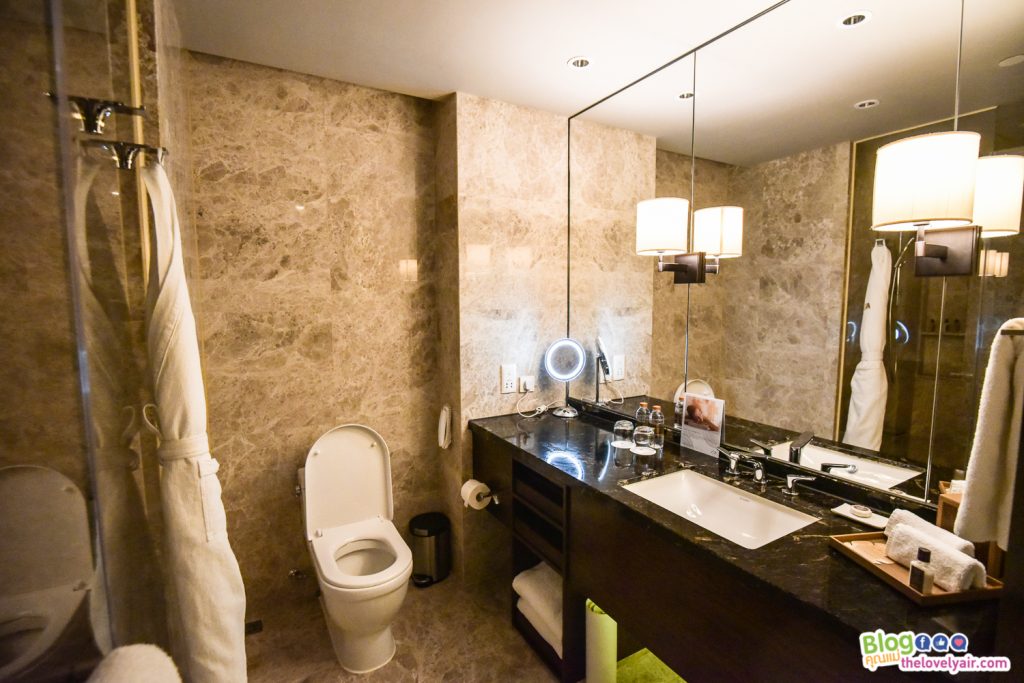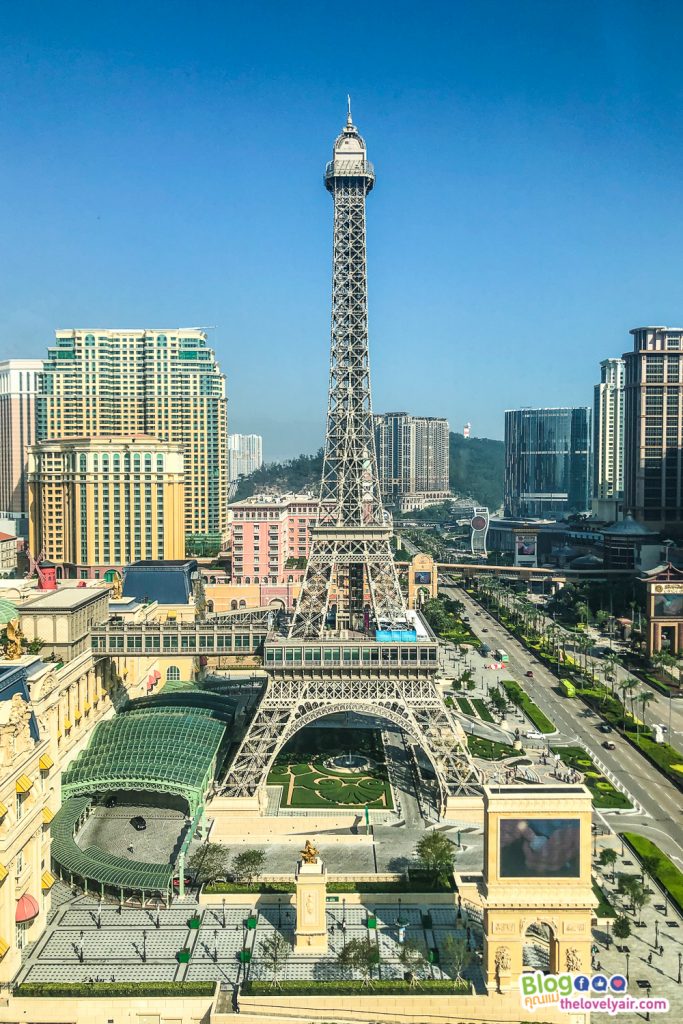 View from the room we stayed in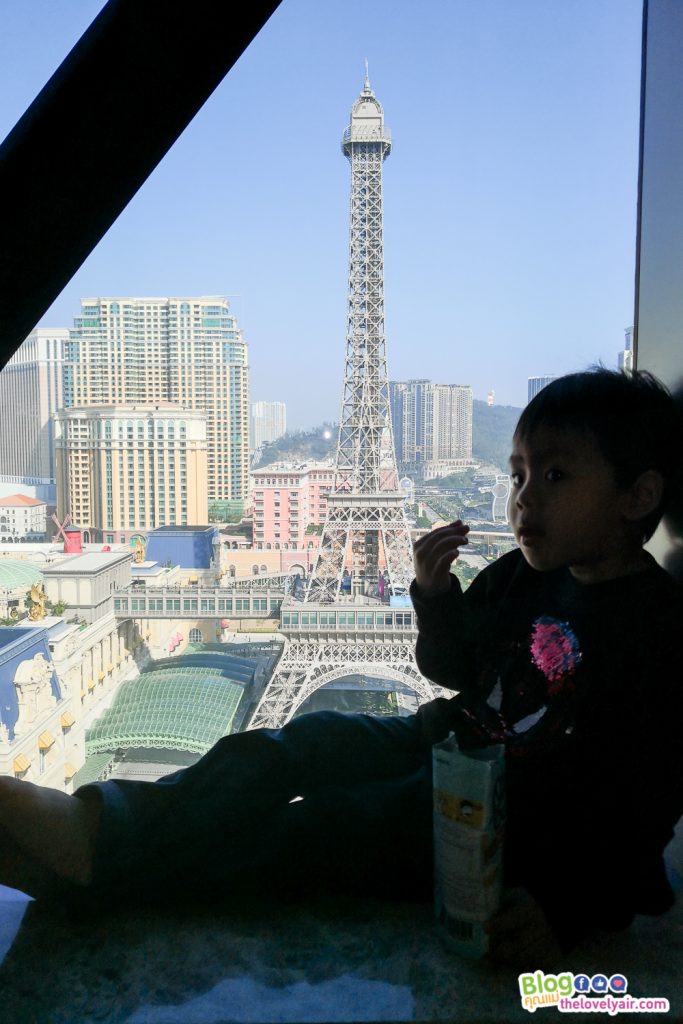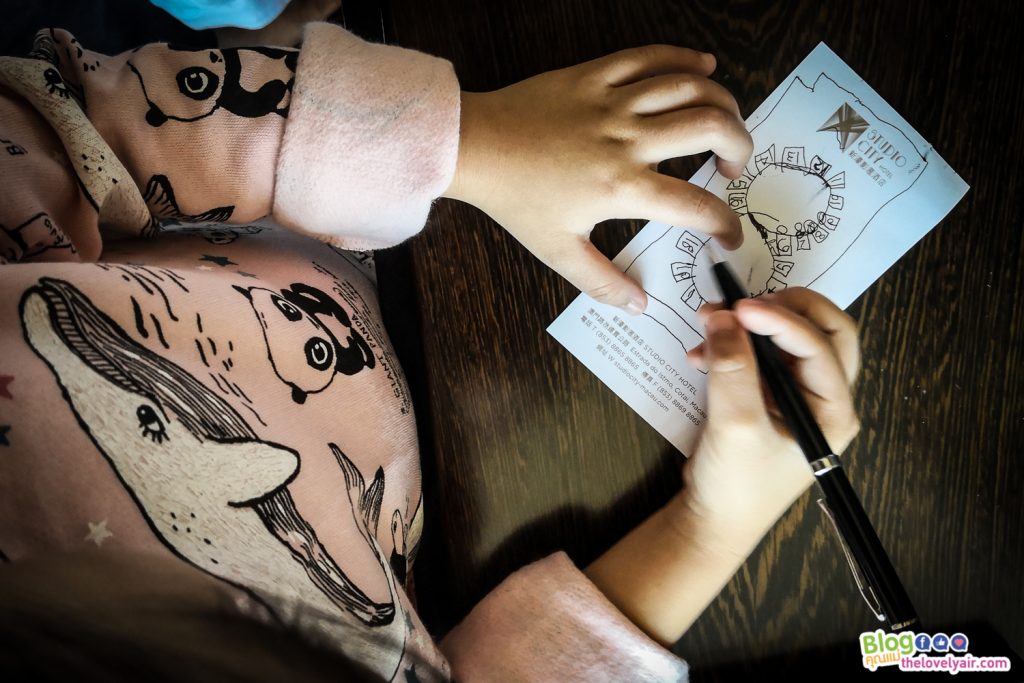 She painted the Golden Reel Ferris wheel with number 8.
DAY 5: Studio City Macao, Warner Bros. Fun Zone → Happiness Street / Rua da Felicidade → Ruins of St. Paul's
Today was our last day in Macao. We had to check out of the hotel at 11 am. We were ready at almost 10 am. We left the luggage at the hotel before going out. We planned to pick it up on the way to the airport. We brought the children to have a meal in the area of Studio City Macao. Afterward, we went to enjoy at Warner Bros. Fun Zone on the 3rd floor, West Wing. I want to inform you that this fun zone is pretty small. There are 4 zones and no time-limited.
Children under 1-year-old can enter for free. Open daily 10: 30-19: 00 hrs.
Warner Bros. Fun Zone has the following zones:
Jump-and-climb zone at DC Comics Super Hero Action Arena
Indoor Driving Show zone and Amusement Park at DC Comics Super Hero Raceway
TOM & JERRY Picnic Playground zone, we could play with a giant cheese puzzle and banana board for kids.
Warner Bros. Hyperarcade Shooting Zone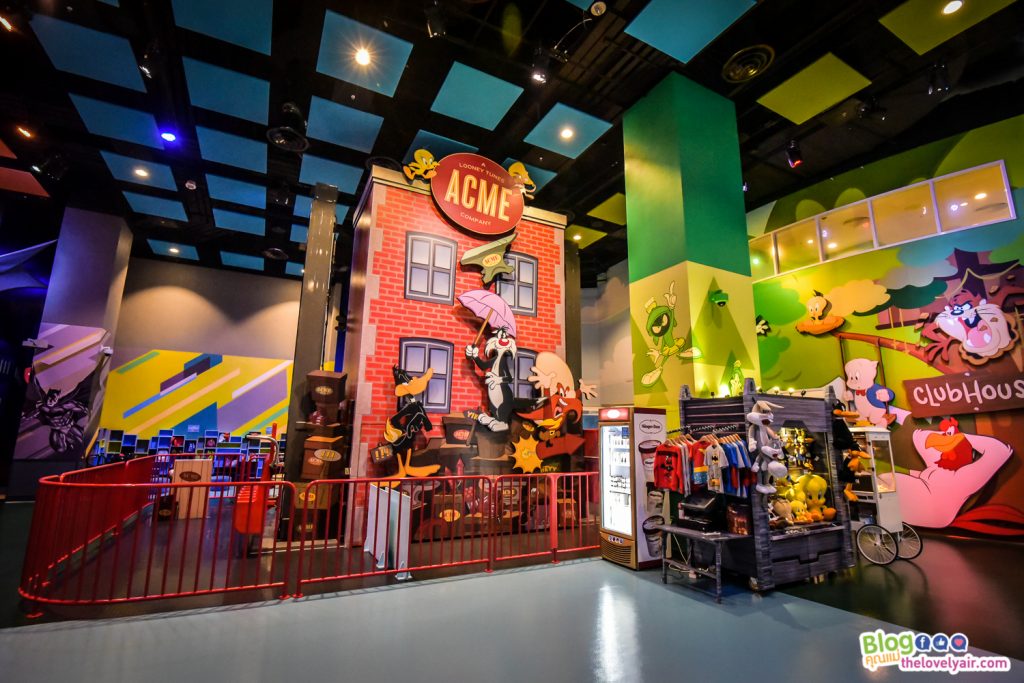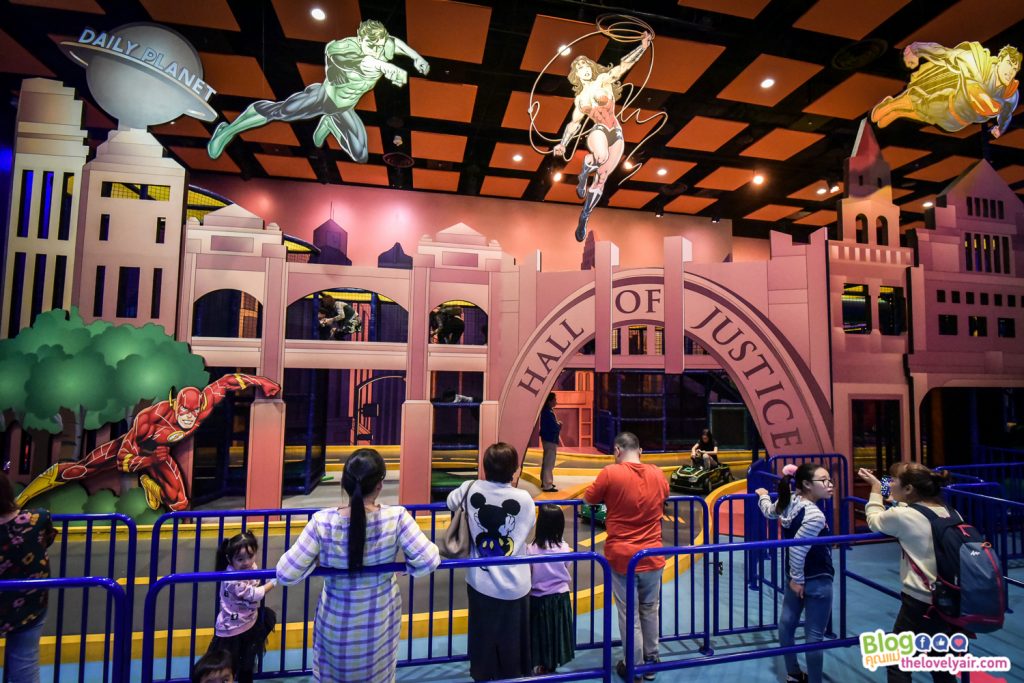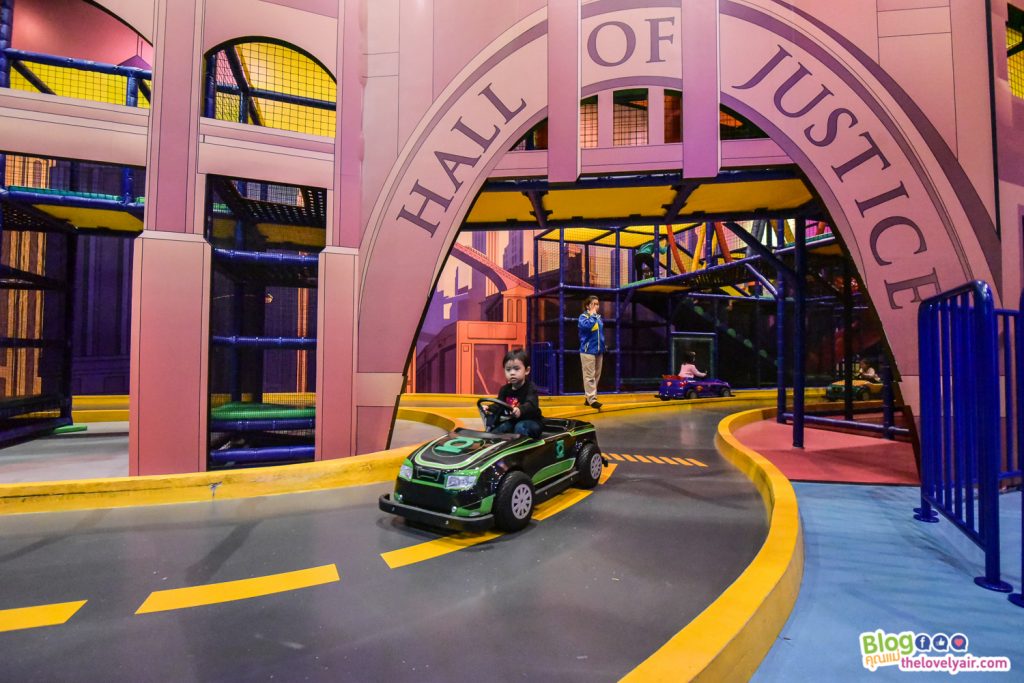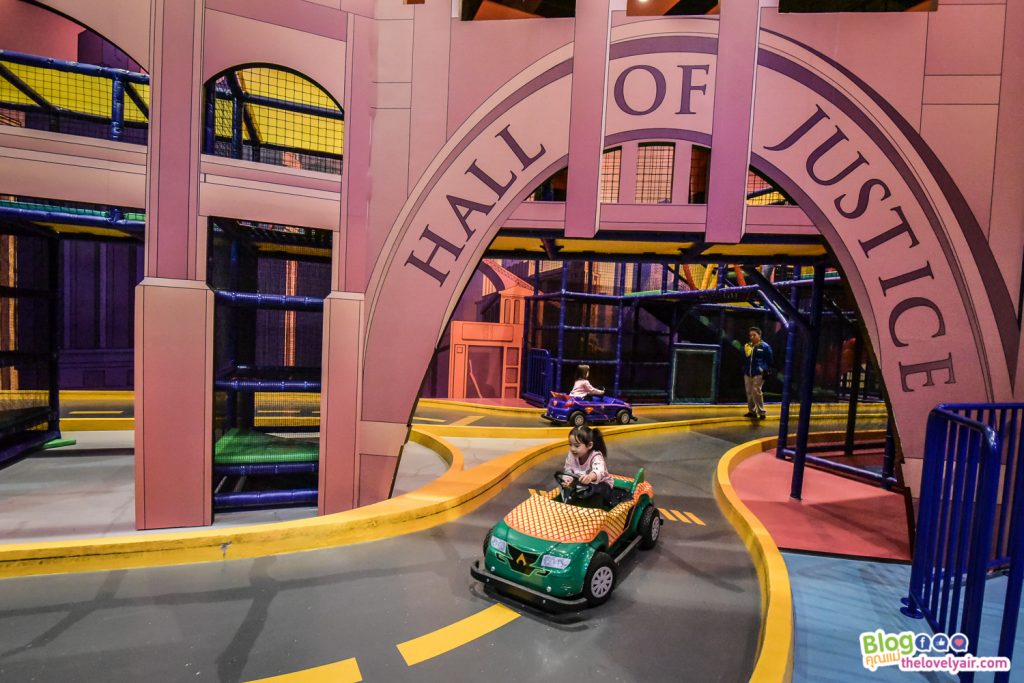 Racing zone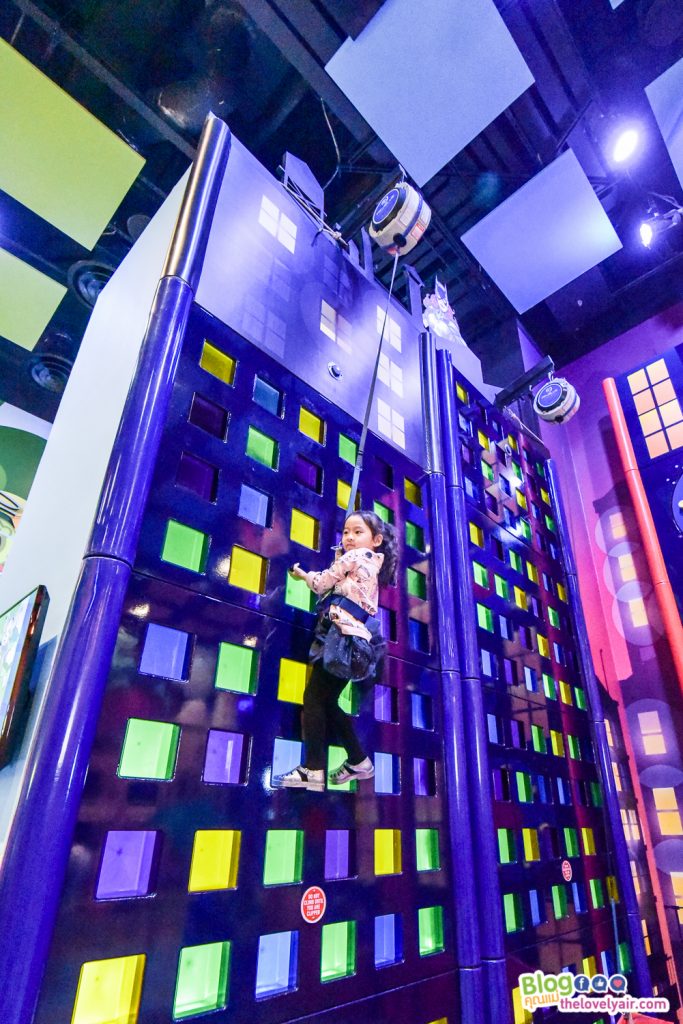 Jump-and-climb zone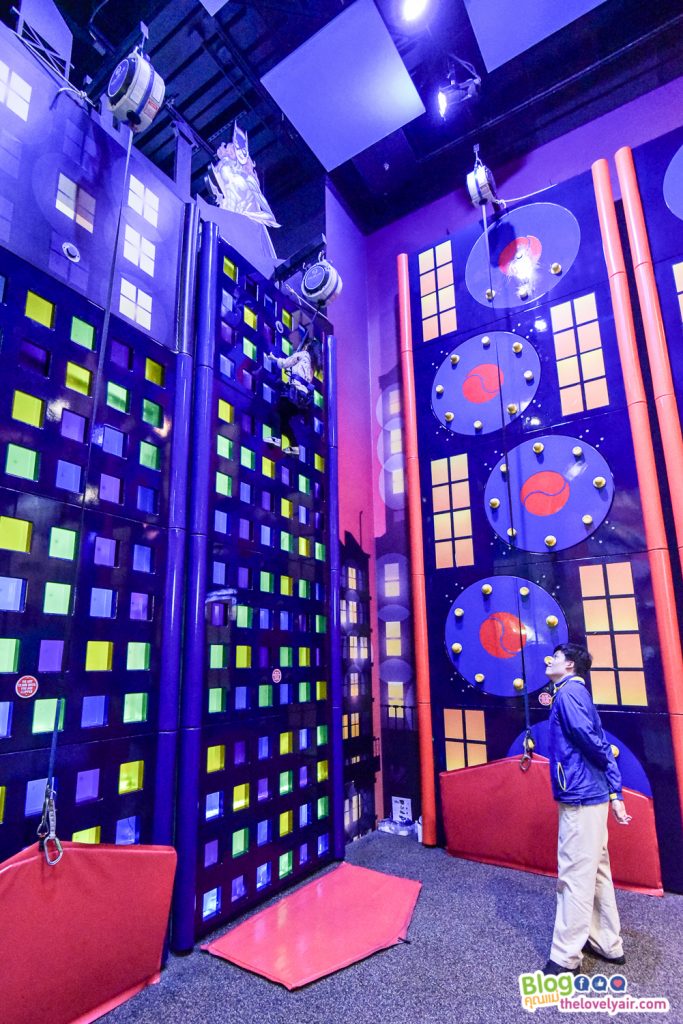 Deedy climbed fearlessly high.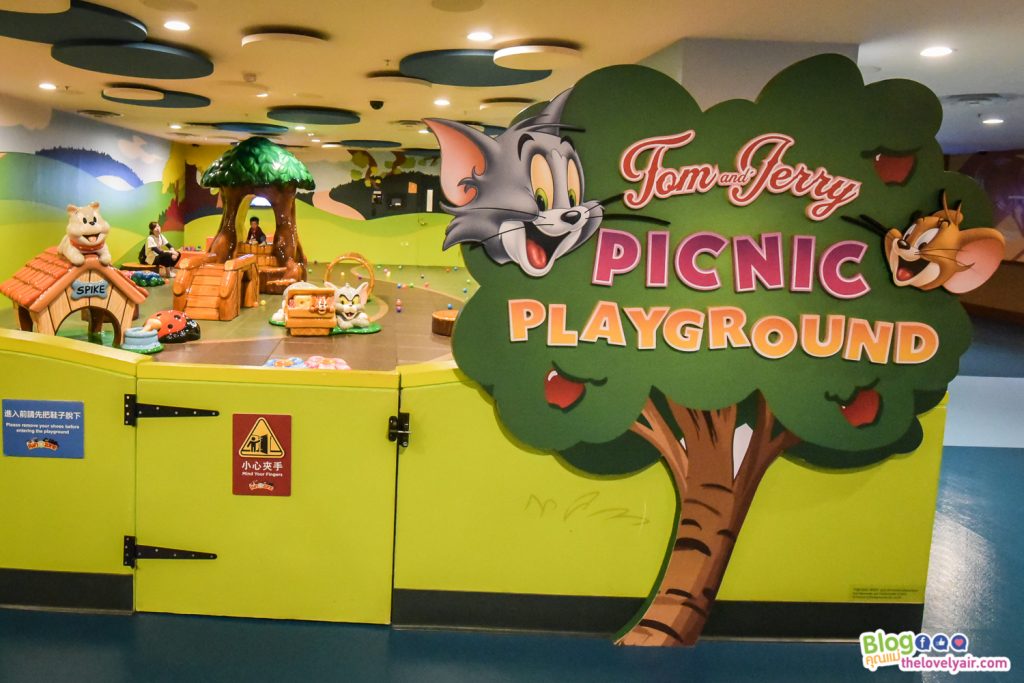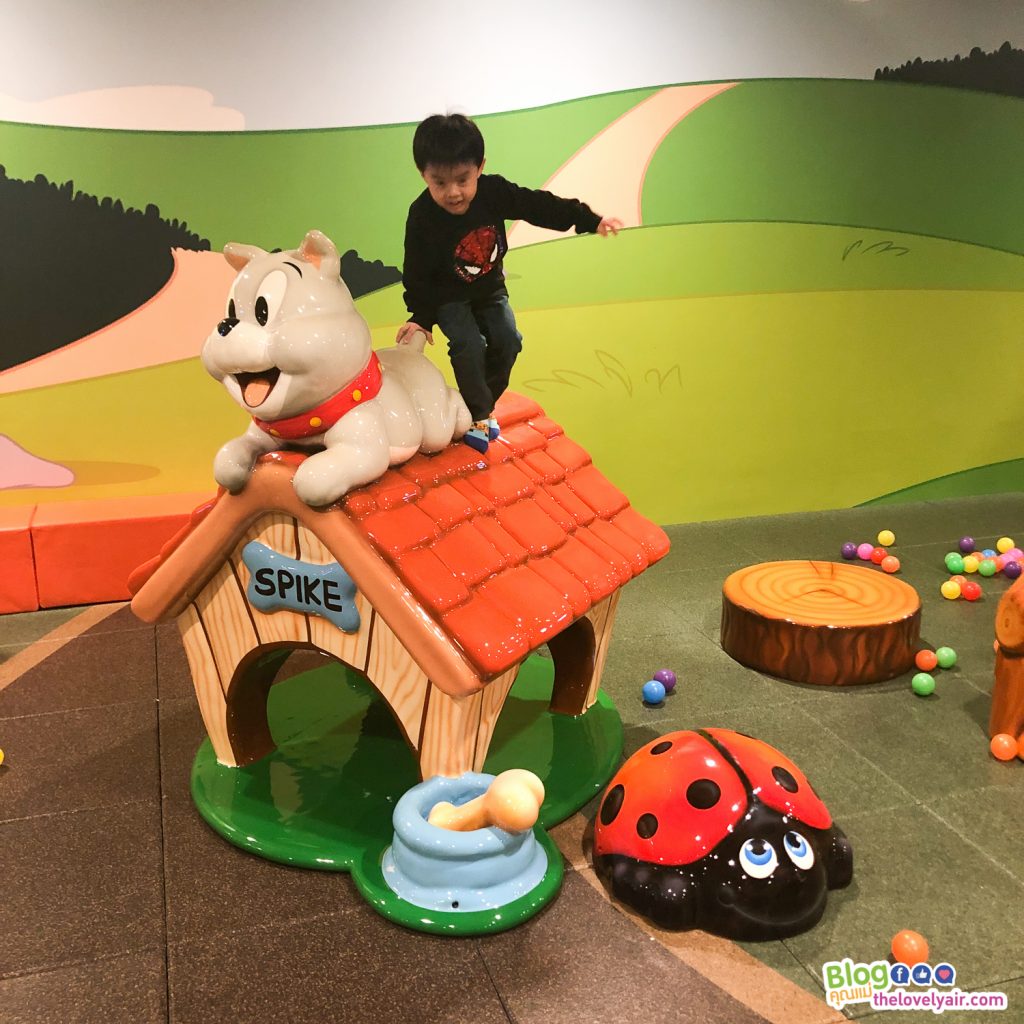 TOM & JERRY Picnic Playground zone for kids. Overall, we spent time here not too long because it is not very big enough to have fun that much.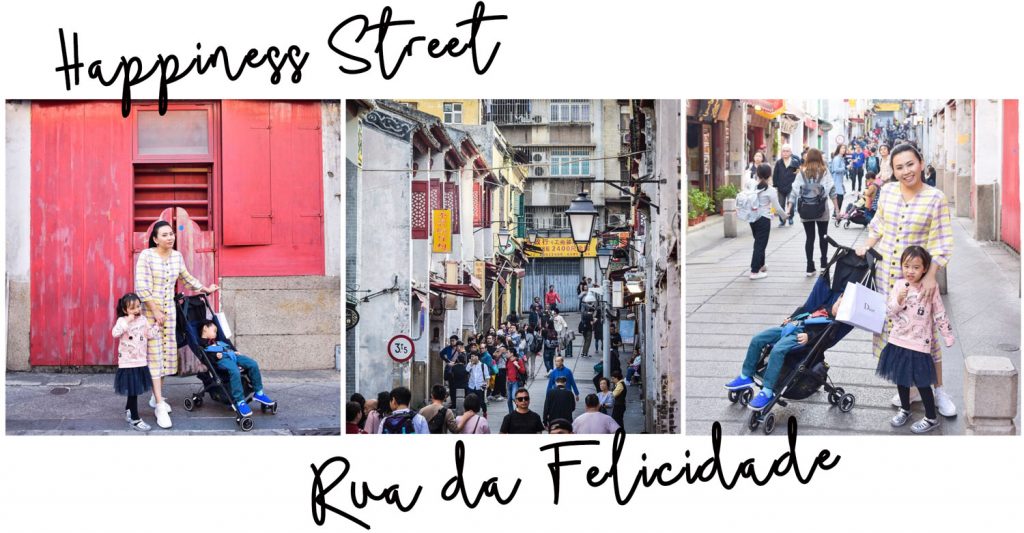 We left Studio City Macao, Warner Bros. Fun Zone and took a taxi to Happiness Street / Rua da Felicidade which is located opposite to Senado Square. Our return flight was 2 pm, so our family had time to enjoy pretty much. We could take lots of beautiful pictures on this street. Those who want to buy souvenirs can find many things here.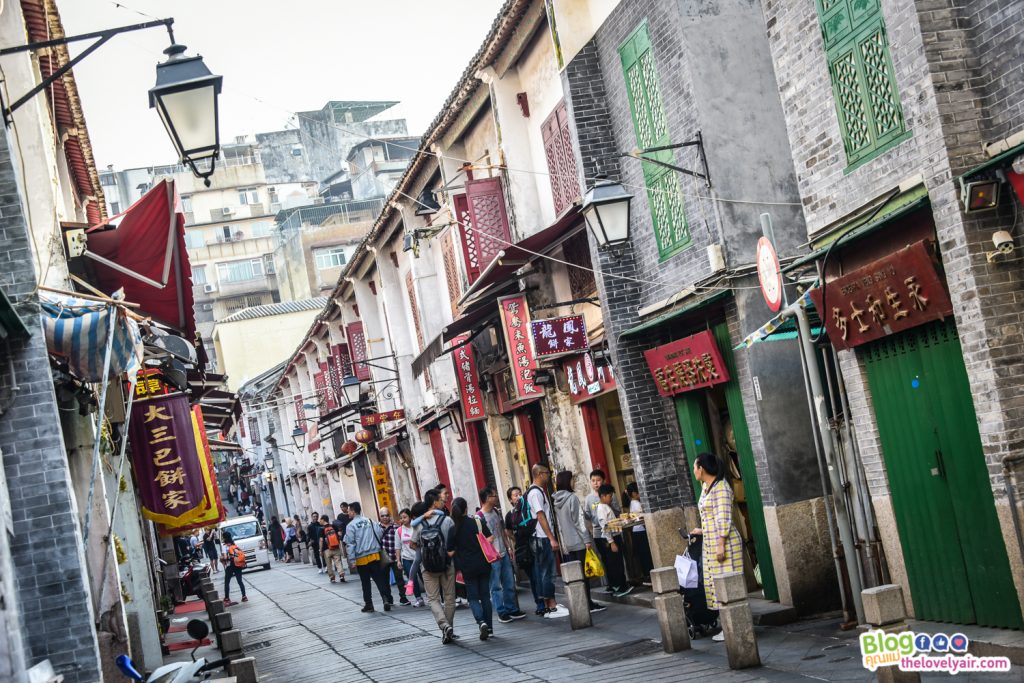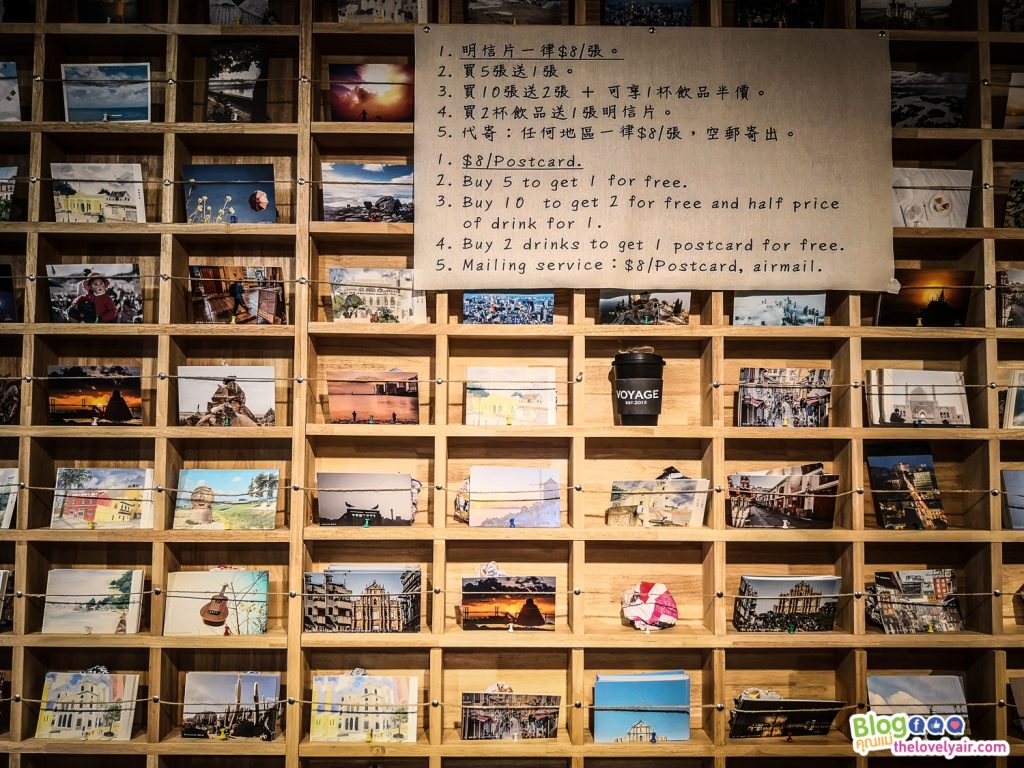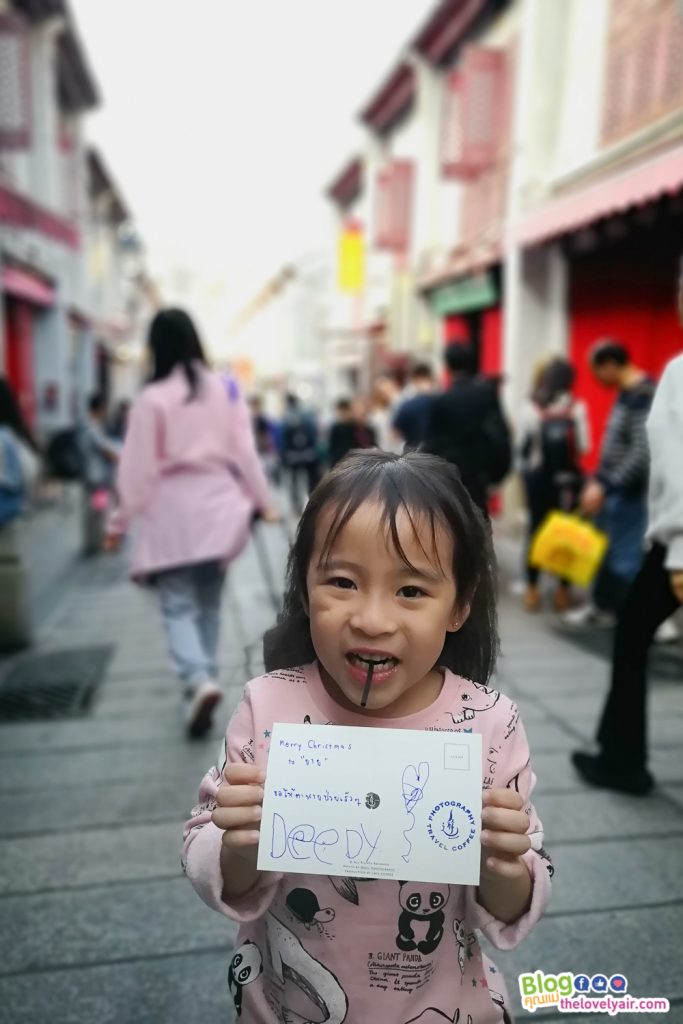 Deedy asked me to write a card for her grandparents, and she would be the one who signs her name.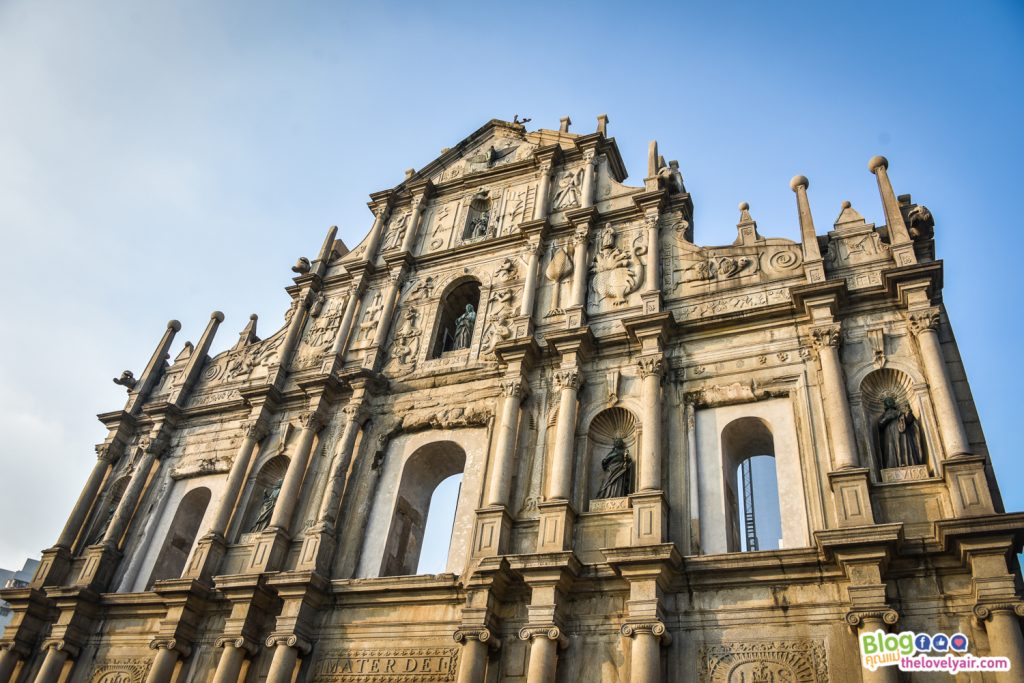 Ruins of St. Paul's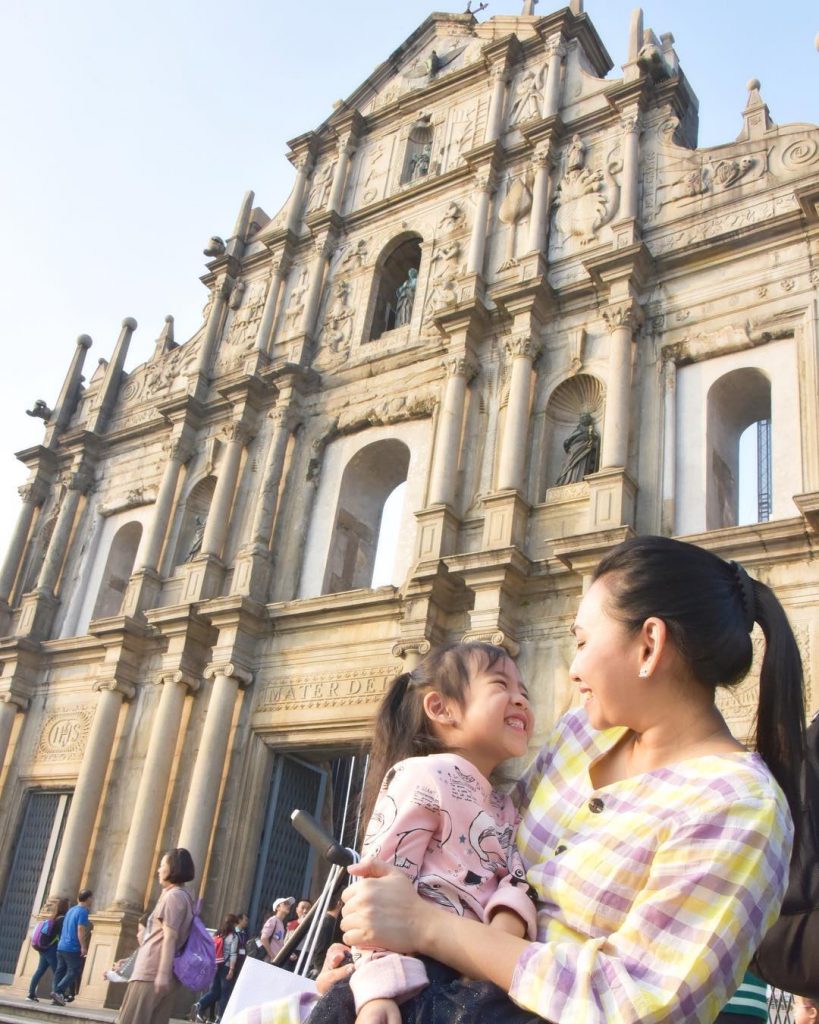 Louvre didn't have a chance to take a picture because he only slept in a stroller.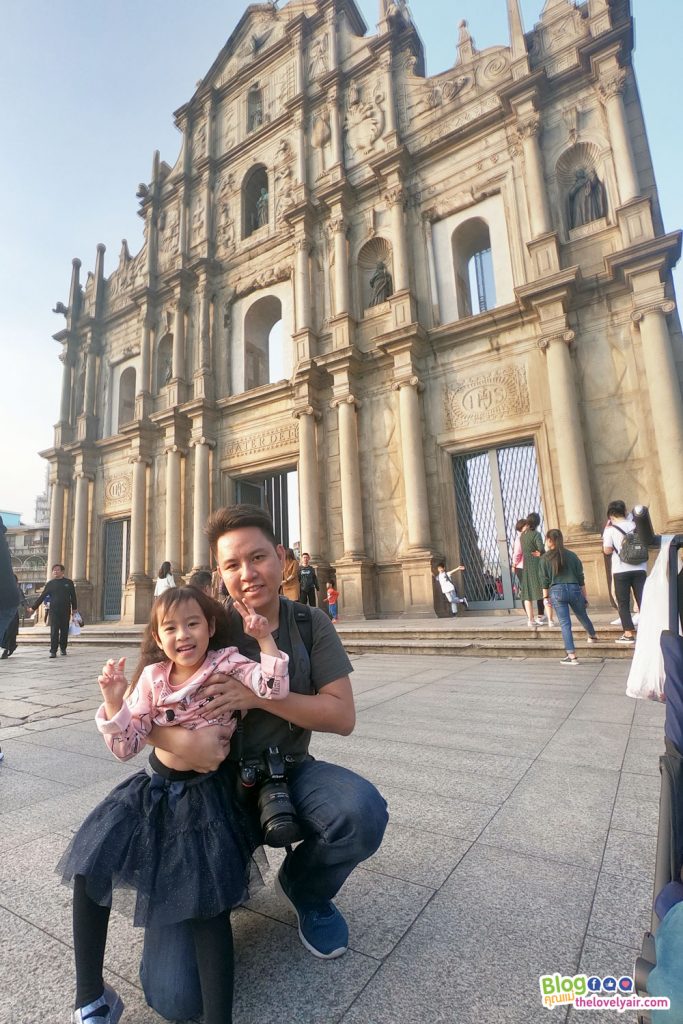 With daddy.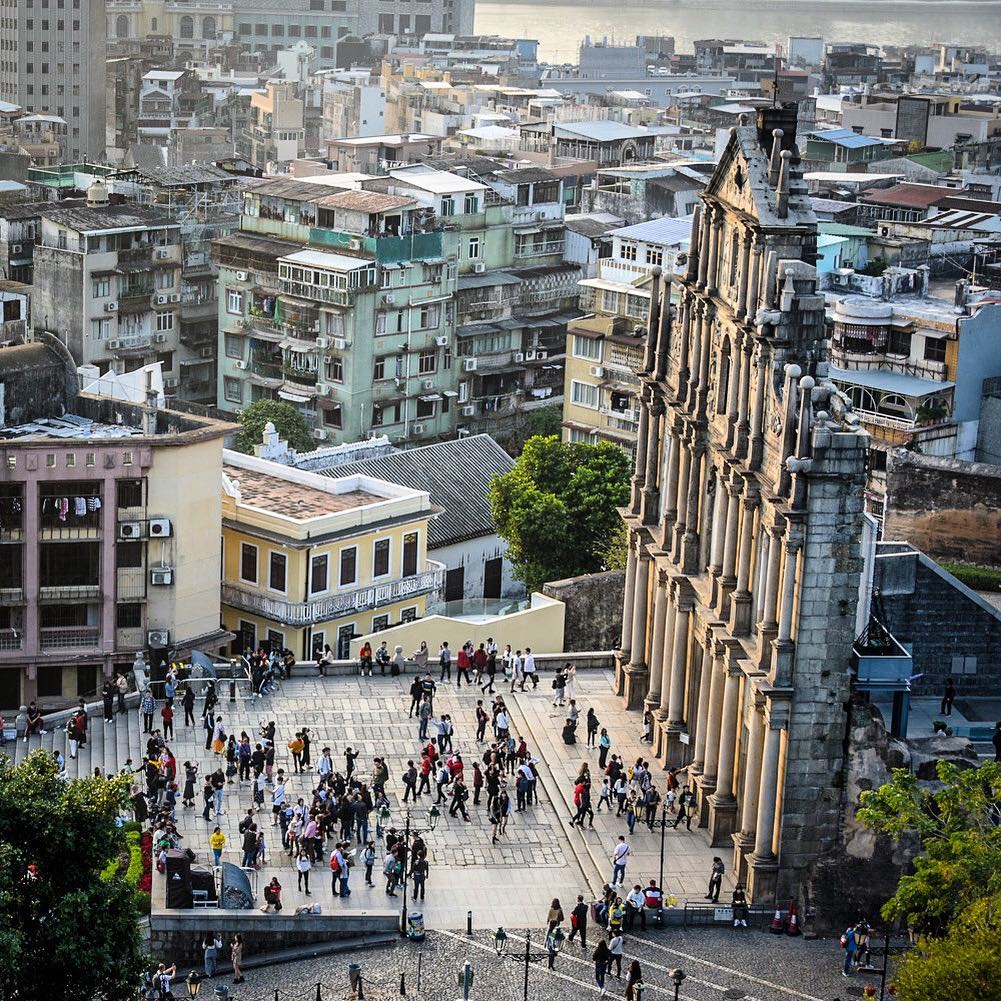 I suggest that you have to go up to take a picture from this spot. If you turn to the Ruins of St. Paul's Church, on the right is a garden with a stairway leading up to the top. The top floor is the Museum of Sacred Art and Crypt. If we don't go into the museum, we don't have to pay for the fee. There are the park, viewpoint, and ancient cannon.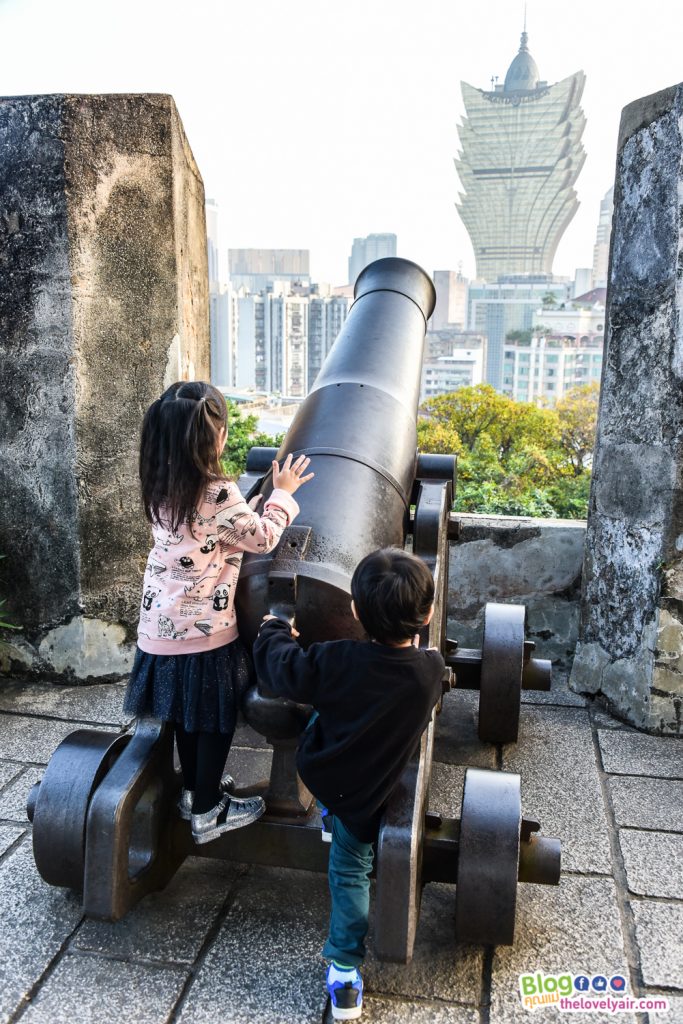 The ancient cannon at the top of Macao museum.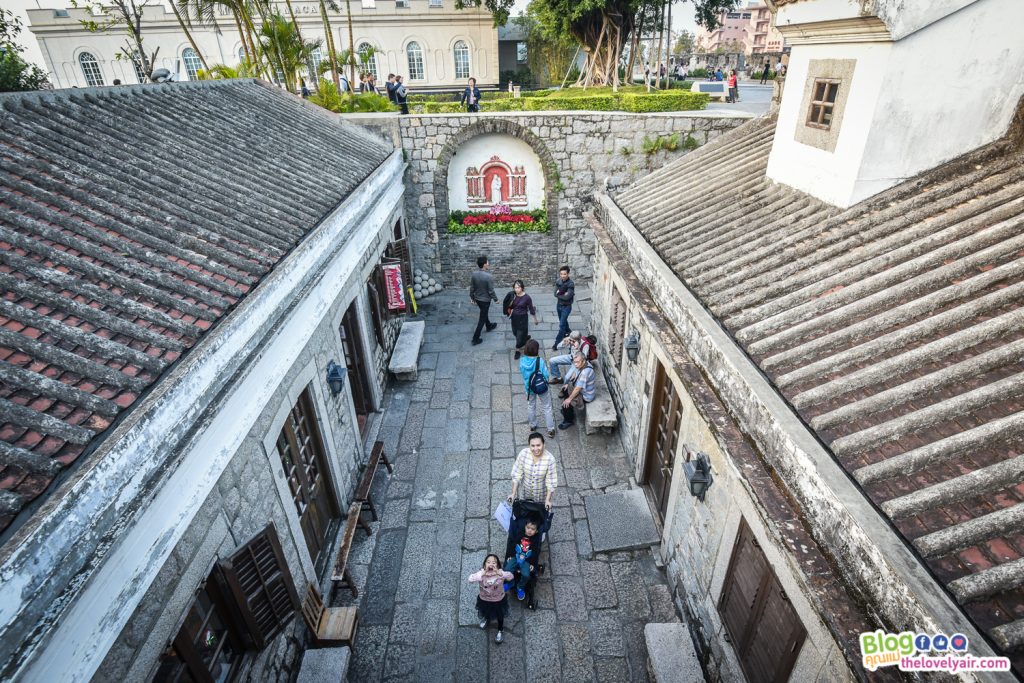 You can go down by the lift at the behind. It might be hard to find. We also lost the way while seeing it.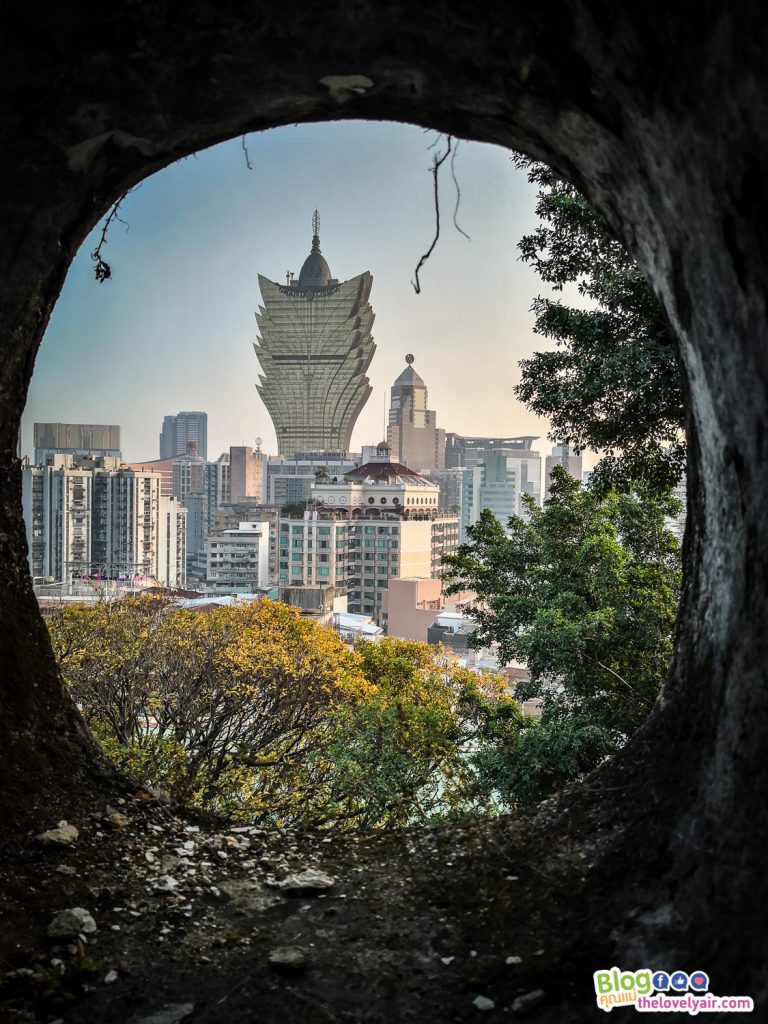 This view is superb!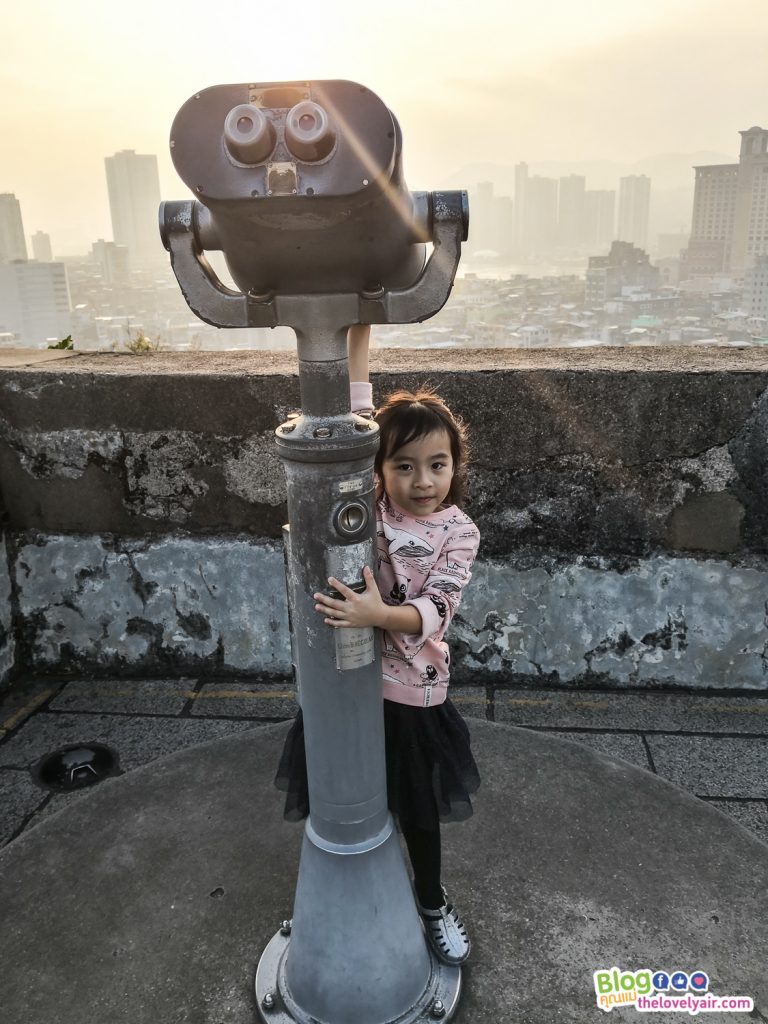 There are binoculars for viewing the scenery too.

From the Ruins of St. Paul's, we kept walking to take beautiful pictures.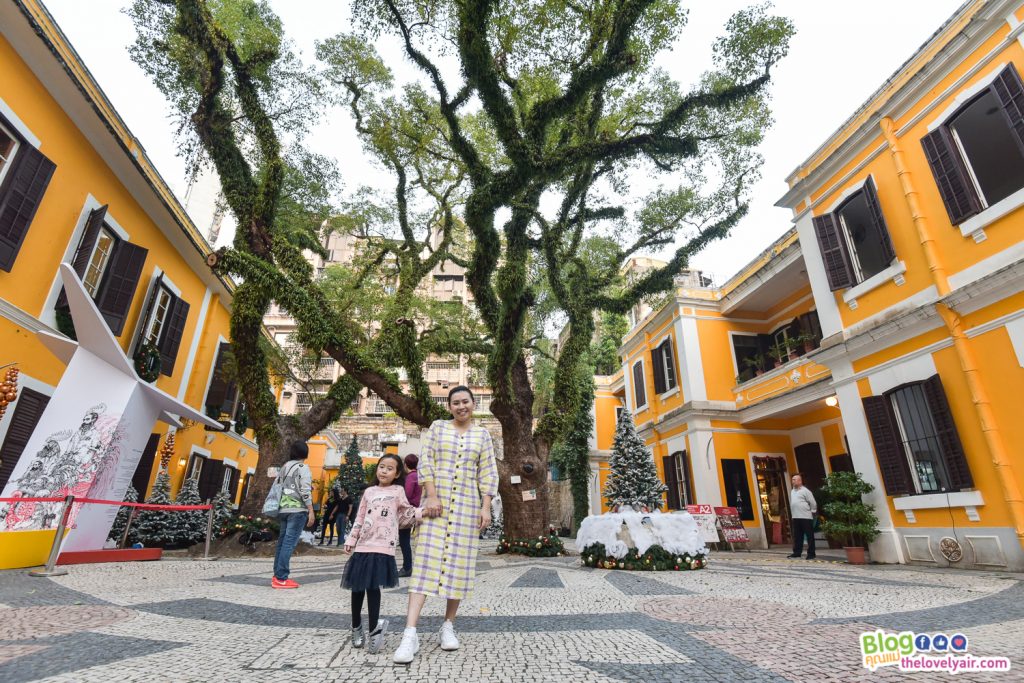 They said this tree is famous, so we came here to take a photo. At which, it was dinner time before going back to pick the luggage up at the hotel. Afterward, we took a taxi to the airport.
Now, we ended the Macao 5 days trip with our kids!
If you have any requirement, please feel free to contact me via Inbox, Page, or Line to me.
Follow my family at https://www.facebook.com/thelovelyair/.