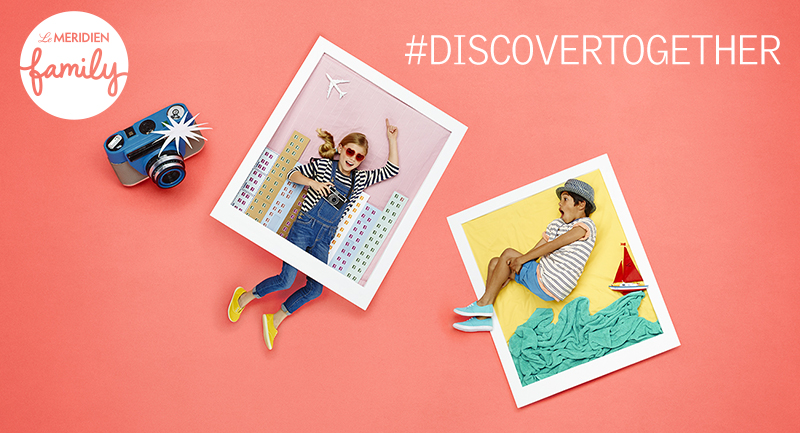 Wonderful Family Trip With Le Meridien Hotel And Resort
Hello, I have a good news for family tourism. A tourism is always a good activity for family because children will gather new and great experience and parents will relax as well. So, my good news is that Le Meridien Hotel and Resort,an affiliate of Starwood Hotels and Resorts, launched a new project "Le Meridien Family" to meet customer needs, especially customers who want to set a family trip. It upgrades and modifies a service in order to prepare a facilities for children. As I researched the detail, I believe that it's going to be a wonderful trip for our family if we go to Le Meridien Hotel and Resort and everyone will enjoy the trip as well.
Le Meridien Family is very interesting because the resort particularly modifies their service for family in order to be more comfortable. According to the Le Meridien standard, it has never failed me after I stayed here. If you want to travel with your big family including father, mother, children, aunty, uncle and so on, Le Meridien Family is a great choice for you.
In addition, Le Meridien Family are also available at Le Meridien Suvarnabhumi Golf resort and spa and Le Meridien Phuket. The project will be available in other affiliates soon (Further detail www.lemeridienfamily.com).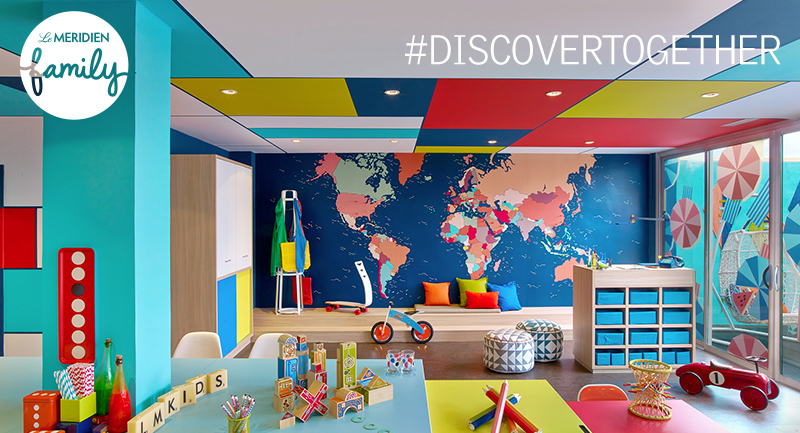 What is the new service in Le Meridien Family ?
Le Meridien Family project prepared and modified new Kids Club under Le Méridien Hub through the magnificent interior which is inspired by beautiful and chic cafe from worldwide. Le Méridien Family Kids Clubs is inspired by local area in each Le Meridien hotel.
To impress all local matter, Le Meridien hotel in each branch also manifests a traditional culture in each area through the interior. It also provides logical games and toys for children in order to make them happy and enjoyable. Moreover, the wall is designed by using world map which purposes to attract children to learn about geography and support the imagination of explorer. It let children gain more knowledge and gather a wonderful experience from the world map. They can share their experience with friends or other children in the area. So, it can be a great option to make friends for children as well.
Regarding, meals served in the Kid club are full of nutrients. All ingredients are chose carefully for children because each dish will express traditional cultures and local foods. There is no extra charge for meals. In Kids Club, your children will meet new friends from various nationalities and cultures. They can talk to each other and exchange their experience among new global friends who also stay in the hotel.
Under the concept "Unlock the new experience and open the new world with new experience", Le Meridien Family is organised to offer a great and punctilious service to you in order to make you feel more comfortable during staying at Le Meridien Hotels. You will gain a wonderful experience while you are staying at the hotel and you can go to many tourist attraction. After the trip, you will surely be happy and satisfied.
For instance, Le Meridien Hotel at Phuket beach resort offers many interesting activities under the concept "Destination unlocked". This programme will let children and their families to see traditional cultures and atmosphere through activities such as studying a local language, painting seashells,biking, riding a bicycle, playing Pétanque and workshop at cafe and chocolate which reflects the uniqueness of Le Meridien Hotel in Paris, a popular city of coffee and chocolate.
Discovery Guide is provided as well. It is established by Le Meridien for customers who apply Le Meridien Family programme. The information in discovery guide is different based on the local area of hotel. This makes me impressive so much because it helps me plan a trip easily and reduce a time to find tourist attractions.
Click the video below to see an example of Le Meridien Family.
Le Meridien Family is cooperated with many partners and organisations, which have the same idea, in order to provide a premium service for children and family and to give a privilege for customers lodging in the hotel.
This year, Le Meridien corporates with Lego Group to distribute Lego to children,who are not over 12 years old, at the lobby of all Le Meridien branches in worldwide. Children will get 1 piece of Lego for playing through the trip and they can take it home as a souvenir.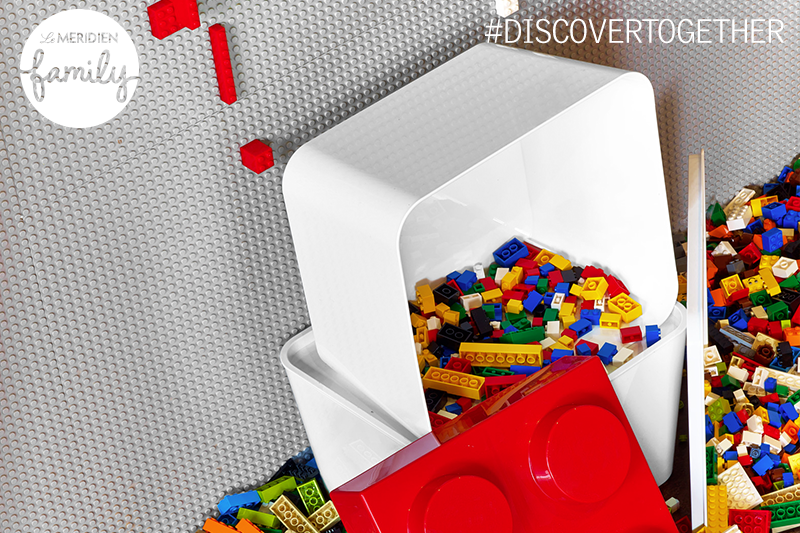 Interestingly, Le Méridien built an imagination playground by the artwork of David Rockwell and KaBoom as a playground at Le Méridien Suvarnabhumi Golf Resort & Spa. The purpose of this design is to inspire children to be more creative thinking and drive them to be architecture, thinker and designer. Children are allowed to assemble toys to be their private place. This activity lead them to creativity through the entertainment and knowledge. After I heard about it, I was so excited to take my children there.
Le Méridien Family has already been announced at Le Méridien Suvarnabhumi Golf Resort & Spa in Thailand. Other subsidiaries also have a plan to open Kids Club in their branches. This project does not cover Le Méridien Hotels in Thailand only but it is established in other countries such as USA, Spain and Mauritius in which it will open within 2016.
There are many Le Méridien branches in Thailand including Le Méridien at Bangkok located in Silom Road, Chiang Mai, Chiang Rai, Samui island as a resort and Spa and Phuket as a beach resort (more detail www.lemeridienfamily.com). Over 100 branches of Le Méridien in worldwide will set up the project Le Méridien Family soon.
Each branch professionally entertains customers for both children and adults through various activities such as watching stars, a language room, painting seashell or VIP tour at the famous tourist attractions including New York, Dubai, Panama or Phuket. These contribute children to the improvement of learning progress and skills and lead them to be more self-confident with the limitation of languages and nationalities.
If you have a plan to travel with family in foreign countries near Thailand, Le Méridien will be your great option because it has many branches including Vietnam, Malaysia, Indonesia and Hong Kong (More detail www.lemeridienfamily.com)
When I know about this programme Le Méridien Family, I can't wait to set a trip for my children to go to here. Currently, it has a discount 50% for customers who book 2 rooms which are close to each other and has a door to connect between 2 rooms. The special promotion for children is a free meal as well. Can't wait to go to Le Méridien !!
As it's going to be a long vacation such as Songkarn Day. If you have no plan to go but you want to set a trip with a family in premium service, I recommended you to go to Le Méridien Hotels and Resorts. I guarantee that you and your children will be happy and satisfied for sure.
If you are interested in this programme and want to see more detail, Please click on the link below.